In recent years become popular among scientists call the newly discovered species in honor of various celebrities. Many of these stars so consider it a great honor. Judging by the name of the organism under the cut, the scientists with a sense of humor all right. Arnie is probably one of the most successful people of whom you just might think. He managed to become the youngest Mr. Olympia in history, and he is often regarded as the greatest bodybuilder of all time. Then he conquered Hollywood and became one of the highest paid star fighters in history. His growing fame and numerous blockbusters, brought him a star on the Walk of Fame, not to mention the post of governor of California. But definitely we can say that he did not think that his name will inspire and science. In 2002, a rare species of beetles ground beetles was named Agra schwarzeneggeri, since males of this species are very developed medium thighs that resemble very large biceps Arnold. And they say that biologists do not like to do in the gym.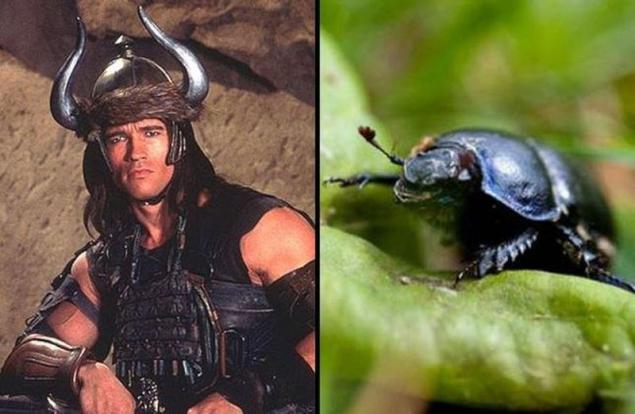 Despite the fact that the legendary frontman of the band «Queen», Freddie Mercury, was like a typical white European men, really at birth he was named Farrokh Bulsara (Farrokh Bulsara). His parents were from the tribe of Parsis from Zanzibar. In this same country it was discovered a rare species of isopod, and as Mercury is the most famous person ever lived in Zanzibar, biologists made the discovery, felt that would be fair to call this kind in his honor. Thus, Cirolana mercuryi become the second celebrity body from Zanzibar.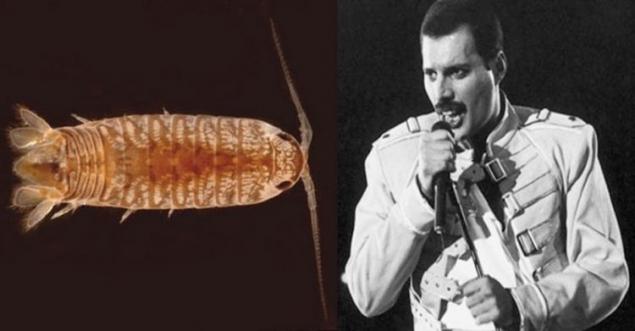 "The Lost World," written by Sir Arthur Conan Doyle, was a bible for fans of dinosaurs and wildlife for more than a hundred years. It tells the story of a place, which is located somewhere in the Amazon, where dinosaurs and other prehistoric animals still exist. While such stories today sounds ridiculous, in 1912 (when the book was first published), many readers believed it was true. In 1994, two biologists named Eberhard Frey (Eberhard Frey) and David Martill (David Martill) called race-pterodactyls pterosaur after Doyle, as in his novel were detailed descriptions of the giant reptile pterosaur. Thus, Arthurdactylus conandoylei got its name trudnovygovarivaemoe.

Frank Zappa was one of the most important musicians and composers of the 20th century. He created and recorded more than 60 personal albums, collaborating with many other artists of different genres of music. Nevertheless, in spite of all his awards and musical creativity, it seems that most people remember him for his unique appearance and even more unique mustache. His mustache remember the people so much that they inspired Robert Bosmansa (Robert Bosmans) and Jan Bosselaersa (Jan Bosselaers), two biologists from Belgium, the opening of the world kind Pachygnatha zappa. They are named after him Pachygnatha zappa, a specific type of spiders, due to the unusual spider markings that resembled the famous mustache rocker.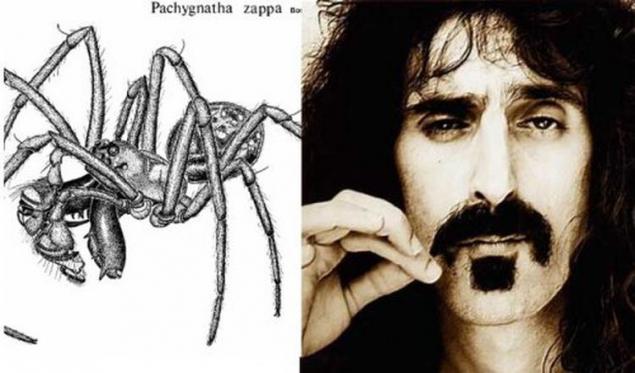 Dizzy Dean was a great pitcher and the last person who managed to win 30 games for the season to date. Dean was known for his strong personality. Long before Muhammad Ali and Joe Namath, he boasted of his skill and make predictions for the game. It is also often disrespectful to his opponents. Unusual technologies hunting bolas spider genus Mastophoreae reminded scientists antics, playing style and talent over Dean. These spiders make a big sticky ball on the end of a short thread and also as an elite pitcher throw the ball at the approach of insects hanging on another short, horizontal lines- "trapeze". Just as Dean during its heyday Mastophora playing with his victims before killing them. It is for this reason they are called dizzydeani.