Truck with plush toys - a new installation by Banksy titled "squealing lambs» (The Sirens of the Lambs)
This truck travels through the streets of New York. These toys represent real animals driven to the slaughterhouse, Banksy have tried to show the cruelty of the modern food industry.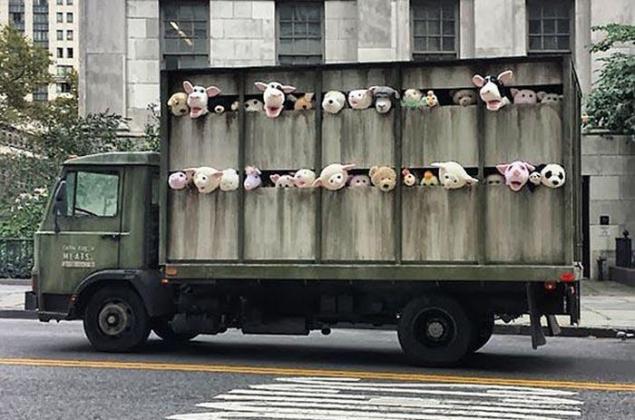 British artist graffiti artist, political activist, film director and talantische Banksy is probably the most popular and at the same time the most mysterious in the world of street artist. He is famous throughout the world due to its unique "guerrilla" style of stencil graffiti that appeared in a variety of public places - on the walls of buildings in London, Brighton, Bristol and even on the barrier in the West Bank between Israel and Palestine. But despite his international fame, Banksy even so was able to keep a veil of secrecy around themselves and anonymity. Around his biography and his real name is conducted much controversy. According to the most common version of his real name is Robert or Robin Banks.