December 22 is considered the official birthday garland.
It was December 22, 1882, Assistant inventor Thomas Edison's light bulb - Edward Johnson invented herringbone Electrogarlands that will decorate the green beauty at home for Christmas.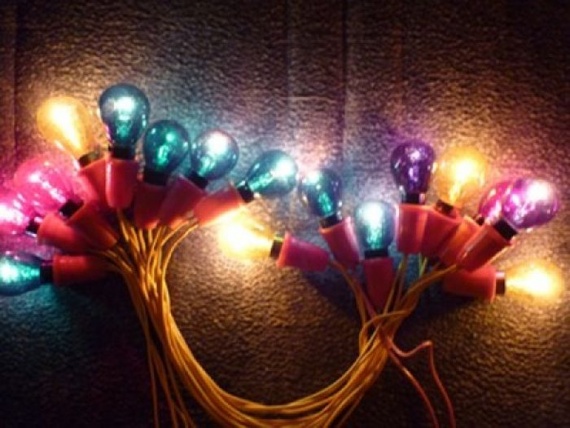 But Christmas trees were decorated with the usual long candles. Electrogarlands first advertisement was published in December 1901, but they became popular only with the 20-ies.
We have Christmas garlands began to spread after 1938 with a great break for the war years.
Let's try to see how the changed appearance of a garland over the years.
The first wreaths were produced in the late 30-ies with a break during the war, they look almost artisanal: ordinary automotive light bulb connected to a wire and painted in different colors.
In the late 50s there garlands of lights, figurines. Inside of thick glass figurines placed filament, fixed figure in the basement, as a conventional small light bulbs, and painted. Produced bulbs, stylized lanterns.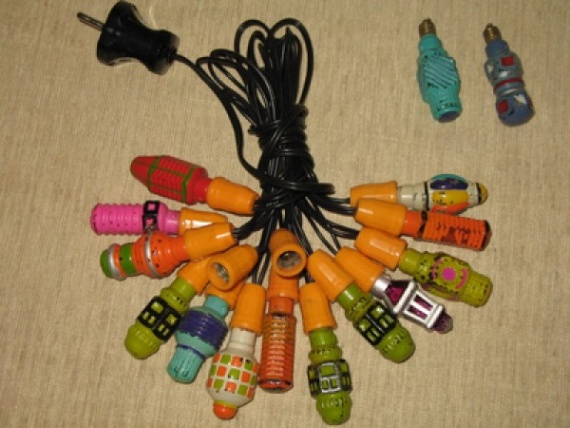 And there were more interesting garlands: with figures of pig, bear, car, blimp and other. Bulbs screwed into patronchiki with clothespins, and those attached to the tree. These garlands from the late 50's - early 60-ies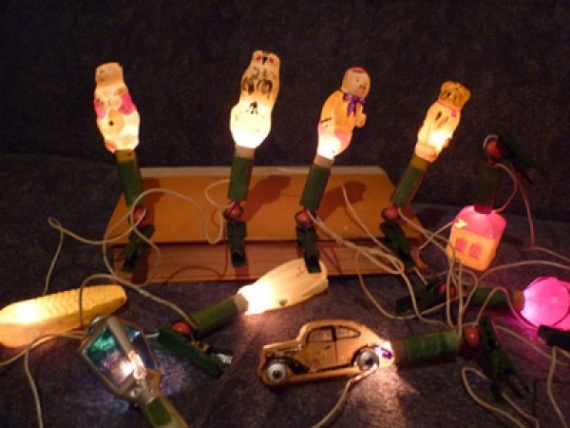 With the 60-ies the Soviet Union begins wide production of Christmas tree garlands. Apart from the usual round colored lights appear garland lights with elongated bulb in the form of candles, painted in different colors, and screwed in patronchiki on clothespins (total 18 pcs.). Later, this garland is known as "droplet».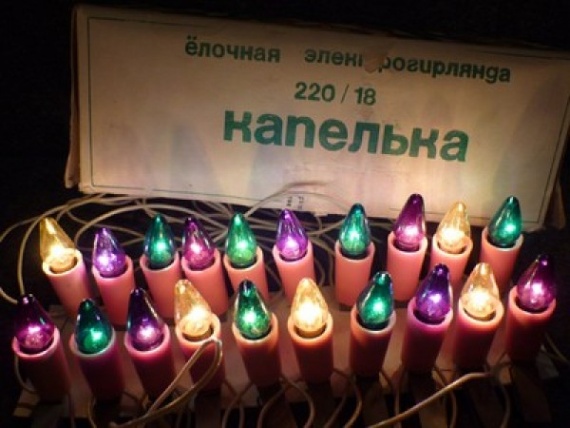 After the flight of Yuri Gagarin and other successes of our country in space exploration, in the "space race" theme space becomes enormous popularity, there are toys in the form of satellites and rockets. Since 1967, the Kiev cable plant "Ukrkabel" launches Electrogarlands "Cosmos": on patronchiki with small light bulbs 13, 5 to put on different colored caps of soft thin plastic in the form of Saturn, Earth, sun, moon, space satellite, flying saucers, rockets asteroid. Garland was issued about the middle 70s.