Veronica Miller, nicknamed Ronnie (Miley Cyrus) had to grow up early. Her father, Steve Miller (Greg Kinnear), a pianist, realized his dream of playing in a large symphony orchestra. But because of frequent trips gradually distanced himself from the family. His relationship with his wife Kim (Kelly Preston) is slowly falling apart, and eventually they parted. Steve resides alone in his home town on the Pacific coast in the state of North Carolina. And Veronica already 17. She takes a deep parental divorce and harbors a grudge against his father, left his daughter in the moment when a young girl comes in a difficult period of growing up. Music that linked Veronica and her father, no longer interested in her. She is looking for entertainment at parties and in the company of young people. But her mother, wanting to distract daughter sends her younger brother to his father for the summer. There Veronica meets a guy (Liam Hemsworth), with whom she begins a relationship, and it finally melts the soul after several years of bitterness. Music returns to her life with love, but serious illness forced Steve Veronica rethink their attitude to it and realize the need to go back to his father with an open heart.
The Last Song (The Last Song), US
Directed by Julie Anne Robinson
Starring: Miley Cyrus, Liam Hemsworth, Greg Kinnear, Bobby Coleman, Kelly Preston and others.
Produced by: Tish Cyrus, Jennifer Gibgot, Adam Shankman,
Operator: John Lindley
Writers: Nicholas Sparks, Jeff Van Wie
Composer: Aaron Zigman
Premiere: 31 March 2010
Poster for the film: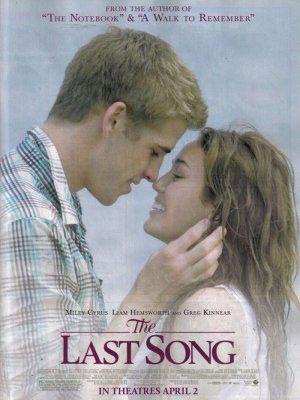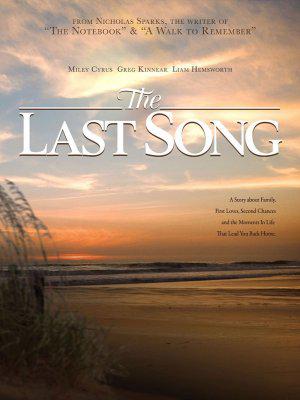 Movie Stills: