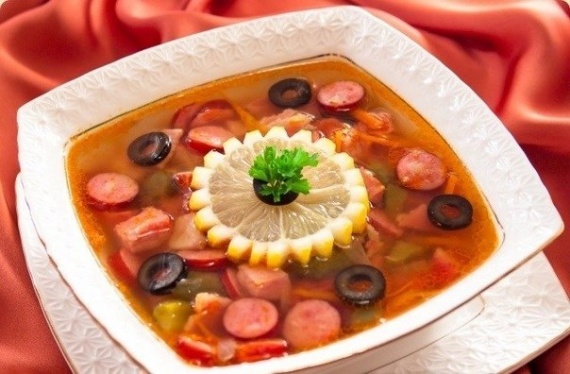 Ingredients:
700 g beef
6-10 different kinds of deli meats weighing about 1 kg
150 g carrots
150 g onion
200g salted or pickled cucumbers
5 tablespoons tomato paste
3 tbsp Caper
black pepper
3-4 bay leaves
vegetable oil
lemon, herbs, olives taste
Preparation:
1. After feasts sometimes there is a lot of cuts - Sausage smoked, etc. To they disappeared, cook hodgepodge. Or you can buy 100 grams of various delicacies.
2. Beef fill with water and cook for 1.5 hours (over medium heat, covered, remove the scum) Then, remove the meat, cool, cut into small kusochkami.Luk pokroshit.Morkov finely grate on average terke.Ogurtsy cut into cubes or strips.
3. Delicate meats (sausage, ham, salmon, chop, neck, pastrami, hunting sausage) cut into strips or kubikami.Delikatesy lightly fry in vegetable oil.
4. On the vegetable oil to fry luk.Dobavit carrots, cucumbers obzharit.Dobavit little fry 2-3 minuty.Dobavit tomato paste and simmer for 5-7 minutes over medium heat. If the tomato paste is too thick, add a little water.
5. In the boiling broth add delikatesy.Sledom add beef. Cook for 5-7 minut.Zatem add kapersy.Sledom add fried onions, carrots, ogurtsy.Sledom add 0.5 cups of cucumber brine or brine from the olives. Cook for another 5-7 minutes.
6. Then add the bay leaf, pepper and herbs. If necessary, add salt. Let stand, covered for 15-20 minutes, remove the bay leaf.
7. Pour on plates, each plate to put a circle of lemon and whole or sliced ​​olives.