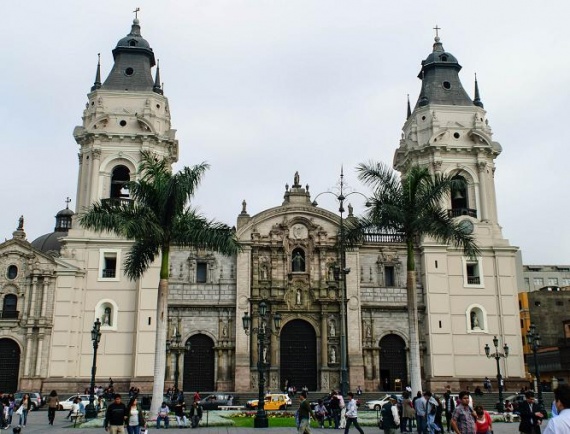 You have not forgotten about our special correspondent Andrei Petrina? He is still there, on the other side of the globe.
On one of the major areas communicated with the dealer. Were themselves well fed and happy, aimlessly, well, led us eyes with feet together on this area. (We had to write down the name, look, and would be useful for someone). Standing, resting near the fountain. Suitable kid is interested in where they came and immediately offers to buy him a little coke. Looks like they know ours. But, as in our plans did not include such activities, politely refused, although people continued to offer. First marijuana, then just like that - give a couple of coins. By the way, the presence of police in the square never confused cheerful kid. Separated nice and quiet.
A dusk recommend to look into the park with fountains. This is a real decoration of the night in Lima. It opens at dusk, somewhere to five hours, but really beautiful in the dark. It was a miracle. Fountains - a variety of equally ingenious and individually illuminated. The admission fee is utter nonsense. All this grandeur (entry, by the way, in the Guinness Book of Records) is very popular among kids. Is there a special ploschadochka in which there are holes for the water supply. But where shall pour the water at this moment - is unknown. Leading gives the command, Kinder are on this site - and rushed. A jet of cold water, squealing with delight, positive sea. Then the parents wipe-disguised the kids - and the new. Despite all this - and I want to join. I'll have to come with a change of clothes.