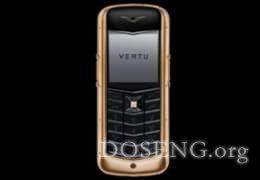 New mobile phone luxury Constellation («Constellation") released the company Vertu.
It is characterized by the body, trimmed with pink gold and natural leather. Phone display is closed with a sapphire crystal, and the keyboard is decorated with laser engraved.
Platform news - Series 40. Can work in standards GSM (850/1800/1900 MHz) and GPRS / EDGE class 10.
Lithium-ion battery has a capacity of 860 mAh.
Display TFT (31h31 mm) with a resolution of 208x208 pixels and 262K colors. Bluetooth 2.0. Weight of the machine 163 grams. Dimensions - 109h45h17 5 mm. The volume of internal memory - 14 MB.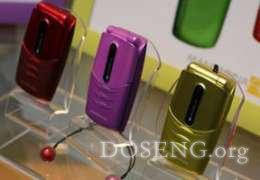 The company Mandarina Duck is known worldwide travel goods.
It was under this brand are made very fashionable suitcases, travel bags, backpacks.
And now it swung to a mobile phone in his own name. It is expected that they will be available in November this year in the boutiques of Carphone Warehouse.
About the devices themselves know only that they will be equipped with a camera, MP3 player, memory cards and a special clip for attaching to a bag Mandarina Duck. Body colors - cherry red, purple and acid yellow.
Glamorous, moderately catchy and very stylish. The cost has not been revealed.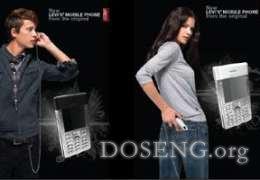 The company Levi's - the world famous jeans manufacturer, has announced the release of its first line of cell phones. They are specially designed for the Levi's French company ModeLabs Group.
The new phones will be available in various colors, including steel, black and brownish-copper color.
For the girls, will be made of silver and gold phone with a mirrored screen.
The range of branded mobile phones Levi's and accessories to them will reflect the characteristics of the brand Levi's: innovation, design and quality.
It is expected that the new device will be available in September.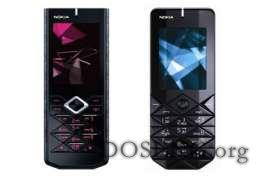 Nokia has released a new mobile phone ceriyu called Prizm.
At the moment it consists of two devices: Nokia 7500 and Nokia 7900.
Model 7500 has a built-in player that can play files formats MP3 / AAC / WMA and built-megapixel digital camera. Using the Opera Mini browser can access the Internet EGPRS / GPRS.
The Nokia 7900 will be distinguished by the OLED-display and gigabytes of internal memory. The main feature of it will be "live" wallpaper that is a theme that will automatically change throughout the day depending on the time, battery and signal strength. The approximate cost of new products is $ 290 dollars for 7500 model and $ 550 for the Nokia 7900.