According to the author: 25-08-2007 I was driving in his car UAZ Patriot Mozhaisk on the track - towards Ruza Ruza. He took the family with a summer garden, a daughter in the garden it is time well, etc. In the area of ​​21 km (from Mozhaisk) or 4 km. (From Rouses) to the oncoming flew Lexus (such Kruzak 100), I managed to get away from the head-on collision (Lexus continued to go to the depths of my band), but that's all I had time to blow into the back left-hand side, turn and ears of 2 times, He stood on the roof of his nose band deployed in the opposite direction.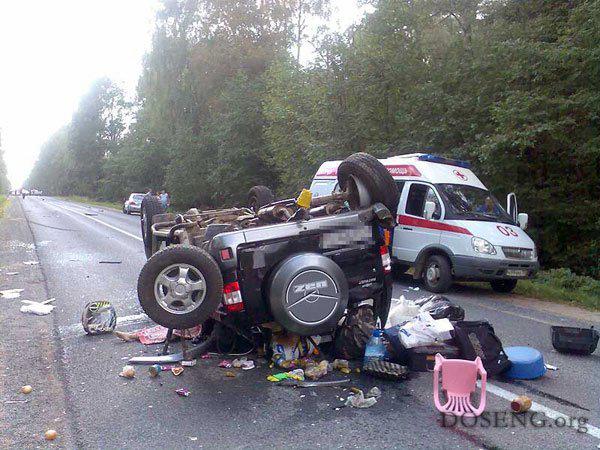 Consciousness is not lost, all I remember prislushilsya to him like purposes, unfasten the belt, get out through the broken glass of the driver's door. I saw my daughter, I immediately realized that it was all but in general ..., packed carefully, ran to his wife, climbed through the window, unfastened the belt pulled out alive intact wild shock. Seated on the other side of the road (from the subsidiary that would not be seen). Mother in law had dragged the drivers of passing cars. Some how could dial 911 (fingers shaking):
911 - Emergency listening
I - a serious accident near the town of Ruza, there are victims
911 - we can not help you, you are called to the service of the Moscow
I - well, to bridge with its call
911 - we can not write down the number (dictated by the length of a room)
I - went to th ... x
The 911 cattle, just cattle.
Someone said that everything is normal summoned all. Quickly came the police, many, blocked the whole route (in Ruza was the day of the city). 20 minutes later the ambulance arrived. The doctor silently "said" EVERYTHING you have no daughters. Became involved zhivimi.
Then the cops, investigator, mother-in-law in the hospital, his wife sent to the same.
In general, when I brought osvedetelstvovaniya, I drove one, packed up, took his wife and cat, went home. The car on the parking lot at the special tow truck.
Patrick - Patrick showed himself a real man, everyone assumed he saved three lives, but failed to save the most important. And even he is a man.
Yesterday the wife's mother was taken to a Moscow hospital. Today, they buried a daughter killed Patrick.
Poor, the soul shit, hold on. Friends and family helped.
Special thanks to all who helped on the road, God bless you.
Summary - wear your seat, it's not an extra detail of the car.