But back to the news. As the portal Newlaunches.com, updated VAIO UX can now work under the operating system Windows Vista Premium, his heart became a modern dual-core processor Intel Core Solo with a frequency of 1, 2 GHz, and on board there is 1GB of RAM - so performance the novelty will not be much different from the smallest notebook SONY. Compared with the previous model in the series, the novelty has increased the size of the hard drive - now its capacity is 40 GB (30 GB vs. earlier). As an option the manufacturer offers its equipment "ultramobilnika" no hard disk and solid-state SSD memory even more solid volume - 64 GB.
The screen of the new VAIO UX is not too great - 4, 5 inches with a maximum resolution of 1024x600 pixels. But the model was very compact and lightweight: its dimensions are 150 2h95h38, 2 mm, and weighs only 532 grams. So the VAIO UX fit in any bag, it can even be worn on a belt in a special case.
Note also that the novelty is equipped with wireless communication interfaces Wi-Fi 802.11a / b / g and Bluetooth 2.0 + EDR, as well as a built-in webcam 1, 3 MP and a fingerprint scanner. There is also a slot for Compact Flash memory cards and Memory Stick, and also one port USB 2.0. Claimed battery life is 3 hours.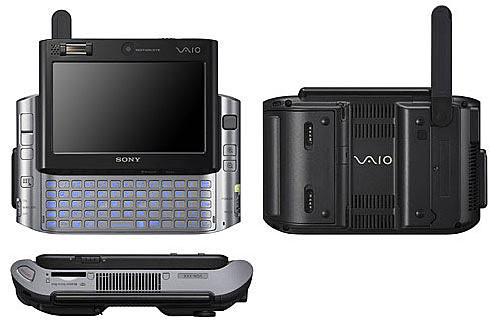 Unfortunately, not yet reported any of the approximate cost of VAIO UX, or the approximate time of his appearance on sale in our country (in Japan they should appear in the coming months). We can only recall that earlier models of ultra Sony Computer sold in Russia at a price of 50 to 70 thousand rubles, depending on the configuration.