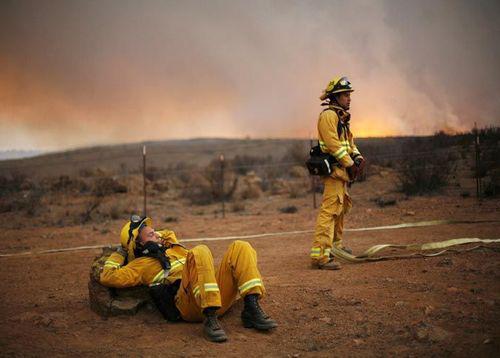 In the United States the next disaster struck. At this time the disaster hit on the California fires burning ground. At the moment, we are talking about twelve forest fires, range and strength which forced Gov. Arnold Schwarzenegger to introduce a state of emergency in seven counties. The rapid spread of the fire helps hurricane, which, according to weather forecasts, the weekend will not weaken.
Another reason for the rapid spread of the fire is called strongly dry summer. The heat affected thousands of hectares of land in almost all western states: California, Arizona, Nevada, Utah, South Dakota, Washington, New Mexico, Oregon, Idaho and Montana. "As a result of forest fires there are victims, many people were injured," - said representatives of the Office of the Governor of the State.
Struggle with the elements employed fifteen hundred firefighters. In the town of Potrero, near San Diego, killed one local resident, four firefighters and at least ten people were injured. This was announced by the representative of the State Forestry Administration. From the town of Santa Barbara to San Diego burned 14 thousand. Hectares of land. In Malibu burned several homes and thousands of local residents were evacuated. To the north of the Mexican border town of Tecate burned more than 5,700 hectares of land. The representative of the San Diego Sheriff Philip Brust said that all 36,000 residents of the town of Ramona, located to the north-east of San Diego, it was recommended to evacuate. A huge procession of cars stretched along the highway from Ramona. The road along the Pacific coast is closed. Witnesses said that the last embers brought by wind, creating new hotbeds of fire, burning trees, cars in parking lots and roadside structures.
In Malibu, as we know, are the homes of many Hollywood stars. Among them, Mel Gibson, Barbra Streisand, Richard Gere, Pierce Brosnan and many others. Director James Cameron and famous singer Olivia Newton-John, as well as many other celebrities have had to leave their homes.
Large fire began on Sunday, allegedly due to sparks from high-voltage wires.