Star Quality includes not only flowers, money and success with the public. There is a downside to the popularity - quite unpleasant incidents occur regularly between celebrities and their fans crazy. On our stage for the last time this victim was Sofia Rotaru.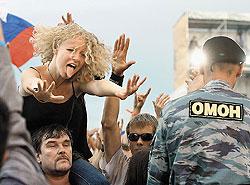 A resident of the Tula Galina Starodubova long-sought attention from a star, and after the security of the singer stopped to fend her "body", Starodubova called the Kremlin Palace, where the singer for 28 October was scheduled solo concert, and reported a bomb threat. Now maniacal fan faces a sentence of up to five years in prison, and she Sofia Mikhailovna and her aides flatly refuse to discuss the subject, citing the fact that "for us it is a sensitive issue».
Fans, poisoning the life of stars, stalkers called (in translation from English - "stalk", "hunt", "monitor"). Stalkers do not leave objects of his attention to the rest day nor night, throw their letters and pestered with endless phone calls, give gifts and follow them everywhere. Most of them sincerely believe that it is not indifferent to their "elected representatives." Guys Though they are annoying, but the bulk is still harmless. Danger represent the strength of two percent. But examples of irrepressible fans of their idols made life unbearable enough. Among them are tragic cases. The most famous - the murder of John Lennon.
Russian fans with manic tendencies is extremely small. And if they are, for some reason, they prefer to stick to the foreign stars. Earlier this year, the California court sentenced a 18-year-old immigrant from Russia Maxim Myaskovsky to 117 days in jail and five years probation for stalking actress and singer Hilary Duff. Shortly before the trial, he threatened to kill the star. This story is very similar to the story of Borat Sagdiev narrated by Sacha Baron Cohen in his film. The only difference is that the character is Cohen came to the United States to seize Pamela Anderson and Myaskovsky hunted Duff. Just like Sagdiev, all attempts to draw attention to itself without success, and in the course went threat.
In the West, however, and its lack of maniacs. Jack Jordan was arrested recently about New York House Uma Thurman. The star of "Pulp Fiction", he "fell in love" in 2005. Jack Thurman wrote letters, called, kept watch around the house and tried to get to the set. Relatives concerned about the mental state of Jordan, put him in the hospital. In the summer it came out of the psychiatric hospital, he arrived from California to New York and set up camp near the house in the minds of the West Village. After several attempts to get into his house guards called the police. Now Jack Jordan awaiting trial in prison. If convicted, he faces up to 20 years.
Special honor of the violent fans enjoyed Madonna. Then all went to Robert Hoskins, a drifter from Oregon, sat out a prison sentence for stalking singer threats against her and indecent behavior. Hoskins first persuaded himself that Madonna is crazy about him. After she rejected his marriage proposal, he hated her more than once threatened to cut her throat and kill the guards, hindering the meeting with the beloved. Hoskins repeatedly tried to enter the territory of the estate of the Madonna. Once he even managed to get to the pool, located a few dozen meters from her house, but just noticed. While one guard held the intruder at gunpoint, the second went to call the police. Stalker rushed to the guard and got a bullet in the arm and stomach.
Jonathan Norman got it into his head that his idol, Steven Spielberg wants to be raped them .... Norman was arrested when he entered the gates of the estate Spielberg. The jeep lay the standard "set" of the rapist: tape, handcuffs, and a knife blade, nipple clamps, dog collar, chloroform, and electric shock. Run "passionate desire" Spielberg Jonathan gathered in front of his wife and children. Since Norman was the third violation of this kind, he was given 25 years in prison.
Our country was perhaps the only one particularly serious case. And it happened almost three decades ago, in 1979, in mortal danger threatened Alla Pugacheva. Wanting to take revenge on all the fairer sex, who rejected it, a Nagiyev was going to rape and kill young singer. The seriousness of the maniac eloquently speaks of its "track" list in which there were five murders, seven rapes. All the victims were similar to Pugachev. Nagiyev was sentenced to death.
Fortunately, among our other Nagiyev stalkers longer noticed. Most often, they are threatening to disfigure idols, splashed acid in the face. Such violence violent fans threatened Vladimir Politova and other "Nanai" Alexander Abdulov, Sergei Zhukov, Boris Moiseyev ... Not long ago, the police asked Katya Lel, a statement that she received death threats if she did not leave the scene. A person knowledgeable about the private life of the singer, sent threats via e-mail not only her but also her family.
The rest of the Russian "Star harassment" more comic than tragic. For example, a long time ago in the magazine "Soviet Screen" jamb were weird letters to all sorts of stars. One man wrote in detail in the magazine about how he loves Irina Kupchenko. Not completely, but in parts of the body - it handles its legs and so on. A letter to Mikhail Boyarsky and completely turned into an anecdote. A fan asked the famous D'Artagnan save her from harassment ... a husband who, they say, "stick." "And now I'm sorry for the uneven handwriting." - With these words, the message was complete.
... Each celebrity stalkers struggling with their own way, but there are general rules that violate not recommended. Psychologists advise the stars under any circumstances, do not go for personal contact with fans and take nothing from their hands. It is not recommended to talk to them on the phone, enter into correspondence and respond to a declaration of love or a threat. When you can not avoid contact, should maintain a certain "distance" to prevent liberties, do not allow yourself to touch and take nothing and does not give a keepsake.
New news ©