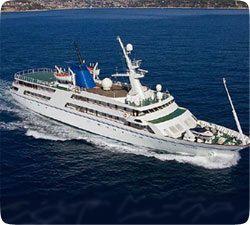 Executed dictator Saddam Hussein loved luxury, and after his death related things have become even more expensive, becoming a part of the story. Thus, in one of the ports of Nice is waiting for its new owner elegant yacht, created for the former Iraqi leader. Unique item is estimated at not less than $ 35 million.
82-meter Ocean Breeze, built in 1981 by the Danish mariners Helsingor Vaerftom first called Qadissiyat Saddam and was built specifically for Saddam Hussein, but has not been delivered to Iraq.
The fate of the ship was not easy: long boat got to Saudi Arabia, where it acquired the royal family and renamed at the same time in the Al-Yamamah. About 10 years the yacht was moored in the Saudi port near Jeddah, after which, according to rumors, some time belonged to the King of Jordan.
Ocean Breeze can accommodate 28 passengers and 35 crew members. In addition to the standard attributes of luxury in the form of gold and a number of toilets Jacuzzi, there is room for a helipad, a theater and even a small medklinika. In an emergency, such as the threat to the life owner of the yacht, the ship is equipped with an emergency exit. London-based Brokers Burgess, exposed the yacht to the auction, nominated for her starting price in the amount of 23,512,790 euros (34.45 million dollars).
A source