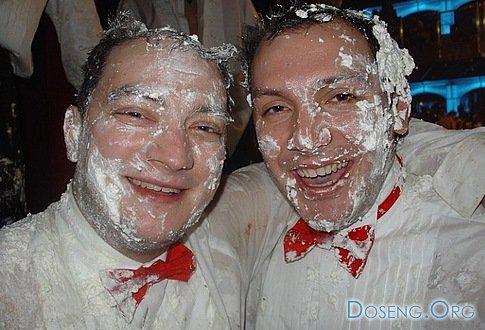 Roman Yunusov and Alexey Likhnitsky, best known for "Comedy Club" as "Sisters Zaytsev," studied together at the Timiryazev Academy, and then participated in KVN, and now serve together "Comedy Club". How there was a name much loved duo?
It turns out that Roman and Alex went together to the first party, "Comedy Club" - just to hang out, chat and support of friends. "After the third concert, - he told the magazine" 7 Days "Roman - approached us with Tash Pasha Volya and asked," And why are you sitting? Also on the scene, let's! "We Lehoy thought, because we are really plenty of material!" And the next sabbath friends came in one of Moscow restaurants by midnight to act. Half an hour before going on stage Tash asked how they declare. The guys have completely forgotten that you need to come up with the name itself, and confused - in the head nothing good will come. "Maybe the Klitschko brothers?" - Without much hope offered Yunusov. "No, not - responded Likhnitsky. - Let's you and I will, "Sisters Zaytsev"! "Tasha name like:" Well it's funny, when announcing the "Sisters Zaitsev," and on the scene two round peasant! In any case, I will introduce you so today - he said - but if you do not like it, come up with another time for something else. "
"We came out very well made, everybody liked - remembered his debut novel. - Show number "Brewery" when broke pivoprovod and from there, from the event, a special correspondent novel, pretty drunk, passed a report leading to the studio - Tatyana. Everyone was very pleased we came the following Saturday. And so it started already 4 years we "Comedy". "
A source