Two years later, a team of soldiers managed to regain the title, winning the Israeli "Maccabi" from
account 91:77.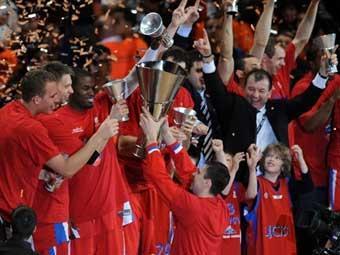 CSKA became the champion of the main club tournament in Europe for the second time in three years and the sixth time in
the club's history.
In the first minutes of the final match, "Maccabi" went into a small gap (5: 0), but CSKA equalized quickly
through the first quarter and won by a margin of one point (22:21). In the second 10-minute Israelis
first began to experience serious difficulties in the attack, but managed not to break the Russian team in
account. At the long break the rivals went with the score 42:41 in favor of CSKA.
The third quarter began with two consecutive three-pointers hit John Robert Holden, and then CSKA
finally took the game under their control. At the beginning of the final segment of the meeting advantage of soldiers
It grew to 16 points, and the players of the Russian club has never allowed his opponent to organize a chase.
The final score of the match - 91:77.
The most productive in the winners Trajan Langdon became recognized as "the most valuable player» (MVP)
"Final Four", reports Lenta.ru. American guard scored 21 points, six of the seven implementing
shots from the game (including four of five three-pointers) and five of six free throws. Holden scored 14 points,
13 - Ramunas Siskauskas, David Andersen and Matjaz Smodis 12 - Teodoras Papaloukas.
Note that a few hours before the final match against "Maccabi" CSKA head coach Ettore Messina
He signed with the Russian club a new contract. The agreement is for one year with possibility of extension
yet at the same time.