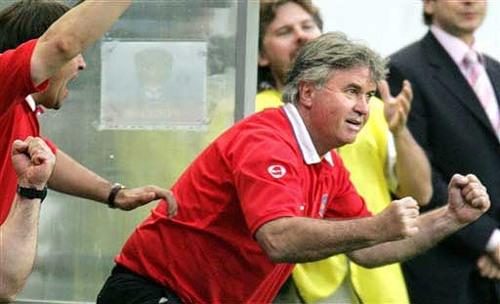 Today, May 27, head coach of Russian national football team Guus Hiddink has called the final composition of the matches of the European Football Championship 2008. Officially squad for Euro 2008 will be announced tomorrow, May 28.
Guus Hiddink, who is currently with the team at the training camp in Germany, said that in the matches of the European Championship will not participate midfielder Samara club "Wings of the Soviets" and midfielder Oleg Ivanov in Moscow "Spartak" Alexander Pavlenko.
However, Oleg Ivanov, the first called to the national team, will travel with the team at Euro 2008 in order to gain experience, said the TV channel "Sport».
The composition of the Russian national team at Euro 2008
Goalkeepers: Igor Akinfeev (CSKA Moscow), Vladimir Gabulov ("Amkar"), Vyacheslav Malafeev («Zenit»).
Defenders: Alexander Anyukov ("Zenith"), Alexey Berezutskiy, Vasily Berezutski, Sergei Ignashevich (all - CSKA Moscow), Denis Kolodin ("Dinamo"), Renat Yanbayev ("Lokomotiv»).
Midfielders: Diniyar Bilyaletdinov, Dmitri Torbinski (both - "Locomotive"), Vladimir Bystrov ("Spartacus"), Sergei Semak ("Ruby"), Yuri Zhirkov (CSKA Moscow), Konstantin Zyryanov, Roman Shirokov (both - "Zenith") Igor Semshov ("Dinamo"), Ivan Saenko ("Nuremberg", Germany).
Forwards: Roman Adamov (FC "Moscow"), Roman Pavlyuchenko ("Spartacus"), Pavel Pogrebnyak, Andrei Arshavin (both - "Zenith"), Dmitry Sychev ("Lokomotiv»).
Recall that the first match in the Euro 2008 Russian national team will play June 10th. In addition, May 28 Russians hold a friendly match against Serbia.