Nokia has announced a new mobile phone model of Nokia 8800 Sapphire Arte Black - premium device, released specially for the Russian market.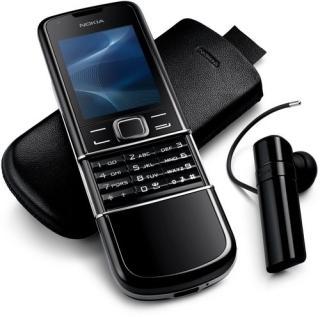 The phone is made in a black case with inlays of black leather and high quality sapphire saturated
dark shade. Owners Arte phone line can also enjoy an exclusive collection
melodies created by Kruder & Dorfmeister and original screensaver from Fritz Fitske.
Two light touch is enough to appear on the display unit an elegant watch, with the background
images organically change during the day and create a unique design of the display. Included in the
the Nokia 8800 Arte calls can be silent, turning the phone display down.
Other features of the Nokia 8800 Arte - a 2-inch QVGA-display OLED
resolution of 240x320 pixels, showing up to 16 million. colors, 3, 2-megapixel camera with autofocus and 8x digital zoom, support networks 3G, 1GB of internal memory, a universal connector microUSB,
coating on metal and glass, prevents contamination and fingerprints.
The Nokia 8800 Sapphire Arte Black is expected in June 2008.