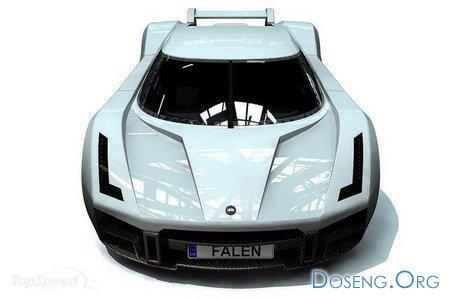 The car received a striking resemblance to the supercar Lamborghini Gallardo, which is not only in appearance but also in power, as both cars are equipped with high-performance V-shaped 10-cylinder engine.
The developers equipped the new 5, 0-liter V10, located in the middle of the machine. The power unit makes 800 hp, while it is associated with a five-speed gearbox.
According to rumors, with time on Falen will establish a very powerful engine Judd GV5 S2, used in racing cars class LMP1. The weight of such engine is about 130 kg, so together with the supporting body entirely made of carbon fiber, the total weight of the vehicle does not exceed 1000 kg. In any case, Falen meet on the streets will be almost impossible - the creators are going to release a total of 4 car, which will be distributed throughout Mega customers. Presentation of the prototype of the car will take place at the Geneva Motor Show in 2009.