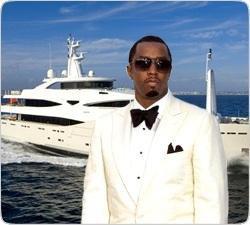 The street is getting warmer, and thus grow stronger with each passing day the desire to go in search of new experiences. At such moments, nothing could be better than a sea breeze, the bright sun and the company of best friends aboard a luxury yacht, cruising in the Mediterranean. Like no one else understands this famous rapper P.Diddy, who offers to rent your own boat for the best parties.
Owned by dark-skinned repepru yacht "Mariah» (The Maraya) was launched only two months ago. The fact that it can now take advantage of a special customer, P.Diddy announced during the Cannes Film Festival.
Luxury motor vessel was built by CRN Yachts Ancona in 2007, but the initiative P.Diddy was renovated and updated some details. As a result of highly skilled masters turned the yacht can boast such amenities which can only dream of the owner and his guests.
The yacht is designed for 12 people, not counting the 13-man crew. On board are 6 luxuriously furnished cabins, three of which are VIP. The captain's cabin has its own feature - a small balcony, where you can safely enjoy the solitude and hot sun.
Take a boat rental can be for the whole of 2008. In summer, the ship will dissect the waters of the Mediterranean, and then go to the Caribbean, which would have to come in the winter. To arrange a big party, how does it P.Diddy, you need to have at least 300 thousand. Euros, will be needed for a week's rental yacht.