For the electric hybrid supercar, first of all, the way to achieve maximum technical performance minimal effort.
Example – Motion hybrid super car of the American company Kepler Motors. Videos of his launches, the company reminds potential customers about the imminent start of sales.
The first Motion was presented to the public back in 2009 at the Dubai International Motor Show. Since then, the novelty was not heard. Obviously, nearly three years, the company worked diligently on his creation, until finally, he decided to interrupt a long period of silence.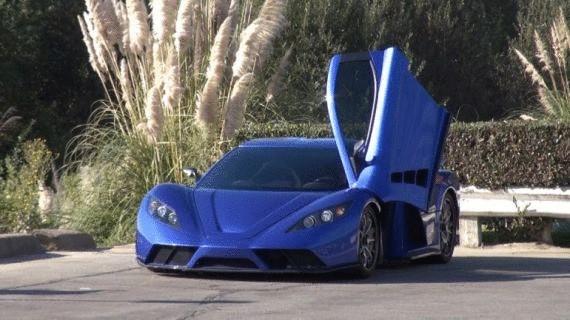 "Motion (movement) in motion" — can be described in one expression of the three videos, the main character who became a monster roaring, speeding down the road on the background of desert landscapes of California.
Hybrid drive supercar built by the now familiar for such cars scheme. The rear wheels loaded with powerful petrol engine while the front axle of fully electrified.
The power transmitted to the rear axle, is estimated at 550 HP. It develops a 3.5-liter V-shaped turbo "six" Ecoboost. The same as can be found under the hood of 2013 Ford Taurus SHO 2013 model year. On the front axle work tirelessly two twin-electric motor with a total capacity of 250 horsepower.
The resulting torque is enormous. Not surprisingly, according to the manufacturer the purple monster accelerates to 60 mph (96 km/h) in just 2.5 seconds. The final value of the maximum speed, I suppose, Kepler Motors has not yet determined, and reported that she "more than 200 miles (320 km) per hour.
Of course, it should be noted that such parameters have become a reality thanks to relatively low weight. In line with past traditions and achievements of everything, including the chassis, seats and wheels in Motion is made of carbon composite fiber, providing minimum weight and maximum strength.
In Kepler Motors modestly silent about the parameters of the lithium-ion battery pack. One can only assume that this silence is no accident. It is unlikely that the manufacturers expect that someone from the potential owners will drive solely on electric.
Similarly, no data on fuel consumption. In principle, such a "minor detail" is likely not going to excite potential buyers, whom the world will be typed a little. In Dubai Kepler Motors announced the sale of a series of 50 cars. However – times are changing.  
Source: /users/104