Brazilian top model Gisele Bundchen will
on the cover of the July issue of GQ.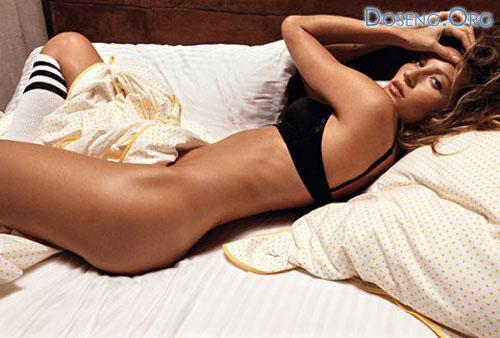 In the new issue, which goes on sale on 24 June Gisele talks about her new boyfriend, American football player Tom Brady, predators business model, as well as about where to go all the income of the richest supermodel.
More in 2000, the high Brazilian girl with a cheerful name of Gisele Bundchen just conquered the stage of high fashion. In those years it flourished in his career.
The flowering was delayed and became a hot afternoon - Today Gisele such a "trick", which is the envy of many models and actresses.
She had forgotten about a broken heart in a relationship with actor Leonardo DiCaprio, has found a new boyfriend - handsome football player Tom Brady and perpetuate their status in the world of big money.
According to the magazine Forbes, she is the highest paid fashion model in the world and occupies the 16th place in the ranking bye richest women in show business.
And while rummaging through other people's pockets - not good in the purse Gisele look very interesting - in 2007 it earned $ 33 million, and its total wealth is estimated at 150 million.
The girl became rich, that even got into the Guinness Book of Records as the richest supermodel.
She is the face of more than 20 brands in the near future, it seems, is not going to peter out.