In the Adler district of Sochi in a residential high-rise building powerful explosion: according to one version - a terrorist attack.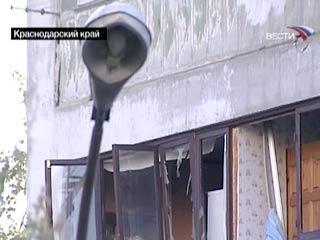 Two people were killed in an explosion in a residential 12-storey building in the Adler district of Sochi, RIA "Novosti" representative of the city police department. According to him, the dead - a man and a girl 14 years.
According to the MOE, the explosion occurred at 5.01 am on Wednesday on the first floor of a 12-storey building, located in the district Blinov at street Forest, 39.
At the scene there are seven pieces of equipment, 21 emergency workers who dismantle the rubble rubble.
The representative of the Russian Ministry of Emergency Situations reported that a fire after the explosion did not happen. According to him, collapsed ceilings from the first to the third floor.
According to one of the preliminary version, the cause of the explosion could be a homemade bomb near the building, told "Interfax" a law enforcement officer of the city, visited the place of incident.
The interlocutor of the agency said that the version of the improvised explosive device "is fulfilled along with the rest." He also confirmed earlier it was reported that the house was equipped with electric stoves. Version gas explosion, in this regard, law enforcement officials called unlikely.
Currently, out of the house evacuated thirty men with two staircases and a lift.