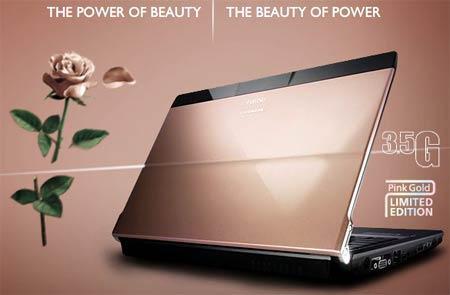 Fujitsu released for the development of a glamorous lady among laptops. Notebooks from a different gold and jewelry is no longer news, now usually pay attention not only on the material of manufacture, but also on the specifications.
Fujitsu, seems to have decided not to bother much and released a mediocre laptop. Yes, the processor it has, of course, dual-core, how can hurt the next generation, and mononuclear stones have become the last century, on the RAM is not very lavish, put as much as 2 GB, but the hard drive with 250 GB is still too small. In general, technical grade average, no frills and features. But pink gold covering laptop creates an allusion to the fact that goods created for the girls, well, try to imagine a solid and successful man with a pink laptop, a little ridiculous, is not it? And that must be considered in the women's laptop? Of course, the ease, so did their best to reduce weight, it is only 1, 3 kg, the size of the computer is also quite compact. But the design is strict, yet created for the laptop is not glamorous blondes, and for business women. Called computer LifeBook P8010.
Perhaps the novelty and will not have a rabid demand, because they do not have any rare finds in the design and technical base, but it will be a very good find for those who want to finance are found and the computer just befitting their status.