SUV Lamborghini LM002 - the only such car is the Italian manufacturer, which went into series. It continues the direction of Lamborghini Cheetah, which was created for the US Army, was built in a single copy, and then broke down in 1977 on the tests. A decade later, in 1986 at the Brussels Motor Show the public presented LM002. This model proved to be the most viable, unlike other prototypes - LM001, LM003 and LM004. Their structural differences based on the different positions of the engine, which, incidentally, is a 5, a 2-liter V12 power of 444 hp from the Lamborghini Countach 5000QV.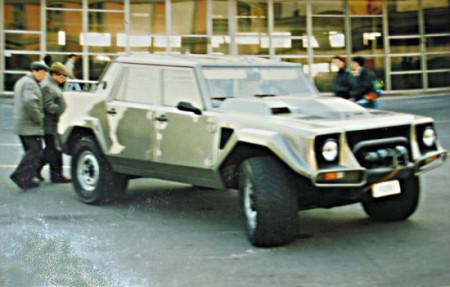 If a race car engine, rear, makes "more race" with the SUV is not the case. Prototypes with the engine located at the rear, were not viable, but as soon as the power unit moved forward, the situation has changed. Due to the fact that the heavier SUV LM002 sport supercar Countach in two and a half times its maximum speed when using the same engine does not reach two hundred and is 188 km / h.
Lamborghini LM002 - an army vehicle. Half of all produced "zero-zero-second" have adopted a Middle Eastern army - hundreds of cars ordered war in Lebanon, more than 40 pieces - the armed forces of Saudi Arabia. And just from 1986 to 1993, he was released a little more than 300 LM002.
In 1988, it was decided that the SUV will participate in the Rally Paris - Dakar, but when it came down to it, it became clear that it had no money Lamborghini. What is curious, to prepare the car for the race in time. Engine power was raised from 444 to 600 hp, reinforced suspension, the car is as easy as possible, leaving only the most necessary, put the GPS and made a number of improvements. As a result, a car rally in the pair subsequently participated - in Greece and Egypt.
Serial Lamborghini LM002 have high traffic and remarkable appearance, but extremely choosy in respect of fuel, maintenance and spare parts.