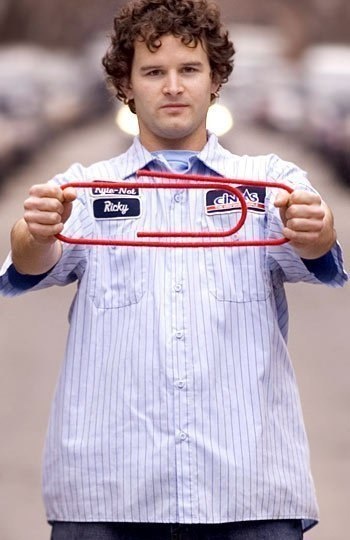 27-year-old unemployed Canadian Kyle MacDonald traded paperclip to a house. In the summer of 2005, he found the net man ready to die for his clip wooden ballpoint pen in the form of fish (the man was a vegetarian so he did not like the handle).
This knob MacDonald handed designer, receiving in return an unusual author doorknob. He traded it for marching kerosene stove and a kerosene stove - on electric. Generator - for neon advertising and a barrel of beer. It's good to Kyle changed on a snowmobile, and it - on a tourist ticket. Stay was exchanged for an old van, he, in turn, to a record contract, for which the aspiring singer invited MacDonald annual rent his cottage in Colorado.
Then he found a man who is ready to pay for the right to rent the Colorado lunch with rock star Alice Cooper. Lunch Canadian traded on a collector's glass ball with figures inside the band Kiss. It is this ball lacked producer Corbin Brensenu to complete his 6000th collection. For the rare instance Brenes offered Kyle role in his new film.
The mayor of the small town of Kipling, the whole life dreaming of Hollywood, has agreed to pay for part two-storey mansion, where MacDonald and entered in August 2006