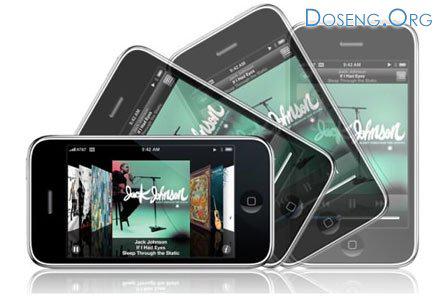 iPhone Unlock the eyes of consumers in the device with a touch screen. Already in 2008 they will sell 341 million and 833 million - 5 years. Proceeds from the sale of producers sensor modules for mobile phones, mobile computers and personal navigation devices in 2009 will amount to $ 5 billion.
Touch screens were invented more than 30 years ago. Since they are used in handheld computers, tablets, monitors, information displays and other mobile and stationary devices. But the really attention of consumers attracted to the touch screen only iPhone - the first truly mass product with a touch input technology, released in 2007
According to ABI Research, the demand for mobile devices with touch screen in 2007 - when it was released iPhone - grew by 91% compared with a year earlier. In 2009, sales of touch screens for mobile phones and other portable devices, including the so-called mobile Internet devices (MID), ultra-mobile PC (UMPC) and personal navigation devices (PND), reaches a value of $ 5 billion.
"Almost every mobile device manufacturers began to produce models with touch screen" - says research director at ABI Research Barden Kevin (Kevin Burden). The most successful vendors began to Samsung and Motorola, which owns 33% and 30% of the market touchscreen mobile phone, respectively. In third place by sales of cell phones with a touch screen is Sony Ericsson has a market share of 24%. «Samsung and Motorola lead the market because their products are distributed in the Asian market" - said the expert. Chinese alphabet on the keyboard can not be placed in standard sizes, so to enter characters using the OCR function, to realize that it is impossible without a touch screen. Over the last year in the Asia-Pacific region it has sold more than 80% of all issued in the world of touchscreen phones.
Customers have become more demanding and are looking to the interface device, where it would be more intuitive and clear. Furthermore, the cost of touch screen displays is reduced by about 10% per year, which allows the corresponding prices and the final products. All this, according to analysts, led to the rapid growth of consumer interest.
According to the report, iSuppli, published in May 2008, in the period from 2008 to 2012. sales of touch screens will more than double. This year, the world will be sold 341 million devices with a touch screen, and 833 million units - in 2013. In 2013, the market for touch screens will be assessed at $ 6, 4 billion. This year, the proceeds from the sale of sensor modules will be $ 3, 4 billion.
Currently, commercial products sold only 8 ways to touch input 20 invented. Among them: resistive and capacitive-projection technology, acoustic wave technology, infrared, optical, and others. In the future, a variety of ways to touch reading will increase, experts say.