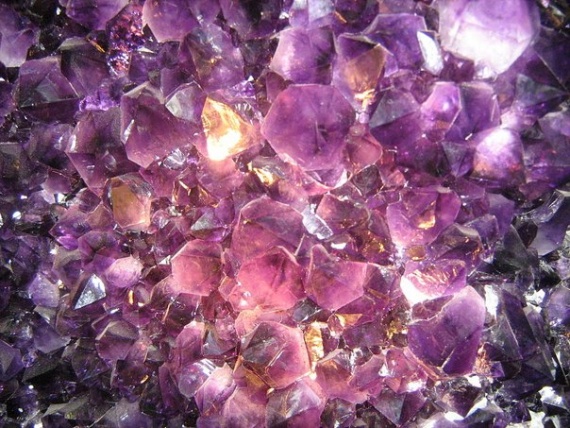 Amethyst is a variety of quartz purple. Properties amethyst reflected in its name - «amethystos» in Greek means "not drunk." It is believed that this stone is able to protect from intoxication, poisoning and protect against the evil eye. It promotes awareness of the nature of desire, helps to abandon destructive habits. Medicinal properties of amethyst crystal that allows the holder to successfully resist any negative impact from the outside, both physical and mental level.  
Amethyst enhances immunity, gives strength and increases the body's resistance to disease. Products made of purple quartz decorated clothes many rulers and monarchs, who know about the magical properties of amethyst. Stone had the ability to take away from its owner the pain and sorrow, taking them into itself, thereby facilitating human suffering. Clairvoyants and psychics especially appreciate the ability of the crystal amethyst awaken psychic abilities, revealing the secrets of the universe.
In ancient Rome, amethyst was placed in a glass of wine, as it was believed that it protects a person from uncontrolled drinking and even neutralize the poison. Products with amethyst worn during epidemics, because they believed that it does not give the infection to enter the body of the owner. Prepared quack "amethyst" drink: overnight in a vessel with water and a few stones laid allowed to drink this infusion to patients at high temperature, various inflammatory processes. Today in lithotherapy amethyst is used to improve cerebral circulation, the treatment of insomnia, anxiety, nervous breakdowns. It is believed that worn on the ring finger of the right hand amethyst strengthens the immune system, and wearing his earrings helps to improve eyesight.
Amethyst helps with love, affection strengthens, protects them from extinction. He is able to enhance intuition, determination and courage to make important decisions.
Many nations Amethyst is a symbol of peace, sincerity, honesty and virtue. The owner of this stone can be sure of fidelity chosen (or chosen one) and the sincerity of his feelings. In ancient Greece believed that amethyst contribute to the rejuvenation of the body, reduces wrinkles, removes freckles and age spots. The stone was placed under the pillow at night to prevent nightmares, insomnia cure, cause pleasant dreams.
Amethyst should be worn at all times, only then will it really help the owner. However, we must remember that this gem is easily changes its mood and if the owner carries it during conflict situations at work, quarrels with home, a stone can tune in to the negative energy and begin to translate it to its owner. Therefore, after any conflict with amethyst product need to hold for 5-7 minutes under running water to stone calmed down.
Its advised to wear only silver. However, if your product combines a few stones, they can be recovered, and in gold.