The cold season provides lovers of all extravagant contemplate unusual optical atmospheric phenomena. In the sky here and there appear strange glowing column. Like a beat some alien spotlight. Do not messengers of other civilizations finally came to visit us? President of the Center for Research Riga anomalous phenomena UFOlats Yevgeny Sidorov noted that this phenomenon has been observed many times in Latvia. His so-called - light pole (light pillar).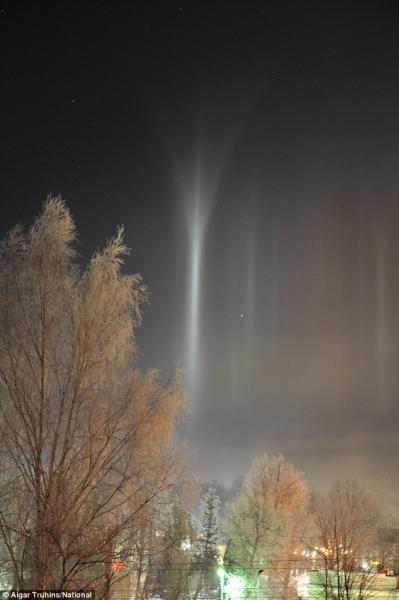 The mechanism of formation of this beautiful optical atmospheric phenomena associated with the formation of the air plane of ice crystals, which are activated as a small mirror. The site UFOlats posted pictures that were taken with a standard digital camera in Sigulda. Here, the most interesting is not the fact of the appearance of light poles, and their expansion and rounding up. It is a curious "glass effect". But in any case, multicolored glowing rays seen frosty night, nothing to do with UFOs clearly do not have.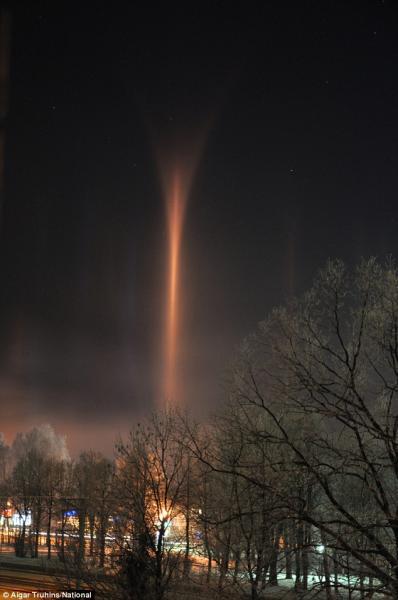 By the way, at one time caused quite a lot of noise "doomsday", which occurred exactly two years ago, namely in February 2006, residents of Riga district Vecmilgravis, BBQ, Sarkandaugava, Mezhapark, Bolderaya, Jaunciems and Rīnūži. Then the sky were seen just glowing multiple columns!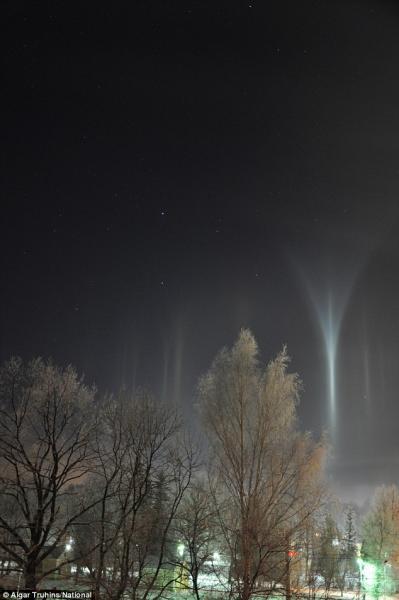 The investigation was installed the main source of which is responsible for the formation of the main "light compositions." As it turned out, at this azimuth are over ten benzonalivnyh huge tanks by Neste and Statoil, illuminated by powerful lights.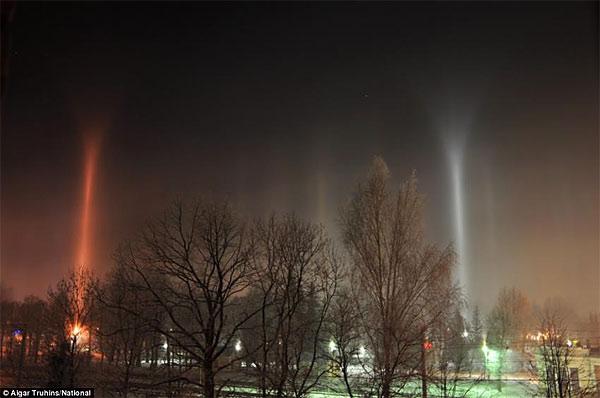 During the sudden change in temperature in the atmosphere were excellent conditions for the formation of micro-crystals of ice. These tiny flat platelets beautifully sparkled in the light of mercury and sodium lamps benzene storage. Light scattered by ice microcrystals, which acts as a kind of miniature reflectors. And get all the same light poles. They seemed truly unearthly beauty!