July 25, 1956 near New York, in Nantucket, sank the Italian transatlantic liner Andrea Doria after colliding with the Swedish liner Stockholm.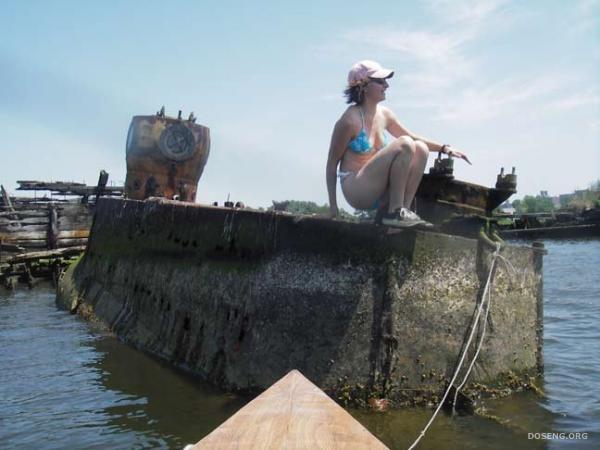 It was known that the holds Andrea Doria is the silver statue of the mermaid, worth $ 250,000, the painting sealed in airtight boxes, industrial diamonds, thousands of boxes of liqueurs, tons provolonskogo cheese, besides the two bronze propeller Korablin worth $ 30,000 each, and so on. D. and so on. n.
In 1963 he worked in the Brooklyn NAVY YARD Jerry Bianco wanted to get to the treasure of the deceased Korablin. Jerry decided to build a submarine that could go down to 240 feet under the water (which at this depth lies liner), then it is planned to put into the body of Andrea Doria fill the air bag, and thus raise the ship to the surface. In 1966, Bianco started to collect money for the purchase of special materials required for the project, and the formation of the corporation Deep Sea Techniques. Friends, neighbors, local police and firefighters believed in the dream of Jerry skidyvaya to build submarines. Even one dollar given the right to own a piece of the submarine, and a certain percentage of the sum of the values ​​raised to the surface from the bottom. Bianco did design and most of the work on the construction of the hull itself, occasionally hiring people as allowed money also helped him two sons. Finding the money for the construction was difficult, because only mechatatel could not believe the captain who has never managed submarine. Bianco usually attracted investors with the phrase: "My submarine is not made for speed and beauty».
After four years of work sorokofutovaya, an eighty, painted in a yellow submarine, officially named The Quester I passed the inspection of the Coast Guard issued the verdict that the ship can withstand the pressure at a depth of 600 feet. At the time of launch of the corporation Deep Sea Techniques submarine invested $ 300 000. Another $ 600,000 needed to build Korablin-uterus, to which the submarine would be lifted by the air and charging. Finally, October 19, 1970 the submarine was completely ready to be launched channel Coney Island Creek:
Jerry Bianco daughter, Patricia, broke a bottle of champagne hull before a giant crane started to lower the submarine into the water. Unfortunately, that's all over. Crane lowered the boat into the channel entirely forgetting the instructions given to him by Jerry. To save Bianco removed the ballast from one side of the submarine, as the cost of launching was calculated to the penny and could not exceed the budget, so the crane is strictly nastrogo said lowered the boat into the channel only partially. As a result, cubmarina helplessly stuck in the channel. After launching an unsuccessful investor enthusiasm has cooled and Jerry never able to return to your project. Ever since Quester I has been 39 years in the waters of the Gulf of rust Gravesand & quot ;.