Opened the 18th International exhibition "Wedding, Evening Fashion and Accessories» -2011.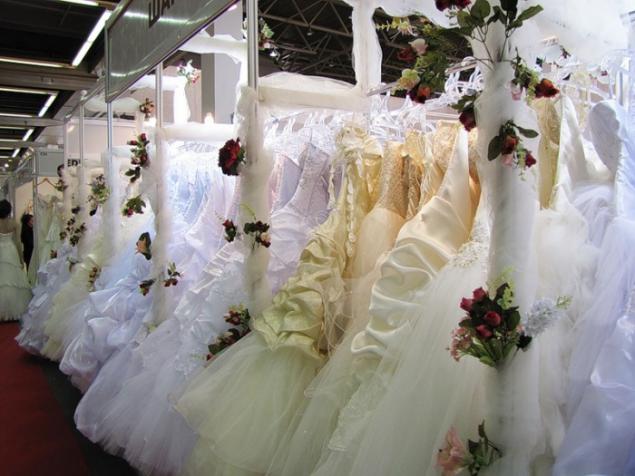 - You are the bride or salon? - Just pounced on me Auntie with catalogs, packages, business cards, brochures and even knows what the bells and whistles.
- I'm not the bride and not from the cabin, but I will write about the exhibition on the internet.
- Aaaaaaaa - somehow boring said Auntie is still the same and lost all interest in me, went away, giving me the opportunity to look around.
Thus began my acquaintance with the 18th International exhibition "Wedding, Evening Fashion and Accessories» -2011.
I went there for fun. It is often asked, "Do we need an institution such as a wedding?" Before the wedding really played the bride, the redeemed. And now, as a joke, "Darling, I'm too busy with serious business to build a serious relationship with you." Three years ago I was buying a car, and a questionnaire filled out another buyer, and there in the graph marital status was not only "Married", "Single", "Divorced", but also live in a "civil marriage" and even "meet". < br />
Every girl dreams of a prince on a white horse, and then a beautiful wedding and unusual wedding dress. But life is a complicated thing, a harsh and sometimes cruel. A lot of my friends who got married students with zero budget and without any payment, now grown grandchildren and happy. And about the same who played a rich wedding according to the rules, has long been divorced and seem to have forgotten about the existence of each other.
I went on the show watching visitors. There really was a lot of representatives of the salons, a lot of girls with girlfriends, mom and dad were with her daughters, and perhaps the most part were smaller pair. I have a question: who is organizing this festival, whose feast is: whether his parents are satisfied with yourself or children, or children arrange for parents.
By the way, I was once at a wedding where the young and young people quickly sent home, and the parents and guests were celebrating a meeting - they all studied at the Academy of Border Troops, and then life swept them on different garrisons and met them only at this wedding.
After walking for the exhibition, I realized that all the rules about the wedding - a complicated matter troublesome and expensive, so there tricks and details. Bridesmaid dress, veil, shoes or boots, lingerie and garter of the bride. And gloves, umbrellas, handbags, jewelry, fur coats, hats. Flowers and bouquet of the bride - is necessary. And the basket of champagne, glasses, candles, napkins. And all the "little things" such as invitations.
What I saw looked like something between a fashion show and wholesaler specialized rynkom.V one end on the beautiful catwalk models showed representatives of Italian, French, Croatian wedding fashion houses. Strolled through the alleys of the exhibition models in a variety of wedding and evening dresses. And he went away a little in any store there was a brisk fitting: girls measure, steep front of the mirror, sometimes somewhere to go in the same dresses with sellers.
Wedding business - it is a business with its own laws and tricks. I'm not so much for its prosperity, but for simple human happiness