All who sew, you know how important caring for your favorite helpers: sewing machine and serger. In the process, between the parts of the viscera accumulates a lot of lint and dust... And if you ignore regular cleaning, there is a higher
risk of equipment failure
.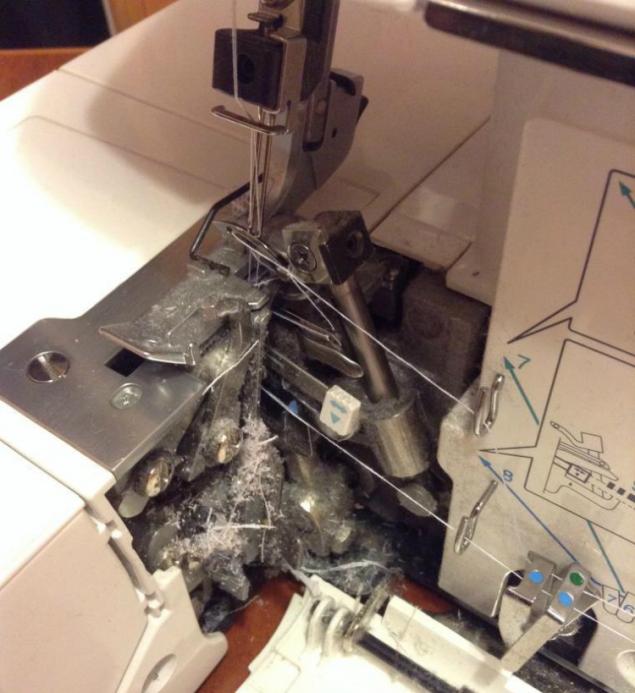 Clean car with a brush for drawing, but in this case there is still a lot of lint...
"Site"
never ceases to delight knitters with new ideas to ease their hard creative work. We offer you to make a homemade
fixture to remove dust
in hard to reach places from scrap materials!
How to clean maxinquaye need
a sheet of paper And 4
adhesive tape stationery
plastic tube for drinks
vacuum cleaner
Progress
A sheet of paper , turn the funnel so that the hole could enter the tube for drinks. Secure the edge with tape.



A tube insert into the hole in the paper sack long side down to the inside fold of the accordion on the tube. Secure in this place with tape.



Now all this construction is put on the nozzle for a vacuum cleaner with a narrow tip (for cleaning crevices). Why is the nozzle, not directly on the nozzle of the hose? Head will not stick together paper from the strong pull of a vacuum cleaner.



The tip of the tube insert into the hole in the nozzle of a vacuum cleaner. Wrap the paper tape attachment, so she sat tight on the vacuum cleaner nozzle. Then it can be easily removed and stored for reuse.
Turn on the vacuum cleaner. Putting a finger to the tip of the tube, you'll feel drawn into the air. Now you can begin cleaning your machine.



The design of reusable and multifunctional, for practical use of such nozzles is not limited to only sewing machine. In any hard to reach areas and crevices of the apartment will not be spotless!
This advice not to share with your friends!
The author

Marina Artemova Loves to photograph the beauty of nature, enjoys handmade. Son Vanya had taught the mother to cope with any household tasks effortlessly: Marina knows how to get the most stubborn stains and to clean the house in minutes. Interested in the most acute, various life issues, never remain aloof from what actually matters! Favorite book Marina — "gone with the wind" by M. Mitchell.