Few people know what a "flambe". But now this method of restaurant cooking, which consists in the rapid firing of ready meals by an open fire, can be available to everyone and can be used even at home.
Fiery a new concept, created by designer Karen Cheong (Karen I Man Cheong), inspired by the Davy lamp, invented in 1815, the English physicist Humphry Davy. This lamp where the flame was surrounded by metal mosquito netting, not allowing him to escape, was intended for use in explosive environment such as coal mine, and was extensively exploited until the invention of electric light.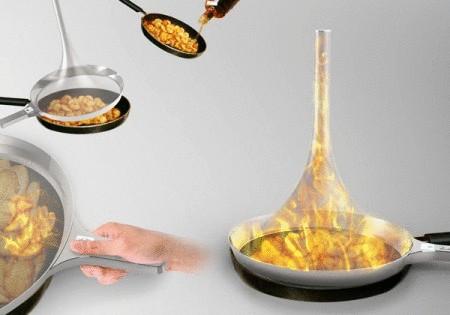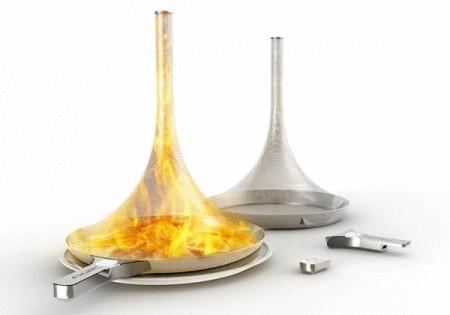 Fiery sets a new standard in home cooking and restaurant dishes. Hoping to discover new tastes and flavors, Fiery really allows you to cook flambe without worry about fire. This concept uses a wire mesh to isolate flame. With the Fiery you will easily be able to impress family and friends with virtually no effort. Simply pour the liqueur into the pan, press the button to start a fire, and when the flame goes out, remove the grid. All ingenious is simple!
The Fiery uses the features of wire mesh: gas flame will not go through thin wire, because the metal pulls the heat from the flame, lowering the temperature of the gas below the point of ignition. Design is only 34 inches tall and includes a frying pan, protective metal mesh, rechargeable USB section and the handle with push button ignition, acceding to the pan through magnetic attraction. Thus, this idea provides the implementation of two functions: ignition of the fire to protect the flame.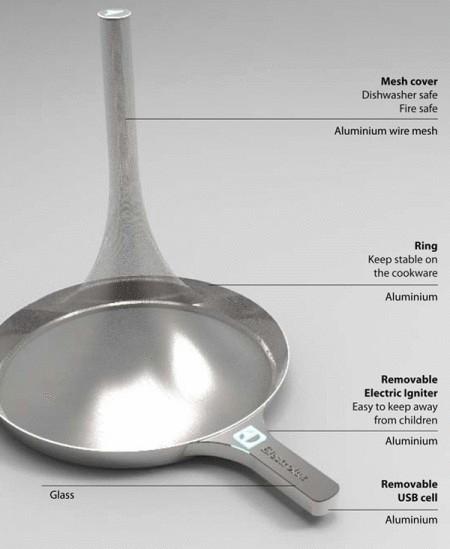 Undoubtedly very useful thing, especially for those who like to cook culinary delights, because in the absence of necessary safety net, you can use the lower part of the structure, frying-pan, as usual. So Fiery deservedly became the winner of annual global design competition Electrolux Design Lab Shortlisted in 2012.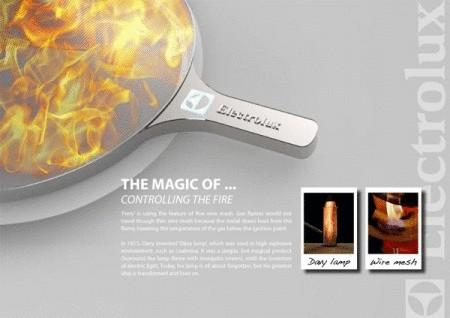 Source: /users/104