The accident at the NPP "Fukushima-1" has led to massive leakage of radioactive materials. Timely and reliable assessment of the effects of radiation on biology proved to be impossible and are only now beginning to receive the first data.
A group of Japanese researchers have found physiological and genetic damage in the crash at the pale blue butterfly Zizeeria maha — widespread in Japan representative of the family Lycaenidae.
The first specimens caught in the vicinity of the station in may 2011 (we will remind, the accident happened in March of that year, when the may butterflies were still larvae), showed relatively mild abnormalities. Overall, approximately 12% of the butterflies affected by radiation, have reduced wings and damaged eyes.
However, 18% of their offspring, bred in the laboratory, showed more severe abnormalities, which are also passed on to offspring. In the third generation, the share of the "mutants" made up 34%.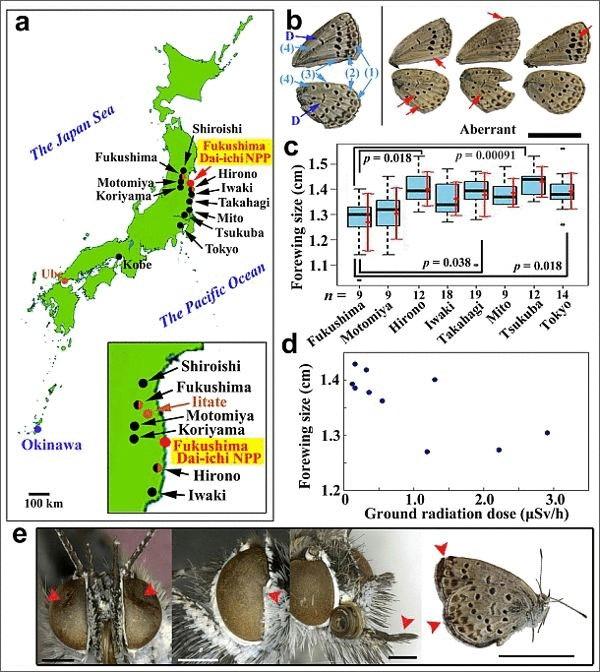 In September 2011, the researchers collected a new batch of butterflies — a total of 240 individuals. 52% of them had the same anomaly.
Similar deviations were able to reproduce experimentally in individuals from uncontaminated areas through internal and external exposure in small doses. Thus was confirmed the hypothesis that the cause of the incident was an accident at a nuclear power plant.
Scientists warn that these findings should not be transferred to other species, including humans. Many experts still deny that the accident at the "Fukushima-1" will lead to a surge in the incidence of cancer or leukemia, that is, diseases that are considered associated with irradiation. At the same time need long-term medical monitoring because of concerns among young people about thyroid cancer, which was distributed in areas affected by the Chernobyl disaster.
Source: /users/104