What do you expect from your advertising Agency? Of course, creativity! They darling, but still in a very unexpected, eco-friendly, stylish context I decided to take clients of Dutch ad Agency BrandBase. When the firm had to move to new premises, located in one of the houses on the canal Brouwersgracht in the historical centre of Amsterdam, there is an urgent need for a temporary arrangement, but, nevertheless, a comfortable and presentable office. And what did they do? Rented 270 wooden pallets, which turned into a chic office tables, benches, stairs, platforms, coffee tables... Most interesting is that this business format is not only economically advantageous, but also more environmentally friendly than conventional office furniture which often contains a lot of hazardous substances.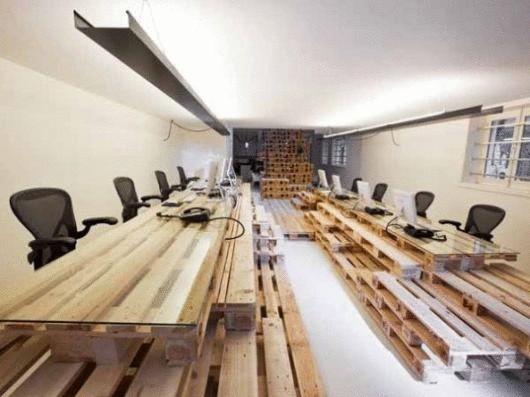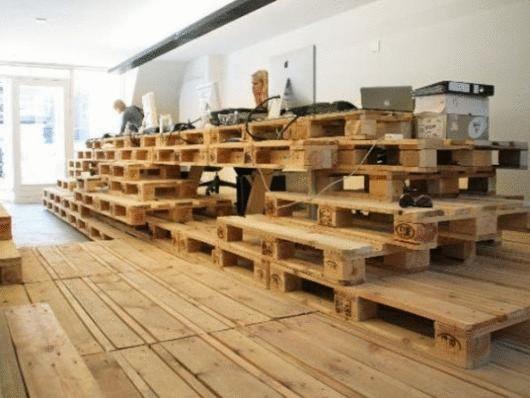 Original way to transform an ugly building into a dynamic creative office helped architectural design firm Most Architecture. Wooden pallets or pallets that are used for transportation and carriage of goods, as well as possible fit into the archetypal narrow, but deep house on the channel, a classic example of Dutch architecture. Who would have thought that the most ordinary and unassuming wooden containers may be adequate alternative to modern office furniture.
The main focus of the design is made of natural wood texture and a special lattice texture pallets, to accentuate that help white walls, black chairs and railings. It seems like the designers just wanted to fool around and they went to the warehouse, picked up there trays and started to turn up and fence, and most importantly, that Yes it happened! And get something really unusual – a total mix of styles, genres, forms and textures. At the right moment all this eclecticism will be disassembled in a few minutes and again turn into a normal container.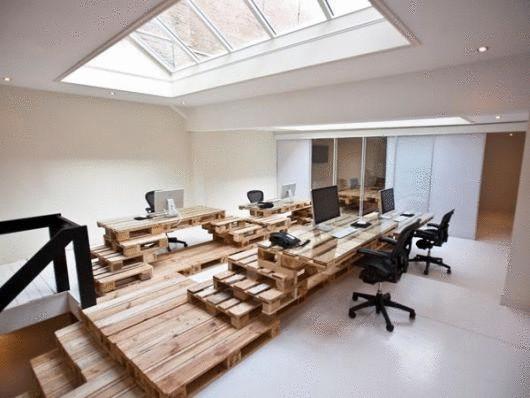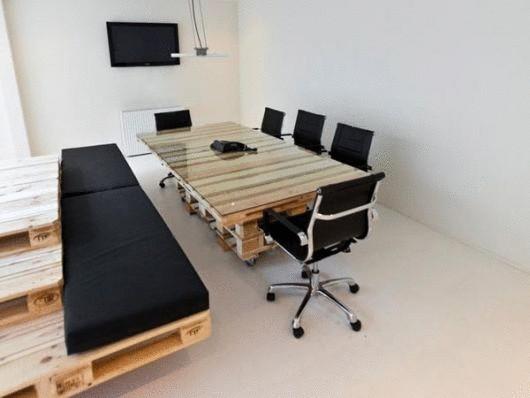 A special ambiance awaits visitors directly at the entrance to the Agency, because to get into the main room they have to walk on the "catwalk" of wooden pallets, bypassing employees who work for the office desks of those same pallets. For added convenience, all work surfaces covered with glass, which is very organically combined with wood and visually does not burden the design.
Second floor, thanks to the huge ceiling Windows, immersed in daylight. Here is the room for business meetings and presentations hall, separated from each other by a transparent wall and doors. A significant advantage of using wooden pallets – mobility and the possibility of a variety of structural transformations.
Harmonious addition specific rustikale warehouse style steel hanging lamps with exposed cords hanging down. But the state of the art office equipment, without which the advertising Agency just can't work on the rough wood looks more than exotic.
Despite the formal rigor, the clarity, the lack of any frills and ornate, the design shows Ntaganda in the box children's playfulness and fantasy, capable of flying by mole to see the butterfly, and in a conventional wooden box – luxury coffee table.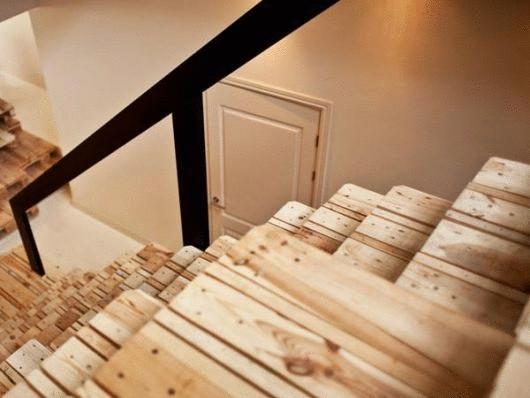 Source: /users/104