Despite the fact that the market or the market are an integral part of Moroccan culture, they are often crowded and polluted as population density grows throughout the North African country. The company Tomdavid Architecten (TomDavid Architecten), a company of Netherlands, founded by Tom van Ogicom (Tom van Odijk) and David Baars (Baars David), presented his project in the international design competition. This project is laid out in detail and is a environmentally friendly market area, which will collect and use rain water and discreetly send the debris in the underground tanks. The market square with her sun canopies leaf and underground service level, with an original design that provides high ventilation and high chelovekopotok, fits perfectly into the ethnic look of the city.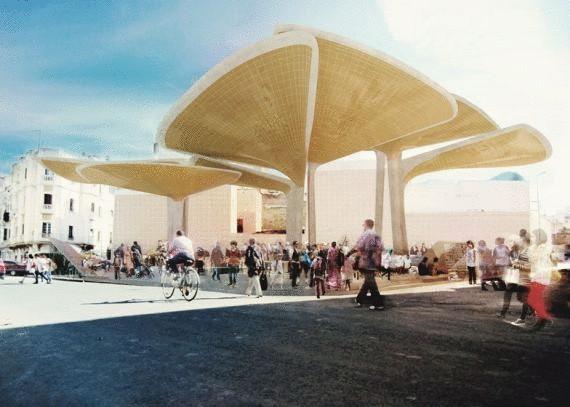 The proposal won the International Architectural Competition ([AC-CA] Architectural Competition Conours d'architecture) — environmental market square of Casablanca in its construction includes a concrete leaf canopies installed overlapping, light, thin and, with it, very durable. The inner side of the leaf is lined with plates of shimmering gold, which emphasize the beauty of local culture.
Water flowing from the roofs, is collected and stored in underground containers, which deliver the required amount of water for water supply the market area or for the cleaning of sidewalks.
According to the architects: "We have combined the distinctive local form of shelter and temperature control, took into account the location of structures and used innovative materials not requiring frequent maintenance and repair. Thus, we have established an effective and pragmatic model of the market of new generation, which will serve as an impetus for improvement.
Dome shape sheds natural, provides shade and shelter as the leaves of the trees. Leaf-shaped canopies, located overlap provide a rainwater cascade and allow air to circulate freely. Concrete structure curved shape is both a tribute to modern Casablanca architecture and appreciation of the beauty of the female form as a dedication to the culture of dominance of the male half on the streets."
The originality of this project also includes an innovative approach to garbage collection, which is becoming a bigger problem not only in Morocco, where polluted waterways, but throughout the country.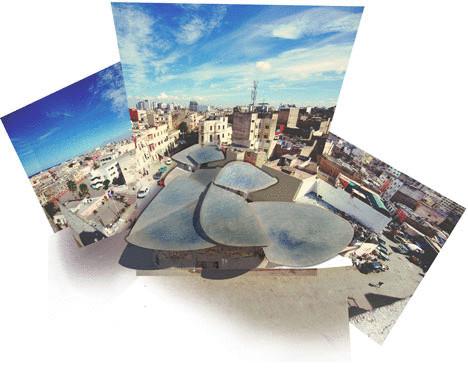 Trays between the pillars send rubbish to hidden trash cans, which are also stored underground.
"In this project proposal our contribution to environmental security consists of two parts. First, using a simple technology: the use and reuse of rainwater for toilets, cleaning the market square and the use of evaporation by solar heat and wind for constant fresh air under the roof.
Secondly, in order to be sure that sustainability will be permanent, must be removed any possible negative impact on the environment. At introduction of system of processing of water and debris, using unpretentious materials, the concept will work for a very long time and with high reliability".

Source: /users/104