From the author: First impressions of the opening boxes:
The Spanish army has its own view of the acquisition of dry rations.
Unlike our PRI and French RCIR, where in one package collected food for three meals, or from US MRE where all packaging designed for one meal and skomplektovat equally, Racion Individual de Combate designed so that at each meal (breakfast, lunch and dinner) have their rations with their own set of products.
I proved rations for breakfast and lunch. Both soldering packaged in green plastic bags identical and consist of the contents of the carton. The only difference that catches your eye is the weight.
Rations for lunch harder, less obvious are the actual dimensions (lunch are more), and the dim lettering on the package.
But compare themselves: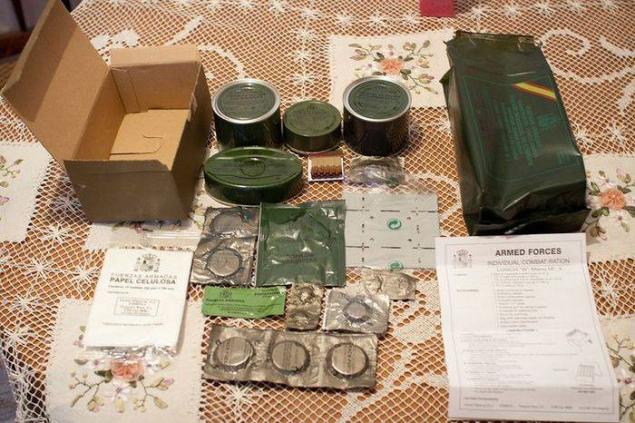 Lunch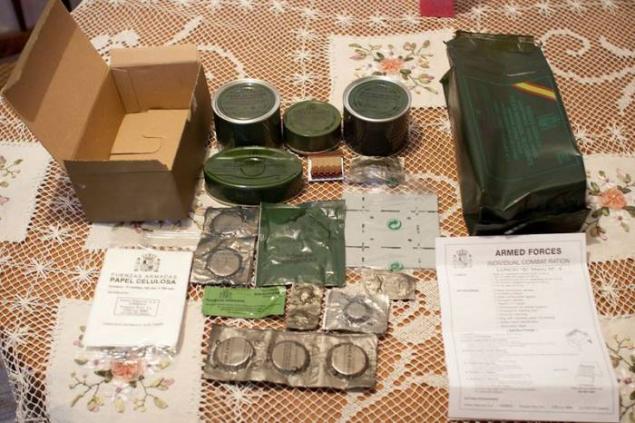 17 x 11 x 7 cm, packed in a green package completely hides its size.
Breakfast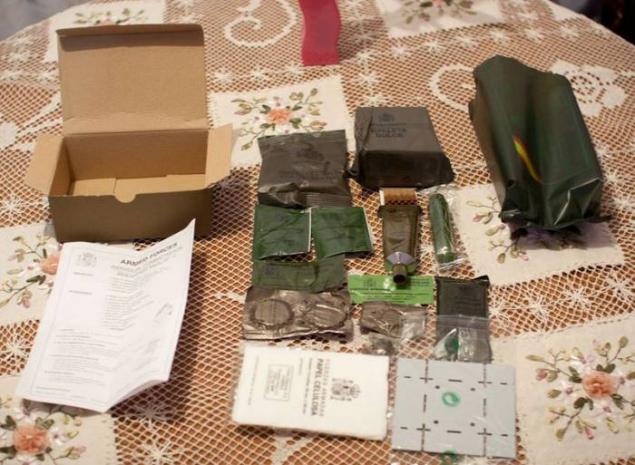 15 x 10 x 6 cm, packed in a green package completely hides its size.
But apparently the Spaniards know something that allows them to avoid confusion in their own rations. On the front side of the package marked flag Spain, coat of arms of the armed forces, the name of the soldering, its type (this inscription is duplicated in English and French), the address of the manufacturer, the expiration date and the inscription: NATO APPROVED. The box is made of thick, but thin corrugated khaki, unprinted.
Contents of the boxes has put me in an even greater cultural shock. The only thing they have in common (besides the standard set of auxiliary objects that are the same for both boxes) is the uniformity of content design. All packages designed in the same color scheme, all the green, in a somewhat different shades. All are inscribed with the arms of the armed forces, and these labels are made in the same style. This similarities and differences between the contents of the two boxes is very large. But in order.
Breakfast.
List:
Directly on himself invited Breakfast:
2 bags of coffee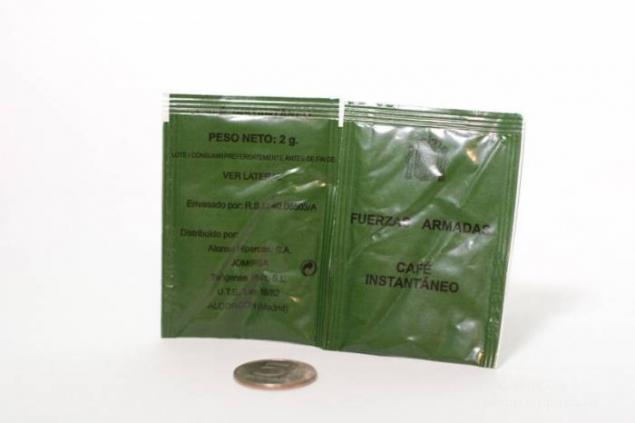 1 tube with condensed milk
1 bar of milk chocolate