The point of intersection of agricultural machinery and green technologies, until recently, been confined solely to the use of biofuels, and that the dissemination of such practices left much to be desired. About creating some kind of revolutionary tractors and combines, almost nobody thought, and agriculture remained aloof from environmental progress.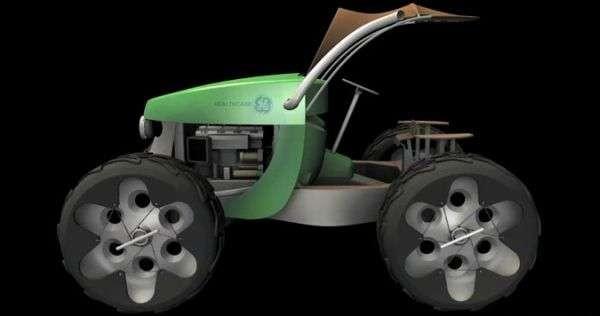 To break this established pattern decided industrial designer Marco tan, who has created an innovative multi-purpose tractor GE Multipurpose Farming Vehicle that combines all the necessary agricultural functions, the possibility of movement on biofuels and electricity to provide third-party needs.
The most interesting looks that the latest solution. Set of batteries which is equipped with tractor GE Multipurpose Farming Vehicle is recharged during its operation. After the field work is completed, the stored energy can be used for home lighting, or for operation of appliances, if centralized power supply in the place of residence of a farmer, no.
Deserve attention and tubeless tires are installed on the tractor. Besides the fact that they are not afraid of punctures and do not require periodic paging, special springs which underlie them, significantly mitigate the course of this machinery, allowing it to run on a wide range of surface and longevity of use are practically unique.
The Creator of the concept of GE Multipurpose Farming Vehicle stated that he had developed such tractor it is, first and foremost, for farmers in Uganda. In this country, which is at the end of various rankings of economic well-being, there are many problems of food expenditures, and use high-quality machinery, for example tractor dt-75, for the local farmers, in most cases a luxury.
Source: zeleneet.com