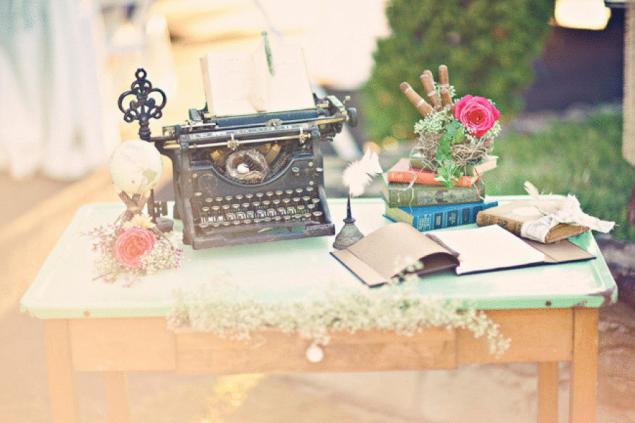 One day the editor of the magazine "New Time" Steve moss has decided to hold a contest, whereby participants were asked to write a story of length is 55 words, but in the text preserved the slender story, well conceived characters and an unusual ending. He received a response of such magnitude that the results of the contest managed to collect the whole collection, dubbed "The world's shortest stories".
Rendezvous
The phone rang.
"Hello," she whispered.
Victoria, it's me. Let's meet at the pier at midnight.
— Well, dear.
And please don't forget to grab a bottle of champagne, he said.
— Do not forget, dear. I want to be with you tonight.
— Hurry up, I don't have time to wait! — he said and hung up.
She sighed, then smiled.
I wonder who that was, she said.
Nicole Mr Weddle
Fate was only one way out, because our lives are intertwined in too tangled knot of anger and happiness to solve all something else. Trust lot: the eagle, and we get married, tails — and we part forever.
A coin was planted. It rang, spun and stopped. Eagle.
We stared at her with bewilderment.
Then, in one voice, we said, "Maybe one more time?"
Jay Rip
Thanks Wool blanket that he recently gave a charity Fund, conveniently hugged his shoulders, and boots that today he found in the garbage, absolutely not tight.
The street lights are so nice to warm the soul after a chilly darkness...
Bending bench in the Park seemed so familiar to his tired old back.
"Thank you, Lord, he thought, life's just amazing!"
Andrew E. Hunt
The decisive moment, She almost heard the door of her prison shut.
Freedom is gone forever, and now her fate is in the hands of others, and you never see will.
In her mind flashed a crazy idea, how well would now fly far, far away. But she knew that escape was impossible.
With a smile she turned to the groom and said, "Yes, I agree".
Tina Milburn
The history of the bed — be Careful, baby, he's charged — he said, returning to the bedroom.
Her back rested on the headboard.
— It's for your wife?
— No. It'd be risky. I'll hire a hit man.
And if the killer is me?
He grinned.
— Who is smart enough to hire a woman for killing a man?
She licked her lips and made him fly.
— Your wife.
Jeffrey Whitmore
At the hospital She was at breakneck speed drove the car. Lord, if only to make it in time.
But the facial expression of the doctor from the intensive care ward she understood everything.
She began to sob.
— Is he conscious?
Mrs. Allerton, — said the doctor — you should be happy. His last words were: "I love you, Mary."
She looked at the doctor and turned away.
"Thank you," coldly said Judith.
Barnaby Conradie
In the garden She was standing in the garden, when she saw he running toward her.
— Tina! My flower! The love of my life!
Finally he said it.
— Oh, Tom!
— Tina, my flower!
Oh, Tom, I love you too!
Tom approached her, knelt down and quickly pushed her aside.
— My flower! You stepped on my favorite rose!
Hope Hey Torres
source
Source: /users/1077