The leadership of the European Union is actively considering implementation from 2021 for new building standards to which homes will be built on technologies that involve a positive balance of energy consumption throughout the lifetime. In addition, the new rules, if adopted, will regulate the installation in buildings equipment, eliminating harmful emissions into the atmosphere, and use during construction only those materials which upon dismantling of the building can be sent for recycling.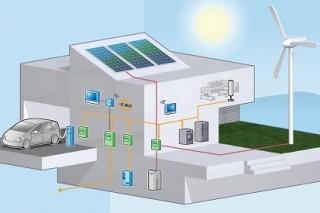 The EU representatives noted that such a concept is called "Triple Zero" and its basis will be taken the projects of "active" houses that have already proved their worth during operation. At the moment in Europe similar objects, there are 23, but the initiators of this idea believe that even such a small experience enough for full-scale implementation of innovative building standards.
As for individual moments of the creation of "active" houses, among them special attention deserve some nuances.
First, in the buildings of the new generation will be the most complex to use alternative energy sources that will not depend on weather conditions on each day. In addition, the house is planned to connect to the centralized power grids to eliminate possible problems during peak loads and also in order to give the surplus energy generated by the house.
Second, households will be equipped with innovative bioclimatic facilities, water wells and wastewater treatment complexes that will allow to create a closed system, does not have a negative impact on the environment.
Energy saving at home
Low-energy House in the woods from the Studio of William Reue Architecture
Expedition of the UNESCO "great Northern trail" developed for eco polar
Craftsman from Voronezh want to popularize in Russia, the construction of houses made of straw
Glass ecohouse Vikings from Arkitema Architects
Delivery of the first energy efficient house in Chechnya will start the dynamic development of the industry
Russian builds with his own hands a domed eco house made of straw and clay
The EcoVillage project won the American contest "Green building of the year"
And third, during the construction of the "active" homes will use only natural, though more expensive materials (stone, wood, glasscrete, insulation) that not only have a positive impact on heat-saving properties of the building, but will in the future if necessary to demolish houses without any traces of its existence.
And despite the fact that now the implementation of such standards for construction looks extremely difficult and resource-intensive process, the EU believes that the only way to put the economy of the region on energy-efficient rail and to achieve significant progress in the areas of reducing consumption of hydrocarbons and reduce the negative impact on nature. published
P. S. And remember, only by changing their consumption - together we change the world! ©    
Source: zeleneet.com/v-es-namereny-uzhe-s-2021-goda-sdelat-aktivnye-doma-tipovym-proektom-v-massovom-stroitelstve/33017/