The basic trend, which started in the framework of implementing the concept of sustainable development is the transition from any individual solutions to integrated initiatives. It is not just about energy efficiency, development of clean energy or, say, large-scale planting of streets. We are talking about the creative territories where all of these individual solutions are harmoniously interwoven into one, giving a completely new quality of life. It is possible to equip all the city's rooftops with solar panels, to equip all lighting energy-saving light bulbs, planting street trees, but the city remains just a set of separate decisions but will not become fully creative territory. Because a Whole should initially be designed under the new quality, and applied technical solutions to ensure the acquisition of these qualities. If we want, for example, to grow a healthy generation of children, no matter how much we shut down the dirty industries and do not restrict the use of polluting vehicles, to do this we can't. Children will be less sick, but healthy they won't – at least until the spine-traumatizing asphalt walkways are replaced with healthier coatings. Only a comprehensive solution will allow to achieve the new desired quality.
Another crucial point is that the creation of a new quality is inevitably connected with necessity of change in lifestyle and thinking. In this regard, a very interesting example of Todmorden, a small English town in West Yorkshire with a population of 15 thousand people. Its inhabitants have transformed his hometown in gardening Paradise: they universally create edible landscapes at every corner growing vegetables, fruits and herbs; promoting urban gardening and a new look citizens in the world around them.
Today, walking down the street in Todmorden you can pick one of the many growing on her apples from the Apple tree and fearlessly to eat it – it is guaranteed to be environmentally friendly and totally free. Don't want an Apple? However, any other fruits or vegetables – anything you want.
The transformation of the city became possible thanks to the project "Incredible edible Todmorden". What is surprising is not public and is not a commercial project. It has no investors, and it was launched without any financial investment – ordinary urban residents Pam Warhurst and Mary Clear. They managed to interest and attract the participation of all citizens. The project is already more than five years, and all of its participants are volunteers. All they want is for the future generation in a better world.
We talked with project organizers and asked them about how they made their city so edible.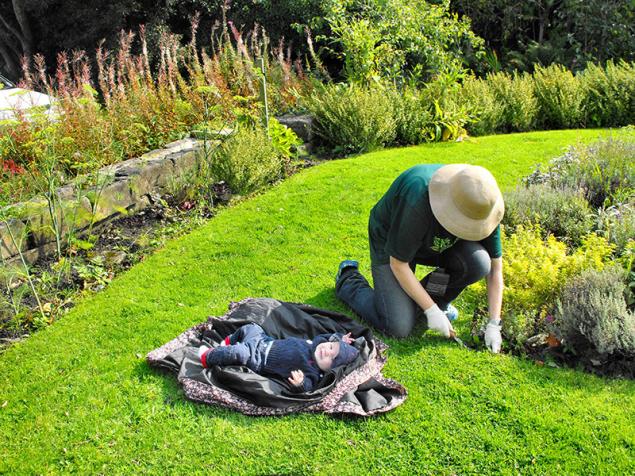 – What was Todmorden like before the project?
Mary Clear: I Think that by the time we started "Incredible edible", Todmorden was on the edge of the cliff, because I entered a phase of economic recession. The market was struggling, but stores and street markets were full of empty tents. The city became a place where I would like to come and stay and live.
– How did the idea to change the city and the situation?
Pam Warhurst: I am seriously thinking about the future after attending the conference, Tim long (Tim Lang) – English scientist, Professor of food policy at London University. His message to the audience that we have run out of resources and it will pay our children, got me thinking about the future of the planet, the future of our city, rising prices, lack of market and employment. This was the basis by which further and launched a project called "incredible edible". The name of the project, by the way, came up with Mary's daughter Emily.
We thought that the situation could be changed only by uniting everyone. So we asked a simple question: is it possible to find a language that unites people regardless of their age, income and culture that will help them to find their own new way of life, a new look at the world around us, to think about the resources they use, to interact with each other? The answer to this question was positive. And that language is food. So we have a motto: "if you eat, you participate".
We never consulted, have thought up a simple plan and presented it at a public meeting. The community supported us. At that meeting we said, "Let's imagine that our city consists of three "plates": public "plate" – our daily life; educational "plate" – what we teach our children in school and the skills that we share with each other; and a trade in which we are engaged of their own money, as well as those entrepreneurs who we decide to support." We thought that even if we manage to promote at least one of these "plates", that would be great. But we managed to roll all three, and we did it without any strategies at a hundred pages, money, and bureaucratic delays. No one gave us permission, we just did it!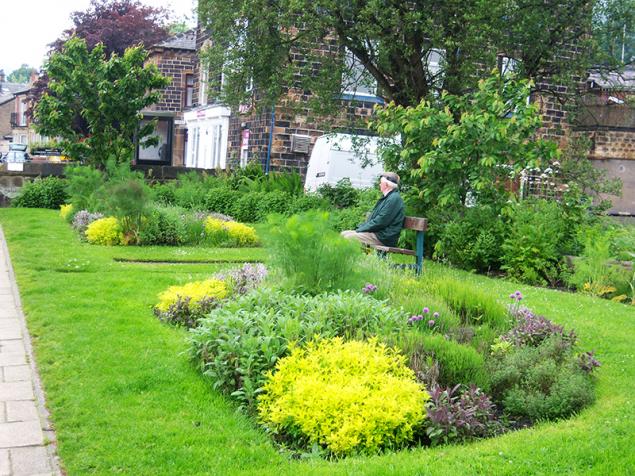 – What changes have occurred in the life of the city, in your so-called "plates"? And how in the process involved residents of the city?
P. W.: in terms of the "plates" we started with a simple seed swap. Then we took a plot of land – the strip along the main road – and turned it into a wonderful garden where edible greens. On the corner of the Parking lot near the station we made vegetable beds for the enjoyment of everyone. The new health centre, for some strange reason, enclosed by prickly plants, now grow fruit trees, shrubs, herbs and vegetables. Front of the police station growing corn, and at the nursing home we planted edible plants to the inhabitants of these houses could pick and eat and grow themselves. We have many examples of this.
In our team we attract creative people who design beds, to explain to people what and where food grows. This is very important because many people learn vegetables only when they are Packed and with instruction manual.
In terms of education, we launched a cooperation with high school: created aquaponics farm on the open land behind the school building. Where we breed fish and grow vegetables, and the children help us in this. The school has started teaching agriculture. Now we started to think, like children, fascinated by the process of cultivation, to help to acquire a professional qualification.
Presented by local horticultural farms we received a plot of land. Volunteers helped us to turn it into an educational center with greenhouses, raised beds, and everything you need for gardening. Today, the center skills are growing can get and those who do not have work.
And finally, the third "plate". We are convinced that the promotion of gardening motivates people to buy local products. We decided to support local growers – raised money, bought signs, attached them to the poster of the "incredible edible", they provided each vendor at the local market, and they scrawled on them its product range. It was an absolute success, their sales increased!
Then we started with the farmers of the joint campaign, jokingly calling it "Every egg matters". We have designated on the map of Todmorden those who sell eggs at the gate. Initially, we had 4 people, and now 64. The result was that people started asking for local eggs from Todmorden, the farmers began to increase the number of carrier birds. Some farmers began to produce cheese, meat, pies and all the things that they would never do without this project. In our markets has increased the number of places that sell local produce. Of course, these are small steps, but now we see that they increase economic confidence of local manufacturers. A study conducted for us by the local students, showed that 40% of all food sellers due to our actions increased profits.
Now the town is immersed in greenery growing around fruit and vegetables. We call it propaganda gardening and I can confidently say that our project has turned into something more than just growing vegetables. All actions have given us the ability to turn people into a single process that we are all part of the same "puzzle".
It's certainly not nuclear physics. There is nothing clever or original. But this creates an opportunity to include people in the process. This movement is not for those people who work by themselves. This movement is for everyone.
Changes in the city life led to the emergence of a new type of tourism – vegetable tourism. People from all over the world come here to look at the edible landscape and dig in the beds, even when they still do not come up. Especially for them we developed an incredible edible green route. It includes exhibition gardens, and edible towpaths. The route passes through our town, passing cafes and small shops, market. We hope that by changing the route of people in our city, we also change their behavior.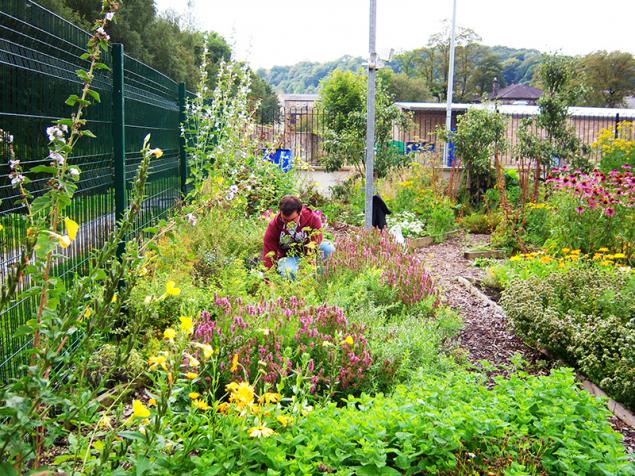 Todmorden is a city that is surrounded by flowers and greenery. Green corners and gardens throughout the city – the result of propaganda gardening.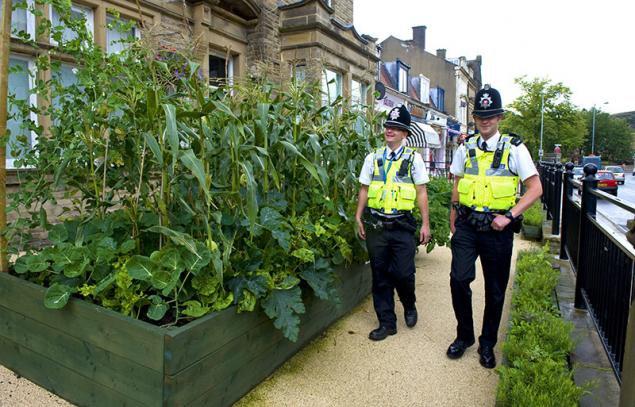 Who would have thought – in front of the police station growing corn. Police happy. And visitors too.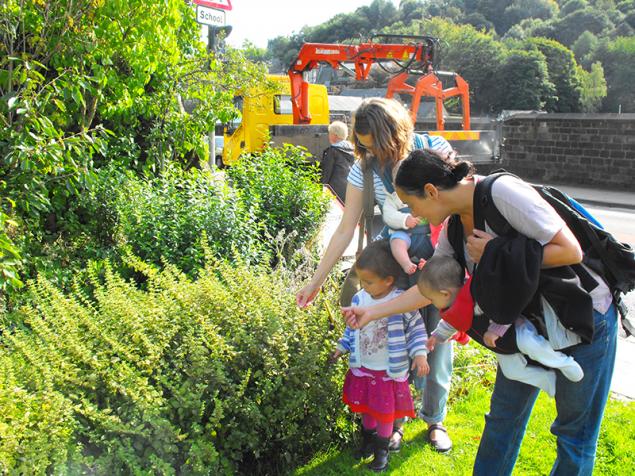 "If you eat, you participate", is the motto of this project. Everything that grows in the town for the enjoyment of everyone.
– What is your understanding of an edible landscape?
M. S.: Edible landscape means that the way on reception to the doctor, you can pilfer a few apples, and on the way back to collect rhubarb, or herbs. Edible landscape means that when you exit the train, you can gather herbs for dinner and take them home with me. Edible landscape means that when you go to the police to report the theft of your car, you can pick some corn, or other vegetables. Edible landscape means "sharing food". This suggests that people keep the place where they live clean and care about the environment.
– How did you come to a decision about what types of plants to grow in order to achieve the best results in terms of eco-design and farming?
M. S.: It was a process of trial and error. Sometimes plants we tried to grow, just "didn't work". For example, carrots. Generally, most of the vegetables, the fruit which grows under the ground, "not working". And then we found out that work great herbs, cabbage, broccoli, Brussels sprouts, corn. We chose plants for their durability, reliability, color and shape.
– In the implementation of any, even the notoriously successful project has to face certain difficulties. What were they in your case?
M. S.: of Course, on our way we encountered difficulties, but we expected because no one gets paid: we are all volunteers, we have no office and classrooms, the budget, everything rests on the enthusiasm and kindness of people.
Initially there were problems with the involvement of volunteers, because, historically, people in our country had a clear position: "do Not touch our land".
We also had to overcome the mentality: people felt embarrassed and did not dare to take food that was planted and not purchased them. But our idea caught on very quickly.
It was also very hard to start working with the institutions. Although some institutions, however, was very easy. For example, as happened with the police. Police officers enjoyed vegetables planted near a police station.
P. W.: it Turned out that the people are ready to change, they react to stories about food. They want to participate in affirmative action, you know with all your being, that it's time to take responsibility and share with each other and the environment with kindness. Now we feel the support not only public, but also authorities. The local authorities decided to introduce the idea of the project "incredible edible" everywhere. Was created the free land registry. Landowners who do not use their land, or the elderly, for whom the cultivation of the soil was back-breaking labor, you can make this registry their land. In turn, those who wish to cultivate the land can use the land received permission. The authorities also instructed their staff to help us grow plants and keep the plots in order.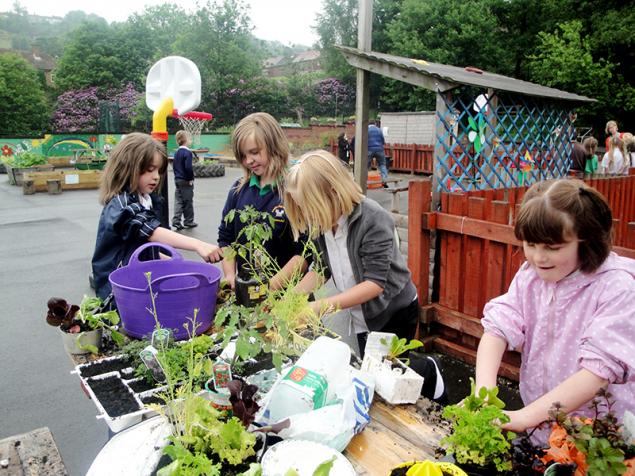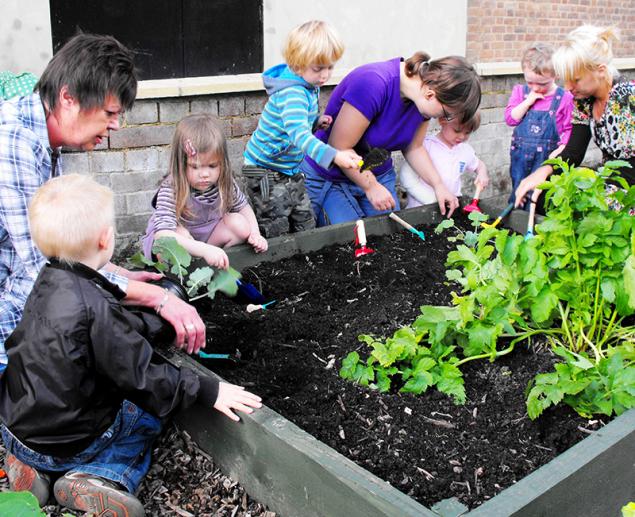 To grow a "different" generation, it is necessary to change the lifestyle and mindset of people, so Todmorden children from birth instill the skills of cultivation. So it turns out that not involved in the project in the city simply does not remain.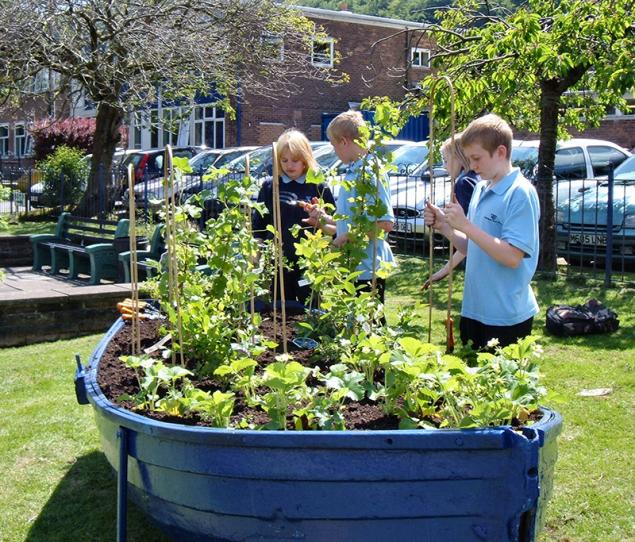 Through the education of youth in growing and preparing food is a society that is resistant to an uncertain future – so say the organizers of the project "Incredible edible". The first step in this direction was the "growing" of the boat, which provided every school yard. The boat is not just the original flowerbed – it symbolizes the ark that once saved the earth from extinction of all life on it.
– What will be the next step in your project?
M. S.: the Next step is a mystery, including to ourselves, because much of what we have achieved, we did not plan. But I will say that one of the novelties, which is going to be one of the local farmers is the production of his own tea.
In General, we do not expect that our project will make the city self-sufficient in food, but we know that more people vegetables, fruits, dairy products, meat, eggs will be mostly local production.
– You somehow promoted the project: offered to expand your experience outside of Todmorden? If Yes, what reaction did you encounter?
MS: because we were ready to go to people, whether it's six people in the Church or the house of lords, we managed to establish communication. Due to this, we began to receive invitations from different parts of the country, and wherever possible, we share with other people that have learned to make themselves. And we never asked for any press or TV to help us, they always came to us themselves. In addition, we have a wonderful website and online presence really helps us today.
P. W.: In every hall, in every city, no matter where we told the story, the hall exploded. People respond to stories about food. To date, 36 cities in the UK are spinning the incredible edible plate. We didn't think it would happen, but it happened. In other parts of the world also has communities in America, Japan and New Zealand. After the earthquake in New Zealand came to us people and from there to take over the part of the civilian spirit, which will help the development of horticulture in Christchurch city centre.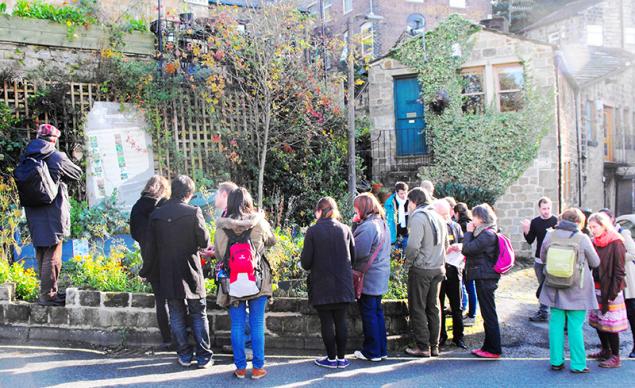 The organizers of the project say that before the implementation of the project "Incredible edible" Todmorden was rather in the stage of decline and all closer to the category of cities, unattractive for habitation. Now, on the contrary, it is not only the city where I want to live, but also a famous tourist center. Vegetable tourism is in trend.
– What advice can you give to those who are just beginning your path?
P. W.: If you want to change the world around you, start small, start at the local level. First, do not plant prickly plants around public buildings. It's a waste of space. Second, create edible landscapes and routes on the main streets, in parks, anywhere to the children each day passed by food. Inspire local planners to put the food sites in the city centre as part of city plan, not relegate them to the margins, where nobody could see them. Make schools take this seriously, aware of the importance of the environment and local food production. Make it a Central element of school culture and you will create a different generation.
And most importantly, making their seemingly small steps in this business, don't pass in front of complex arguments, according to which "such minor actions are useless in terms of tomorrow's global problems", because I've seen the effect of minor actions. It is mind blowing. published
P. S. And remember, only by changing their consumption — together we change the world! ©
Source: erazvitie.org/article/edible-town