An interesting article from the magazine SIM - "Killers progress»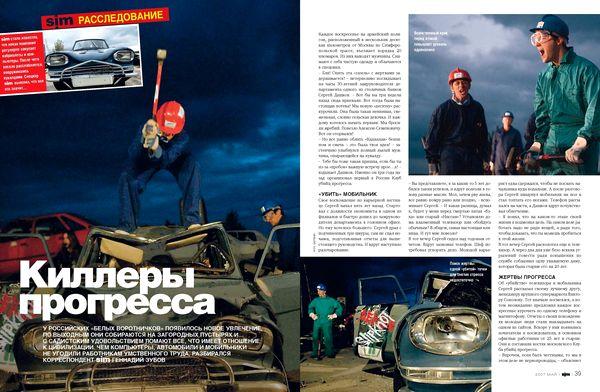 The Russian "white collar", a new craze. On weekends they gather for suburban wasteland ... and with sadistic pleasure break everything that is related to civilization. The computers, cars and cell phones do not have pleased knowledge workers, the reporter understood sim Gennadiy Zubov
sim has learned that a certain company regularly buys convertibles and computers. Then the fun relaxed, armed with sledgehammers. Special correspondent sim found out what it all means ...
Every Sunday at an army training ground, located a few dozen kilometers from Moscow to Simferopol highway, rides about 20 cars. They make the man. Disclaims clean clothes and don the overalls.
- Shit! Again, this "gazelle" of victims is delayed! - Impatiently glancing at his watch 30-year-old deputy head of the department of one of metropolitan banks Sergei Dashkov. - I wish you three weeks ago, came here. Here then was a real fun! We have a new "top ten" raskurochili. She was such an innocent, fresh, like a village girl. And everyone wanted to start first. We cast lots. Lucky Aleksey Semenovich. Here he looked!
- But still pour "Cadillac" with gasoline and burn - it was your idea! - She smiled shyly full bald man leaning on a sledgehammer.
- You would, too, so come if you are due to "traffic jams" important meeting ... proe l! - Sighs Dashkov. It was three years ago, he organized the first Russian club killers progress.
"Kill" mobile
His ascension through the ranks, Sergei began five years ago. She started as an economist at one of the branches, and quickly came to the deputy head of department at the head office. But he wanted more. Sergei fought subordinates three skins, I do not sleep at night, preparing reports for senior management. And then came the disappointment.
- Can you imagine, I for some 5 years has achieved such success, and suddenly climbed into his head various thoughts. Like, why ditch veins still die sooner or later, - says Sergey. - And what's the difference, I thought, I will before dying fifth "beha" or old "Nissan"? Plasma TV installed at home or usual get along? In general, a real clinic. And then I was lucky!
That evening, Sergey sat on the annual report. Suddenly the phone rang. The chief demanded to speed up the case. Young climber barely restrained so as not to send the chief to hell. And after talking Sergei threw cell phone on the floor and began to stomp his feet. Phone crumbled to pieces, and Dasha suddenly felt relieved.
- I realized that at some point in my life I have replaced the goal. In fact, it is necessary to work not for the sake of things, but in order to prove that you can get in this life.
The night is still Sergei smashed and a TV. Two days later, already without any remorse for the promotion seduced by a respected lady who was his senior by 20 years.
Victims progress
On the "murder" of the TV and the mobile phone, Sergei told his best friend, the manager of a large supermarket Viktor Sokolov. He laughed at first, then suddenly offered every Sunday kurochit on one phone and a tape recorder. Reports about his adventures, young people began to spread on one of the sites. Soon they were admirers and followers, mostly office workers 25 years and older. They formed the core of the Moscow club of murderers progress.
- However, to be honest, we are not in this business pioneers - explains another "killer", 32-year-old Anton Privolin working in the company for the production of dairy products. - The West has long been a special psychological courses in which people break appliances.
The most famous of them offer Spanish company StopStress. For a modest fee you give jumpsuit, helmet and hammer, and you smash cars, computers and mobile phones to the sound of heavy metal. The service is very popular with employees of banks, investment companies and businessmen. And it's not a fad, but an entire philosophy. Let very simple.
- People do not realize that they have become hostages of progress - explains Anton. - We can not imagine life without TV, a refrigerator, phone, car, computer, tape recorder. We are crazy about their frills and design. And they love us for our revenge. The handset is ringing, when any light is ready to make you a blowjob. The car, bitch, tightly breaks in 10 minutes before the start of the most important negotiations and a scoundrel computer freezes it in when you do not have time to remember the document. Reject the benefits of civilization, we can not but inflict a retaliatory strike are simply obliged. A person should be entitled to fair wages, and freedom from slavery.
- We are their ritual "murder" of the art show who's boss! - Says Sergey. - And she feels! I, for example, previously had an awkward relationship with the company. No matter how fancy or bought a month called masters. And now - no problem. Like he feels bastard: will not work, taken to the forest and raskurochu without regret.
The technique of "killers" kill two ways. Or using special equipment, which include hammers, sledge hammers, saws and pliers. Or - with his bare hands. But this is only if the "victim" is made of fragile materials.
Once Moscow's "killer" and all rented for the military Kalashnikov rifles and shot five brand new refrigerator, and then finished off their sledgehammers.
- But most of ritual "murder" still committed using hammers and hand - says Dashkov.
Screenings suckers
Every Sunday "killers" applied civilization back. On Lease Army test site in the Moscow suburbs for a minimal fee agreed 29-year-old businessman Anatoly Kondratiev. At one time he served in the military unit.
- It would be fun and normal wood - explains Anatoly. - But you risk running into local bro, police or some forest guards. And we conflict to what - many of us take up a high position.
By the way, the club created just for wealthy people held. Monthly membership fee - $ 800.
- Contribution eliminates suckers - explains Kondratiev. - Any fool can tell the beggar, he became a slave of things. In fact, according to our observations, in Russia materialism ill, those whose income exceeded 3,500 per month. Those positions are obliged to strive for new models of equipment, clothes and cars. Loh also be content with what we have. He will never allow himself to smash phone bucks apiece.
Trouble fatties
Finally, over the landfill spreads cheers. I drove "Gazelle" with computers.
Men dramatically transformed. Persons kameneyut, hands tightly compressed hammers.
- Wali creatures - Dashkov shouts as soon as finishes unloading.
Blow pops monitors, pop processors and motherboards. Most of all lyutuet little chubby bald Alexey Semenovich.
After half an hour of the computers is dust. Men soothes, relieves overalls. A fat man, looking into his eyes pitifully Dashkov, asks:
- Serge, maybe next week, "soak" a couple of home theater?
- Why?
- My wife is hooked on "favorite babysitter", and now houses a solid Zavorotnyuk. And in the morning and evening, and the day of this series on DVD looks.
- Come mochkanem! - Agrees to the main "killer." The other men nod in agreement heads.
- Correctly. TV got! It's about time!
- Hence, the "kill"? - Happily smiling Alexei Semenovich. We see him itching to chat prevkushenii.
- "Overkill" Alex, "kill"! - Says Dashkov. - All - for now. A week later - at this place and at the same time!
Foreign cars are leaving, and at the site are only fragments of computers. White baby - trash progress. Progress is trying to take over our souls. But now I know how to oppose him! Even know where to start. I have long wanted to "strangle" the vacuum cleaner ...
Expert opinion
Dmitry Cinar, a psychologist
- There are many ways to relieve stress and depression. Even the infamous beating of cymbals during the conflict can bring a person peace of relief. The secret of this effect lies in the peculiarities of the human psyche, which is closely related to physical activities. In times of stress in the blood greatly increases the content of anxiety hormones - norepinephrine and epinephrine, and the body goes into a state of readiness for physical activities. If a person is nowhere to throw his energy, nowhere to make their physical strength, the hormones of aggression attack of his own body. As a consequence - sleeplessness, early atherosclerosis and cardiac abnormalities.
Therefore, physical activity is extremely useful for people suffering from mental stress. Raskurochivanie machines and computers allows you to throw out all the negative energy. But, like any medicine, this method of psychological relief in addition can bring benefits and harms. On a subconscious level, we remember a course of action that brings relief. It is therefore important that such passions are not transferred into everyday life.