Thanks to the beta-carotene contained in carrots, this soap gives the skin a light bronze shade — you can not sunbathe. But do not overdo it!
Soap essential for skin care, as it allows to remove contaminants that accumulate on it and can cause an unpleasant smell.
Soap a different look, flavor and different sizes can be bought in any store. But many types of Soaps include chemicals which can change the acid-alkaline balance of the skin and destroy the natural lipid layer covering the skin. As a result, the skin condition worsens.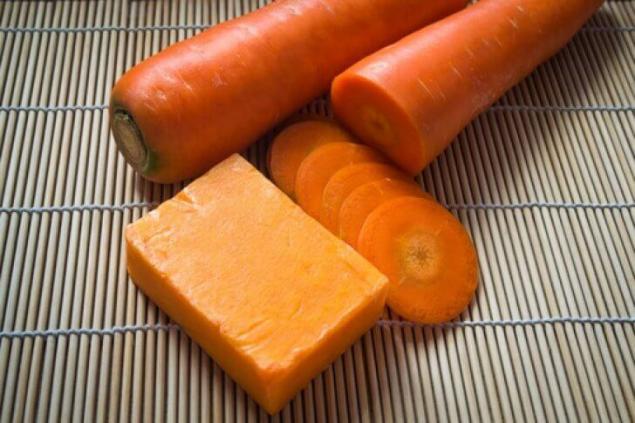 An alternative to such a soap, are actually harming the skin can make soap from natural ingredients that cleans the skin and provides nutrition and protection.
We'll show you how to make homemade soap from carrots and honey, which combines the beneficial properties of these components and perfectly cleanses the face and body; however, it does not contain bad acting on the skin chemicals.
Than good homemade soap made from carrots
Due to the combination of carrots, honey and other natural ingredients, this soap moisturizes the skin and prevents its aging. It is ideal for dry skin and helps to get rid of acne.
Antioxidants that it contains help to repair damaged cells and neutralizes negative effect on skin of free radicals.
Carrots, the main component
of the Active ingredient of this soap is a carrot, has long been known for its beneficial effect on the skin.
Its use in cosmetics is due to the high content of beta-carotene and antioxidants that protect the skin from ultra-violet rays and environmental pollution.
Beta-carotene affects the skin color and allows us to obtain a bronze "tan" without a visit to the beach. But the use of this should be in moderation, otherwise the white part of the body becomes yellowish-orange.
Because it contains a lot of water and vitamins, it helps to restore the acid-alkaline balance of the skin, and also helps to remove excess sebum and getting rid of acne.
In addition, vitamins, minerals and antioxidants contained in carrots, accelerate skin repair and reduce scars.
How to make homemade soap made from carrots?
Homemade soap made from carrots is very easy to prepare, its ingredients are sold in the market, and are inexpensive.
Color of soap may vary depending on the quality of each component.
Ingredients
300 ml of coconut oil
400 ml of olive oil
100 ml of almond oil
200 ml of water, which boiled carrots
100 g mashed carrot
110 g of caustic soda
½ A spoon of honey
10 drops of essential oil of carrot seeds
Preparation
Before you begin, make gloves "tools" from the tree and give the space needed for manipulation of the ingredients.
Step 1. Boil 100 grams of carrots and when it becomes soft, mash it with a fork to make a puree.
Step 2. Pour into a separate pot of water in which the cooked carrots and add the carrot puree.
Step 3. Carefully add caustic soda in there, stir well with a wooden spoon. Let this mixture stand for a few minutes.
Step 4. Then add to this mix a little coconut, olive oil, honey and 10 drops of essential oil of carrot seeds.
Step 5. Razmeshivat it all with a wooden spoon. You will see the mixture gradually becomes thicker.
Step 6. Put the mixture into silicone molds, to give shape to the soap. Let it stay like that for a couple of days, after which the soap is ready.
This soap does not contain chemicals, it is made from ingredients that are very beneficial for the skin. It can be used for face and body.
To this soap was stored better, not keep it in places with high humidity. And it is better to store it in an airtight container or soap dish. published
P. S. And remember, only by changing their consumption — together we change the world! © Join us at Facebook , Vkontakte, Odnoklassniki
Source: steptohealth.ru/domashnee-mylo-iz-morkovi/