Now incense or incense turned into a miserable appendage of perfumes. And not of the highest quality. Smoke is flowing not from the natural substances, and synthetic, created in laboratories that simulate the smell of nature. Once fragrant smoke saved people from the terrible epidemics. Now it has become poisonous, able, cause of the disease.
The history of spices dates back to Ancient Egypt. Then well versed in aromatic substances and selected only those that were useful for human health.
Myrrh
was burned in the afternoon to dissipate the putrid air, like languishing under the sun with earth. In the evening, the altars, burning
the buy
to people after a hard day to unwind, relax and sleep well. Buy possessed antiseptic, antibacterial properties. This perfume was caused by good digestion and cleansing of the body.
Incense recipes can be found in the sacred books of all religions. They have always given the most honorable place.
Even the staunchest opponents of incense, Christians, and those resigned, making incense as a part of their religious rituals, however, ignoring their medicinal properties.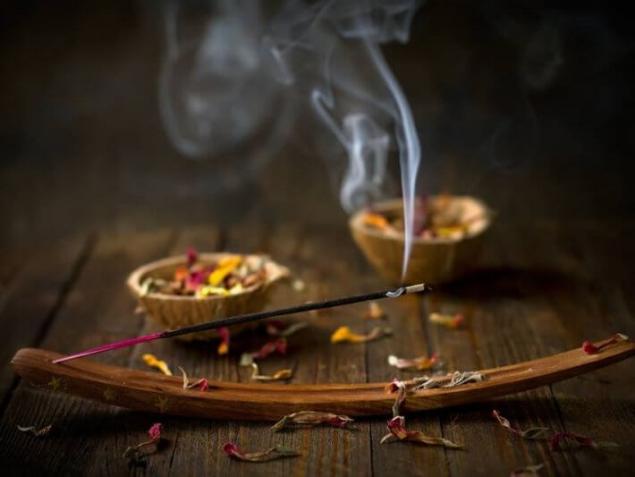 The ancients knew the incense. They lighted not only to honor God but to honor God's messengers, the Archangels. Each of the 7 Archangels had their own flavor. And turning to heavenly representatives with requests for help and protection, for deliverance from troubles and overcoming adversity, the ancients knew exactly which flavors will be enjoyable, understandable and accepted by their Archangel-patron.
Now this knowledge is forgotten. If someone lights the scented sticks or cones, it never takes into account the fact that
aromatic smokenot just brings aesthetic pleasure
. It has many other features
protection from evil forces and negative energy with them requests for help, health and wellbeing communicated to God faster than words
. Finally, the fragrant smoke can purify the home and bring health to sick people. And this is true, because in ancient times in the composition of incense was not only resin, but also many medicinal plants.
For example, the making of incense for the worship of five elements, ancient adhered to the following rules:
1.
Ether or Holy spirit
were associated with a star anise.
2.
The element of Water
– with the various parts of trees such as sandalwood, aloe, cedarwood, Cassia.
3.
The element of Earth
with the roots, such as turmeric, vetiver, ginger, Valerian.
4.
The element of Fire
– from flowers and spices like clove.
5.
The element of Air
, with leaves like the leaves of patchouli.
On the background of many herbal substances used in the composition of incense, stood out in particular
frankincense
. In the West it is called Frankincense or olibanum. Frankincense is a resin of the tree Boswellia species, particularly Boswellia sacra (synonymous with B. carteri, B. thurifera) (family Burseraceae), which grows in the middle East. The resin pieces that stand out on the tree, called "tears." Above all prized pieces of opaque resin incense. The best is the resin of trees that grow in Oman, Yemen and North Somalia.
The pieces of resin were found in the tombs of Egyptian pharaohs. Of charred and ground into a powder of Boswellia resin made special eyeliner, which was believed, protected the pharaohs from the influence of evil forces. The scent of incense in all ages, meant Life. It was used in the major ceremonies, without exception, all the world's religions: at baptism, during the funeral service of the deceased or in the sacrament of communion.
What did the ancients, when it is so hard for millennia did incense his constant companion, taking in the highest rank? Of course, not a pleasant aroma, no matter how trying to convince us that modern authors. Ancient levity was not typical. They have all been too rational, unlike our contemporaries, who, with a wealth of knowledge, I have no idea how to apply this knowledge. "Many knowledge of many sorrows," as said the sage.
Modern science confirms the wisdom and foresight of the ancients.
Fragrant incense smoke really gets rid of depression, fear, insecurity, anxiety and fear.
Not only was the ability of incense to separate normal cells from cancer and to deal successfully with the latter. Boswelia acid (boswellic acid), the main component of incense, is able to destroy malignant brain tumors. Confirmed that frankincense is a great remedy for arthritis.  
Recipes natural incense
Incense by way of decay are divided into two types.
1.
Highly flammable
– these are mixtures which are added to combustible toxic materials like nitrate. These are the incense in sticks and cones can be seen on the shelves of shops.
2.
Non-combustible incense.
Recipes for such spice is taken from the ancient manuscripts. As flammable substances are used only natural materials.
These materials include:
—
charcoal
. Put it in a special censer or other fireproof container filled with sand or ashes. Around the charcoal or to put the pieces of finished, dried spices. Set fire to the coal. He, in turn, heats the incense, which begin to exude a fragrant smoke. Most importantly, to prevent burning of coal. If the coal is burning and crackling, so it has some
nitrate
.
This coal is better not to use it.
Nitrate leaches toxins in the combustion process. Use charcoal produced from wood of bamboo.
—
Japanese makko.
Natural wood Japanese wood Tabu-no-ki, ground to a powder. Sold as a finished product. Wood powder is not burning, but emits a strong heat. It has the meaning to incense smoldered, and were not burned. In incense burner sprinkle the ashes or dry sand. Make a well and pour makko. Around the recess to arrange the pieces of incense. After kindling the incense, sift the ashes. The remaining pieces can be used again.
First, preparing a base for incense. Where then are added the various components in the form of dried herbs, ground wood and roots, essential oils, Absolutes, aromatic hydrosols, dried fruit, honey, etc.
Base for liquid perfumes:
1. Pulverize the resin to a powder. It is better not to use an electric coffee grinder. You can put the resin for 15-20 minutes in the freezer. And then pestle or a knife to divide it into smaller parts.
2. For grinding wood or other plant materials, it is possible to use the grinder. However, you can buy ready milled and resin parts of plants.
3. Separately mix the vegetable components separately, and resin, if the recipe several types of resins. For beginners it is better to choose recipes with a small number of components to get the hand.  
For example:
1 part milled wood of sandalwood, 1/2 part essential oil or dry herbs of Cassia, 1/2 part essential oil of clove or spice.
1 part of the resin of storax, 1 part frankincense,
1 part essential oil or dry herb Cassia, 1 part essential oil or milled wood sandalwood.
4. Add the powder of the resin powder from the plant material. Mix thoroughly.
5. Add the essential oil. Mix into a homogeneous mass. Don't forget to wear gloves. Leave to dry. Summer – one week in winter up to two weeks. It is very important to achieve a deep and bright aroma of incense.
6. For kindling received incense use charcoal or makko.
Note:
charcoal or makko can be included in the composition of incense. In this case, the incense do not need additional coal or makko. If you only use milled wood of sandalwood, then add charcoal or makko can be a bit, to 10%. If the incense is resin, the percentage of combustible substances should be increased to 80%.
The recipe for the base of the incense with dried fruits, honey and wine:
1. To 1 Cup basis is half a Cup of dried fruit. It may be plums, apricots, apples, etc. 2. Soak dried fruit in wine for a night. Be removed and well dried.
3. Add dried fruit to the pre-prepared basis, within which there is resin.
4. Mix all into a homogeneous mass. You can use a mixer. It's better to mix it all by hand, using a wooden tolkushkoy or porcelain pestle. In this case, you must add to the basis of dried fruits gradually. Stir to produce a smooth puree. To interfere with only in an enamel or earthenware.
5. Slowly pour half a teaspoon of honey, but not in the middle of the mixture and distribute over the entire surface of the mixture. Mix well. Possible with your hands or wrap in a cotton cloth, wax paper and mash well. The honey in this case is the preservative.
6. Store the mixture in a dark, dry place. You can roll the resulting mixture balls the size of a pea, and left to dry for 2-4 weeks, depending on the time of year and climate. You need to constantly turn the beads. You can put the balls in a ceramic bowl with a lid and leave for long-term storage.
7. Received burn incense on charcoal or makko.
Recipes of incense of protection and good luck for the Zodiac signs:
Taurus, Libra
– resin of benzoin, grey amber, musk, essential oil or rose petals and essential oil or twigs of Myrtle, wood or essential oil of sandalwood.
Aries, Scorpio
— dragon blood (a red resin of the dragon tree), black pepper, patchouli essential oil. Grass: knotweed, plantain.
Gemini, Virgo
– gum: storax or dammar resin or tragacantha gum, essential oils of nutmeg, cinnamon, marjoram, absolute of Narcissus. Grass: cinquefoil, clover, lemon peel.
Cancer
— frankincense, essential oil or herb of wormwood, essential oil, or wood of sandalwood, Jasmine absolute. Herbs: Mandrake (female), ginseng, dandelion, cucumber seeds.
Lion resin: olibanum or frankincense or myrrh, essential oil or the leaves of saffron, Laurel, cinnamon. Herbs: orange peel, sunflower, heliotrope.
Sagittarius, Ophiuchus, Pisces
— orris root, styrax resin, essential oil or herb saffron, essential oil or twigs of cedar, essential oil or herb hyssop. Herbs: aloe, the leaves of aspen and poplar.
Capricorn, Aquarius
– resin: myrrh, or styrax, essential oil or twigs of cypress essential oil or the herb Rue, vervain. Herbs: the leaves of elm, yew, bindweed scripophily. published Author: Vadim Nekrasov
P. S. And remember, only by changing their consumption — together we change the world! ©
Join us in Facebook , Vkontakte, Odnoklassniki
Source: aurveda-health.blogspot.com/2013/06/blog-post_12.html