I study in 6 class. In our class of 30 people, of which 25 do not read. And this is largely the fault of adults. From personal experience I know that parents give to their children (my age) "the Three Musketeers", books about Indians, Jules Verne, and many other books, who remembered them from childhood. And outraged that children are not interested. But these books are unlikely to be interested adolescents. Sorry, but they are boring. They can easily wait until tomorrow or for a week, and it's not really important what happens next. And some just give a certain number of pages per day, and the child quickly tries to get rid of them to sit at the computer or the TV.
More parents believe that the modern books all superficial, disposable and read them almost ashamed. In fact, they are wrong. In recent years there have been very many books much more exciting and equally valuable from a literary point of view, as well as those that parents remember from their childhood. And published such books known and loved in the world for many years, and they have appeared only now.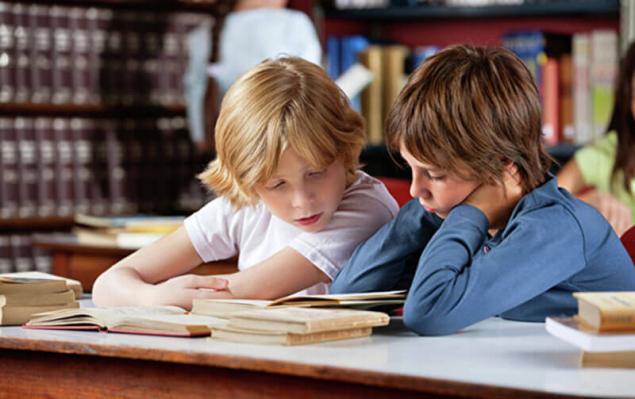 I'm not going to poumnichat, and to recommend modern books that received the award of critics and librarians. I want to recommend a book for which I can vouch. Which tighten and not let go until the last page. Fiction I in your list is specifically not included because this category one will come, but starting with fiction, it can get stuck on it, and nothing more he will not be interested.
So, the list of books that are more likely to be interesting for a man 10-12 years than those advised by the parent or (unfortunately) the district librarian. Anders Jacobsson, Sören Olsson "Diary Of Berta"
The book tells about the funny eleven-year-old Bertha, who describes in a diary their problems and experiences
Stephen and Lucy Hawking's "George and the secrets of the universe" (and continuing)
book is about a boy George and his friends, who with the help of a supercomputer will explore the mysteries of the cosmos, it says, is easy and simply about complex topics)
Timo Parvela "Ella in the first grade" (and the sequel)
Ella and her friends on each page and get into ridiculous situations, reading it is impossible to keep from laughing.
Klaus Hagerup "Markus and Diana" (and continue)
Marcus is a shy teenager who constantly falls in love and gets into a difficult, awkward situation.
Marie-Aude Murail "Oh, boy!"
More serious book about the relationship completely different from each other, which fate pushed together to save each other in difficult period of life.
Katherine Paterson "Great Gilly Hopkins"
A tale of a difficult girl, who looks the fighter, a liar, a thief, and inside — vulnerable, kind, dreaming about the House that she will truly love.
Terence Blacker, "I Bet it's a boy"
The main character is forced to move to a new school under the guise of girls, where he always gets in difficult and funny at the same time situation.
Jacqueline Wilson all books (easy reading for girls)
Her books are uplifting, modern, telling about teenage girls, their problems and solutions.
Karen Arutyuniantz "I plus all"
The book is about the life of eleven-year-old goshi, full of bright events.
Andrei Zhvalevsky, Eugene Pasternak "Time is always good"
Olya — girl from the future falls into the past, Victor — the boy from the past enters her time, at first everything seems terrible and incomprehensible, but they'll get there and realize that time is always good.
Valeriy Voskoboynikov "Everything will be okay"
Light, funny book about a boy Volodya and his friends, about the joys, challenges and adventures that happen to them and around them.
Stanislav Vostokov "the Wind makes the trees"
A very funny book about six children, who ponder the meaning of life, on the addition of poems by the method of Chinese poets, monks, and about what in the semolina adds lumps...
Zhvalevsky, Mitico "Here you will come to no harm"
A very funny book that pleases every page. It is not recommended to read in the metro (possible outbreaks of hysterical laughter).  
Plus advise parents to read some great books they will love (will be your child take the children's library, take these for yourself): Albert Likhanov – all, if you have not read
His books about the eternal themes – good and evil, courage and cowardice, the hopes, the dreams, the things that someone hurts, someone happiness, about the difficult choice of his life path)
Christine Nostlinger "Fly, chafer"
Spring 1945, the German family in Vienna, a family that hates the war, Hitler, trying to survive when the Nazis fled and the Russians came...
Haitani Kenjiro, "Look a rabbit"
Very emotional book about a young teacher who tries to find each student of his class complex all the good to teach children and adults kindness, friendship and tolerance.
David Amond "Skellig"
Skellig is a charismatic, tired angel. Michael is a teenager who moves with her parents and new baby sister into a new house. Mina — his new, unusual friend. Their stories intertwine and they save each other.
Victoria Boutenko: green smoothies benefits for childrenThis lesson the children will remember for a long time
Pennac "Like a novel"
It is just the whole truth about why teenagers do not read.
PS I know I need to advise to read a classic, time-tested books, but these tips will help no one. To get pleasure from "Dubrovsky" you have to love to read and to love reading should begin with fascinating books, which will not come off the computer or TV. Then, when a person imbued with the reading he's interested in a deeper literature. And be interested in 10-12 years very difficult, so I chose those books which can help.published  
P. S. And remember, only by changing their consumption — together we change the world! ©
Source: vk.com/readwithkid?w=wall-46053087_17534