What could be more delicious perfectly cooked piece of meat! Of course, vegetarians gastronomic delight ... And for those who have the soul sometimes asks for something hearty, with a spicy smell,
«Website» offers to cook boiled pork pork in the oven . The meat in this recipe will juicy, tender, and will be a wonderful decoration of the festive table!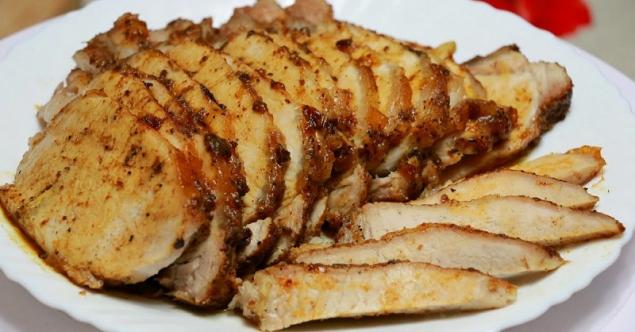 Home buzheninaDomashnyaya baked in the oven tastes best obtained from pork or beef. The result will depend on the quality of meat. Choose a solid piece weighing 1-3 kg. If you take the pork, stop on the ham, osheyke with fat or back without bones and veins.

From beef for roasting whole best suited pulp or rear. Fat should not be a lot, so that he could fly when heated with baking and turn into juice. Pay attention to the freshness of meat - no pre-freezing
!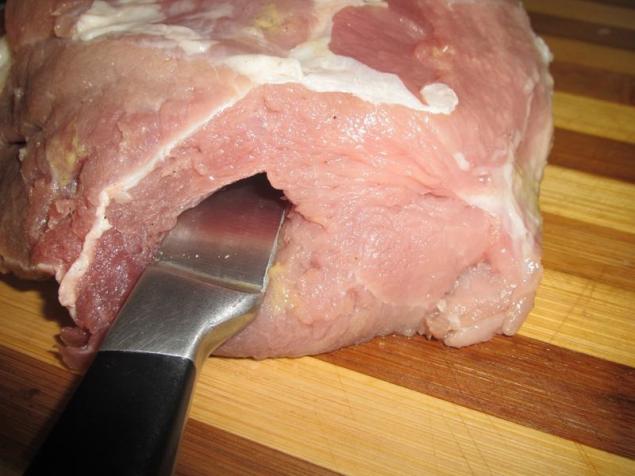 Ingredients
1-1, 5 kg of pork in one piece 70 ml apple cider vinegar 1 liter of water 2-3 hours. l. salt 1, 5 hours. l. sugar 2 bay leaf spices to taste (coriander, cloves, paprika) 2-3 cloves of garlic black pepper < /

Preparation
Prepare marinade for pork in boiling water vsyp salt and sugar, stir until they are completely dissolved. Add selected spices and bay leaf. Remove from heat, pour vinegar. In the cooled marinade completely put down the meat. It must be completely covered with liquid. Cover the bowl with cling film and feel free to go in the refrigerator to marinate overnight. The next day Get the meat, dry it with a paper towel. Lightly salt and pepper. Peel the garlic, we shall cut it lengthwise into slices. The meat on the entire surface and make punctures nashpiguy future boiled pork slices of garlic. overlaid laurel meat from the marinade and place it in the sleeve for baking. If the sleeve is not provided openings for steam to escape, carefully make multiple knife from top. Preheat oven to 190 ° C and bake the meat in the arm for 1 hour. After that, you can cut the top of the film, to pork blushed.

Getting to the preparation of pork a day before the festive event. Before serving, it can warm up, but you can leave a cold appetizer. It is also a meat dish can be an excellent alternative to sausage sandwiches and perfect for the children to school.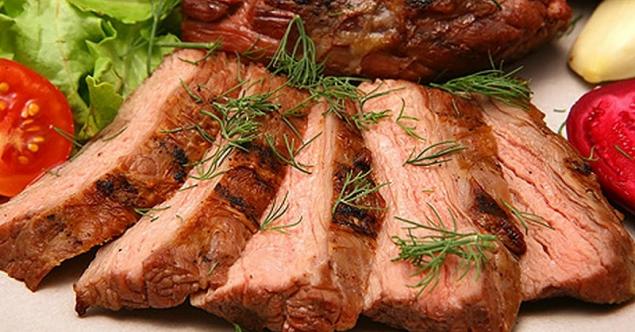 In this recipe the meat turns out great. Try to cook, and see for myself! Bon Appetit!