< Enlarged pores - a significant cosmetic defect, often serving a cause for grief and young beauties, and has adult ladies.
Factors due to which the pores on the face are stretched, there can be many: poor diet, stress, bad cosmetics, genetic predisposition, age after 35 years ...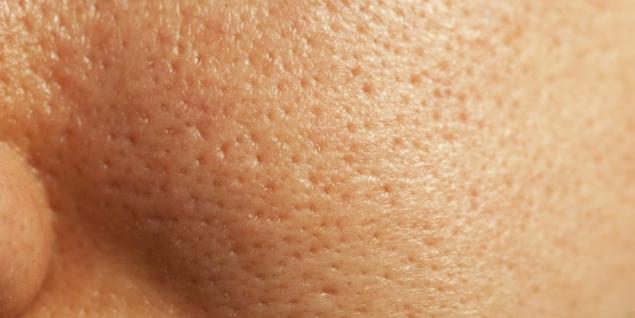 To deal with the problem of porosity person can and should be! Sometimes it happens that a particular agent is ineffective ... Do not despair! Treating enlarged pores takes time and patience. < «Website» is sharing with you
tested recipes , which will work exactly.

Before the beginning of use of the compositions, make sure you are not allergic to the components contained in them.

How narrow pores on the face Tonic from marigold flowers and daisies
According to Article 1/2. l. dried marigold flowers and daisies zaley cup boiling water and infuse for 30-40 minutes. Strain the herbal infusion, soak a cotton cloth in it. Impose a napkin as a compress on the thoroughly cleansed face. Relax for a few minutes. These herbs have astringent properties, excellent tone and tighten the skin.

Mask based on the infusion of herbs
1 tbsp. l. infusion of herbs mentioned above, mixed with 1 egg white and a few drops of lemon juice. Apply the mask on clean and steamed face for 15-20 minutes. Cosmetic ice
Herbal infusion of the preceding recipe can be frozen in the form of ice. Apart from chamomile and calendula can also use St. John's wort, which perfectly removes inflammation of the skin. Wipe face with ice in the morning and evening after cleansing procedures for the wonderful radiance! Mask of clay and lemon juice
Owners of oily skin will appreciate! Mix 1 tbsp. l. cosmetic clay with water to a density of sour cream, add 1 ch. l. lemon juice. Apply a thick layer of the mask on your face and hold until completely dry. Wash vehicle with cool water. Mask perfectly cleanses and tightens enlarged pores. The gelatinous mask
Mix 1 tbsp. l. gelatin and 2 tablespoons. l. milk. Let the mixture stand for 5 min in the warm., Then set it in the microwave for 20 seconds at medium power. Apply the mask on steaming skin in several layers (at least every drying), avoiding the eyebrows, eyes, and hair roots. After the last coat has dried, hold means an additional 15 min., After which the resulting film podden edge and remove it in one motion.

Yogurt
Daily application on the face of natural yoghurt for 20 minutes. will significantly narrow pores, as well as bleach, refresh and tighten the face. Within a week the use of this tool will be visible first results. Honey Scrub
Honey, irreplaceable product home of Cosmetology, and will help in addressing the problem of enlarged pores. Unite 2 h. L. candied honey with a few drops of lemon juice. The resulting composition gently massage your face, paying special attention to problem areas, leave to act for another 10 minutes.

Mask with oatmeal
Make the skin perfectly smooth oatmeal mask can help. Mix 2 tbsp. l. oatmeal with 1 beaten egg whites. Soak means on the face 20 min. And then wash away with warm water, taking care not to stretch the skin. After the procedure, do not lazy to clean the skin with herbal extract prepared according to the recipe from number 1.

Whatever tool in the fight for smooth skin you choose, remember that it must be applied regularly. A comprehensive approach will significantly improve results. Do not keep a secret these effective beauty recipes, share them with friends!