Welcome to the pages of iCover blog. Keep the flight of imagination of designers and enthusiasts as difficult to stop their desire to fly. And it is thanks to them jetpack, hovebord and even drone of the taxi rank bold imagination was almost moved into our reality with you.
Today we will talk about another of these inventions, novelty - turbojet board called Flybord Air, developed by notorious Frank Zapata. A prototype board has been created, tested and proven itself worthy of the testing phase. Video of the first flight on Flybord Air appeared freely available over the weekend.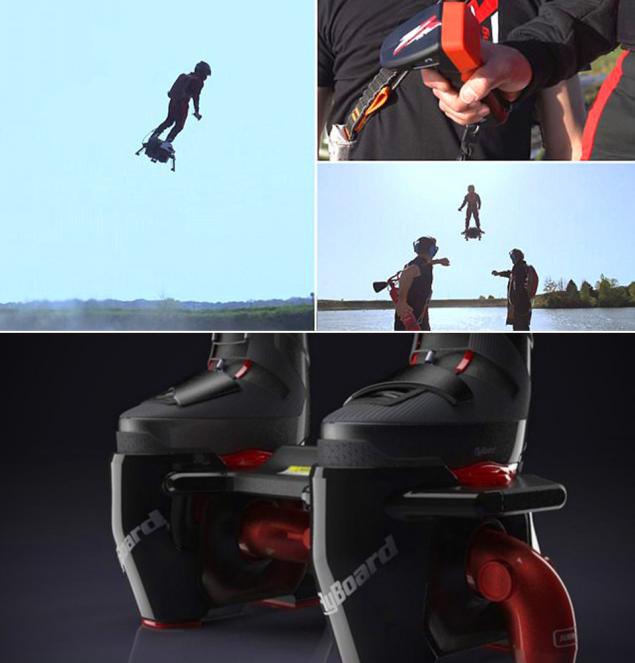 Author of the idea, the Frenchman Frank Zapata is well known as the world champion in the race on jet skis, a talented inventor, patent holder on Flybord ( "flyboard") and creator flaybrodinga - a new sport and recreation, which, nevertheless, rightly attributed more to water than to air. Perhaps you have observed flights to flyboard above the water surface on a board to which a hose connected for scooter racing behind. Water is pumped under high pressure to pull out the bottom two threads create sufficient jet thrust to lift the athlete into the air, where it is able not only to move, but also perform incredible somersaults.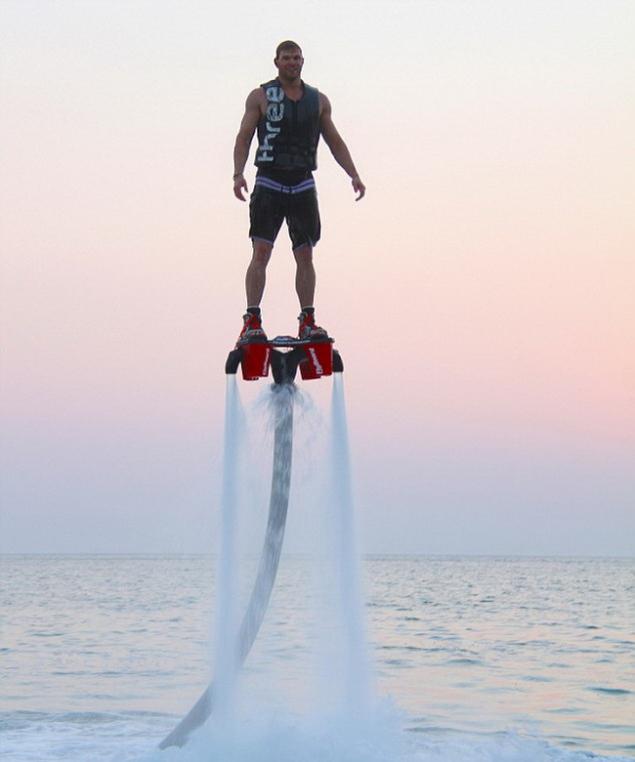 Zapata presented the 2011 "water board" almost immediately became one of the trendy extreme entertainment, giving the opportunity to experience the thrill of flying in the first approximation. Despite the exciting opportunities offered by Flybord, water flying board has several limitations: it is tied to personal watercraft, which in this case can be seen as an integral "part of the design" Flybord. Maximum lift height is not more than 15 meters and flying, for obvious reasons, it is possible only on the water or at the very edge of the pond.
Since the announcement Flybord been five years and a tireless Zapata decided to once again surprise the world with extreme by presenting a new version of the individual means of flying. This time Frank has gone further and introduced a jet flying board Flaybord Air, devoid of the limitations inherent in the previous generation of the board. Flybord Air is not tied to a hose and jet skis, as it uses an air draft created by the turbojet engine. The maximum flight duration is limited to 10 minutes, the maximum lifting height (in theory) - 3000 m, speed (in theory) - up to 150 km / h. Of course, behind the pilot is rigidly attached backpack with a small fuel tank. Flybord Air is controlled by a hand-held remote control.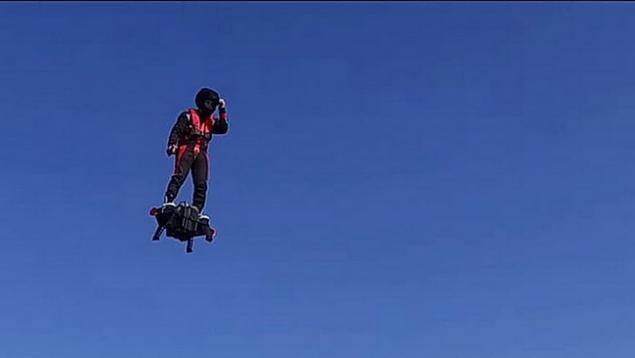 In the demonstration video that introduces us to Flybord Air 4-minute flight takes place at an altitude of 30 meters at an average speed of 55 km / h above the lake surface. For control himself Frank Zapata.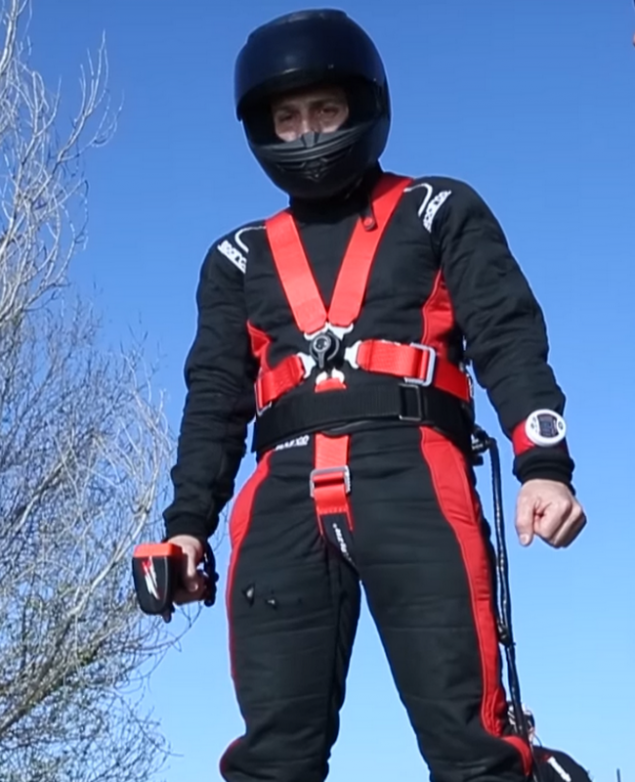 From time to time when browsing the impression that Zapata Air Flybord designed for himself and the few adventurers who, as professional climbers, can not imagine their lives without the constant risk on the brink of a foul. It is clear that in contrast to the almost completely safe predecessor Flybord water board, an updated version of the flying board significantly more risky experiment.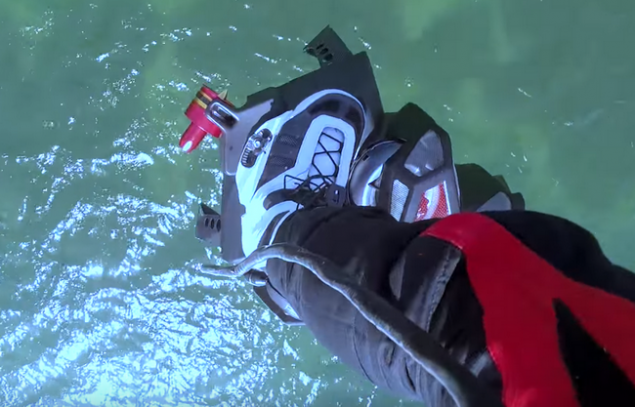 Not everyone is perfectly trained athlete dares to conquer the height of several hundred meters and soar, balancing on a small-sized plaque above the ground or water. About the average thrill-seekers who do not have special physical and psychological preparation, and can not speak. However, perhaps our fears and exaggerated, judge for yourself.
If we put aside the question of safety, the pilot in flight Flyboard Air is really impressive.
Dear readers, we are always happy to meet and wait for you on the pages of our blog. We will continue to share with you current news, review materials and other publications, and will do everything possible to ensure that the time spent with us was helpful to you. And, of course, do not forget to subscribe to our column.
Our other articles and events
Review Netatmo Welcome Camera. Good Big Brother
Portable Hi-Fi Player. Music is not with iPhone
Sale of useful gadgets and interesting pieces
Jawbone UP3 vs. Xiaomi Mi Band 1S Pulse - the battle for our hearts
Choice wearable today!. What has changed?
Spring discounts on Hi-Fi equipment Onkyo
Logitech gives Tom Clancy's the Division

Source: geektimes.ru/company/icover/blog/274212/