Writers Guild of the United States (WGA) has made a rating of one hundred most ridiculous scenarios in American cinema. < Website has decided to publish this helpful list to which you can return from time to time, whenever you want to see something merry.
Film number one recognized as "Annie Hall," a stunning film director Woody Allen.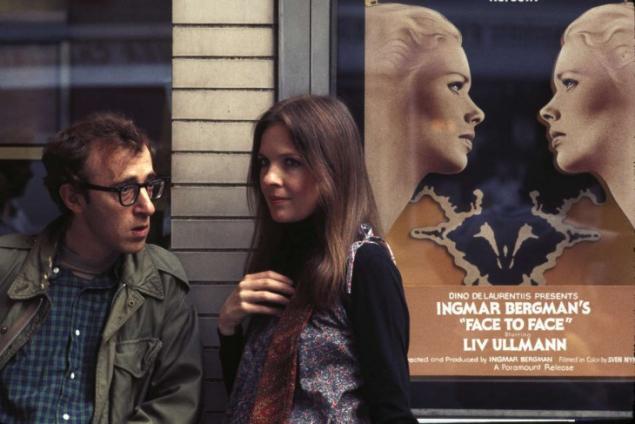 Woody Allen received the "Oscar" for his screenplay "Annie Hall" in 1978. In the WGA six scenarios Allen's "Sleeper," "Bananas," "Take the Money and Run," "Broadway Danny Rose", "Love and Death" and "Manhattan».
In 2000, the American Film Institute (AFI) has compiled a list of 100 funniest American films in cinema history. Painting "Some Like It Hot" got on this list first, "Tootsie" - the second, "Annie Hall" - only the fourth. By the way, the comedy "Tootsie" repeatedly took first place in the different movie ratings.
So, here is the complete list of the Writers Guild:

Annie Hall / Annie Hall (1977) Some Like It Hot / Some Like it Hot (1959) Groundhog Day / Groundhog Day (1993) Airplane! / Airplane! (1980) Tootsie / Tootsie (1982) Young Frankenstein / Young Frankenstein (1974) Dr. Strangelove or: How I Learned to Stop Worrying and Love the Bomb / Dr. Strangelove or: How I Learned to Stop Worrying and Love the Bomb (1964) Blazing Saddles / Blazing Saddles (1974) Monty Python and the Holy Grail / Monty Python and the Holy Grail (1975) Menagerie / Animal House (1978) This is Spinal Tap / This is Spinal Tap (1984) Produced by / The Producers (1967) The Big Lebowski / The Big Lebowski (1998) Ghostbusters / Ghostbusters (1984) When Harry Met Sally / When Harry Met Sally ... (1989) Bridesmaids / Bridesmaids ( 2011) Duck Soup / Duck Soup (1933) There's Something About Mary / There's Something About Mary (1998) Jerk / The Jerk (1979) A Fish Called Wanda / A Fish Called Wanda (1988) His Girl Friday / His Girl Friday ( 1940) The Princess Bride / The Princess Bride (1987) Raising Arizona / Raising Arizona (1987 Bringing Up Baby / Bringing Up Baby (1938) Golf Club / Caddyshack (1980) Life of Brian / Monty Python's Life of Brian (1979) Alumnus / The Graduate (1967) apartment / The Apartment (1960) Borat / Borat (2006) The Hangover / The Hangover (2009) Forty-year virgin / The 40-Year-Old Virgin (2005), The Lady Eve / The Lady Eve (1941 ) The day off Ferris Byullera / Ferris Bueller's Day Off (1986) Trading Places / Trading Places (1983) Sullivan's Travels / Sullivan's Travels (1941) plane, train, car / Planes, Trains and Automobiles (1987) The Philadelphia Story / The Philadelphia Story ( 1940) evening at the Opera / A Night at the Opera (1935) Rushmore // Rushmore (1988) Waiting for Gaffmana / Waiting for Guffman (1996) Odd Couple / The Odd Couple (1968) The Naked Gun / The Naked Gun: From the Files of the Police Squad! (1988) Office Space / Office Space (1999) Big // Big (1988) Holiday / Vacation (1983) Midnight / Midnight Run (1988) It Happened One Night / It Happened One Night (1934) Military field hospital M .E.SH. / M * A * S * H ​​(1970) Harold and Maude / Harold and Maude (1971) Shaun of the Dead / Shaun of the Dead (2004) Broadcast News / Broadcast News (1987) Arthur / Arthur (1981) Four Weddings and a Funeral / Four Weddings and a Funeral (1994) Anchorman: The Legend of Ron Burgundy / Anchorman: The Legend of Ron Burgundy (2004) Dumb and Dumber / Dumb and Dumber (1994) Austin Powers: International Man of Mystery / Austin Powers: International Man of Mystery (1997) General Steam locomotive / The General (1926) What's up, Doc? / What's Up, Doc? (1972) Wedding Crashers / Wedding Crashers (2005) Sleeping / Sleeper (1973) Galaxy Quest / Galaxy Quest (1999) It's a Mad Mad Mad Mad World / It's a Mad, Mad, Mad, Mad World (1963) Winners Show / Best in Show (2000) Little Miss Sunshine / Little Miss Sunshine (2006) South Park: Bigger, Longer & Uncut / South Park: Bigger, Longer & Uncut (1999) Being There / Being There (1979) Back to the Future / Back to the Future (1985) Superbad / Superbad (2007) Bananas / Bananas (1971) In the power of the moon / Moonstruck (1987) Clueless / Clueless (1995) Adventures in Palm Beach / The Palm Beach Story (1942) The Pink Panther / The Pink Panther (1963) The Blues Brothers / The Blues Brothers (1980) Coming to America / Coming to America (1988) Take the Money and Run / Take the Money and Run (1969) Upstart / Election (1999) Love and Death / Love and Death (1975) Dirty Rotten Scoundrels / Dirty Rotten Scoundrels (1988) Lost in America / Lost in America (1985) Manhattan / Manhattan (1979) New Times / Modern Times (1936), My Cousin Vinny / My Cousin Vinny (1992) Mean Girls / Mean Girls (2004) Meet the Parents / Meet the Parents (2000) Fargo / Fargo (1996) My Best Year / My Favorite Year (1982) Stripes / Stripes (1981) Beverly Hills / Beverly Hills Cop (1984) Lights big city / City Lights (1931) Sideways / Sideways (2004) Broadway Danny Rose / Broadway Danny Rose (1984) Party People / Swingers (1996), The Gold Rush / The Gold Rush (1925) Miracle at Morgans Creek / The Miracle of Morgan's Creek (1944) All About Eve / All About Eve (1950) Arsenic and Old Lace / Arsenic and Old Lace (1944) Royal Tenenbaums / The Royal Tenenbaums (2001) Mrs. Doubtfire / Mrs. Doutbtfire (1993) Let Sleeping Dogs Lie / Flirting with Disaster (1996) Shakespeare in Love / Shakespeare in Love (1998) See also: Top 25 films and TV series over the last 25 years, according to IMDb

via gorabbit.ru/article/bestsennyy-spisok-101-luchshaya-komediya-po-versii-gildii-stsenaristov-ssha