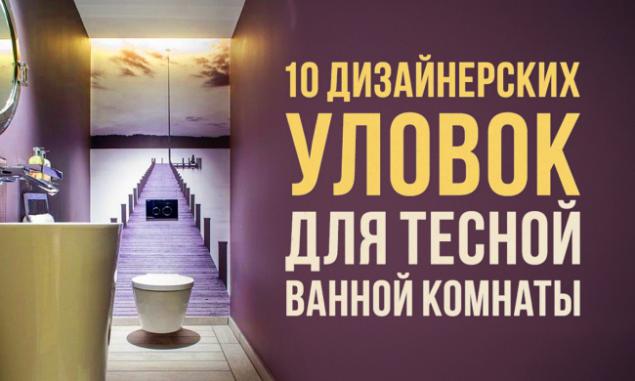 Professional designers can easily cope with the problem of small spaces. The bathrooms in our homes, for example, is not such a rare problem. However, that is no reason to abandon the beautiful solutions.
Website offers a look at a few examples of how you can visually enlarge the cramped space.




Mural h3>





A good solution to close the space can be wallpapers. They visually increase the room, and will give a fresh interior.




Style h3>





When making a tiny interior is worth paying attention to such laconic styles as high-tech, the Scandinavian eco or Moroccan.




The predominance of white h3>





But in regard to the color, it is best, of course, focus on white and pastel colors.




Mirrors h3>





It is also an excellent tool in this case is a mirror, and large sizes. Preferably they have either been provided with their own light source, or at least placed opposite the stationary tubes.




Sitting en h3>





With its small size and the plumbing precarious.




The glass door h3>





A good solution would be a door with frosted glass, as it will provide additional light output.




Hinged shelves h3>





Do not be redundant and shelves hanging lockers. Shelves should be narrow and not interfere with the movement of the room, they can be positioned along one wall.




The angular space h3>





Now there are many varieties of corner plumbing from the sink to the bathroom. These forms allow you to use the area, which often remain out of work.




A large tile h3>





Also in the small bathroom is better to give preference to large tile. Contrary to popular belief, small tiles, on the contrary, will emphasize the small size of the room.




Free floor h3>





Do not clutter the floor. Prefer hanging toilet and sink. Better to choose a shower with clear glass: it will make the floor is completely open, and the room will be visually larger.





via # image3417960