Replacing a crane is a delicate matter. The ideal option would be a whole set of bathroom faucets at once, so as not to look for similar options for the bath or sink separately. Moreover, it is important to find not only beautiful and not very expensive, but also one that will not irritate with dripping or too hot water.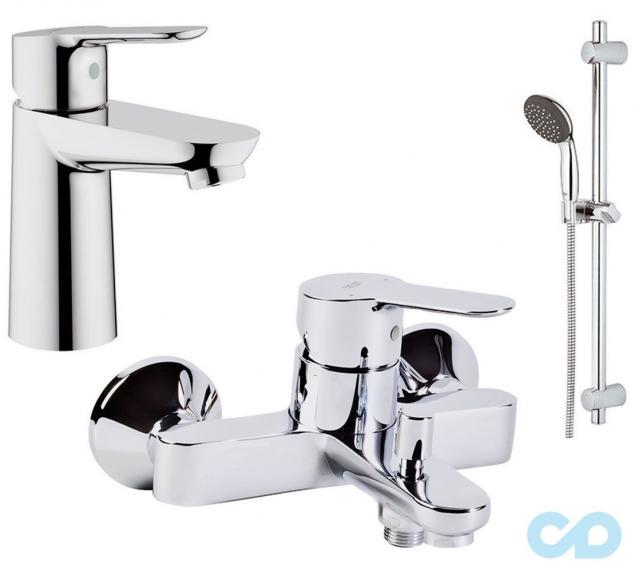 What sets of mixers do manufacturers offer
The plumbing market is constantly replenishing with some pleasant novelties. Mixers are no exception. Now on sale you will find both timeless classics and something interesting for your bathroom.
Basically, bathroom faucet sets consist of 3-4 of the following components:
shower head - may differ in diameter, shape and length of the hose;

wall-mounted bath mixer - lever and valve, with a long spout, short or without it;

sink mixer - it can also be lever or valve, the length of the spout differs slightly;

The thermostat is a useful device that "remembers" the temperature you are comfortable with and constantly maintains it, that is, the shower does not burn you. In addition, the thermostat ensures good water flow. The disadvantage of such a device is the relatively high cost.

Also, some manufacturers complement the kits with another mixer that can be installed in the kitchen. They are usually distinguished by a more curved, long spout.
Important! Such a set is available from the German company Grohe in the Eurosmart Cosmopolitan line.
Basically, a shower head is sold for a reason, but together with a stand. Consider this when buying, as many shower racks are equipped with a soap dish or even a shelf for shampoos and other accessories.
Also in the catalogs you can find expensive sets of faucets, which include a whole shower system. That is, the buyer immediately becomes a happy owner:
bathroom faucet;

hand shower;

overhead shower.

This option is appropriate when you want to combine both a bathroom and a shower. The main disadvantage of such a kit is its high cost - about 20 thousand hryvnia. However, it will be cheaper than buying the shower system and mixer separately.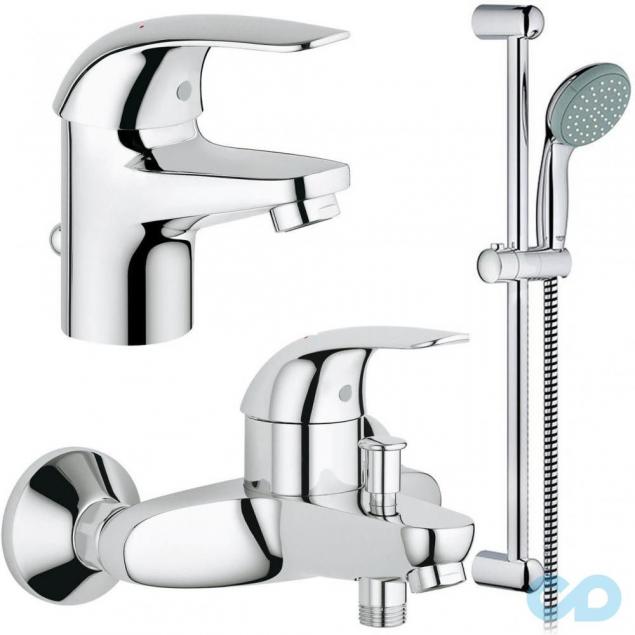 What to consider when choosing a bathroom faucet set
When buying a set of bathroom faucets, you don't want even one faucet to fail. This means that you need to choose more carefully, taking into account all the little things and nuances.
We recommend paying attention to the following characteristics:
Material - the most reliable are considered to be brass taps, covered with a layer of stainless steel or chrome.

The aerator is a small mesh at the end of the spout. It saturates the water flow with air, thereby reducing the consumption of the useful resource. It is desirable that the aerator be replaceable, since after a while it will need to be replaced with a similar one.

Cartridge - Ceramic cartridges are popular now. It is important that the same elements are on sale, since they need to be changed after a certain period.

Important! The appearance of the faucets depends entirely on your tastes and the bathroom interior.
Also, when choosing a set of faucets for the bathroom, pay attention to the manufacturer. It is advisable to choose well-known companies that have already established themselves in the market.