Designers who did a great job in this mesyatse.Sredi hundreds of thousands of jobs that appear daily on the websites of the design, not so much those who deserve special attention. Cool design - it's not just an unusual idea, but it is not less extraordinary incarnation. And, of course, any thing created by man for man, and therefore should be part of his life, like a missing puzzle.
Website has selected for you the best works of designers who were or became known in July.

Hammock on trave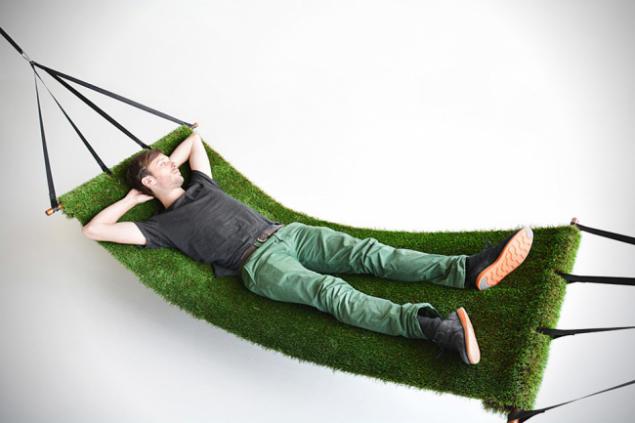 Lie down on the grass and can now be at home, because the guys from the studio Studio Toer invented the hammock with lawn finish. Grass, of course, is not real, but looks and feels as such.

Bicycle in sumke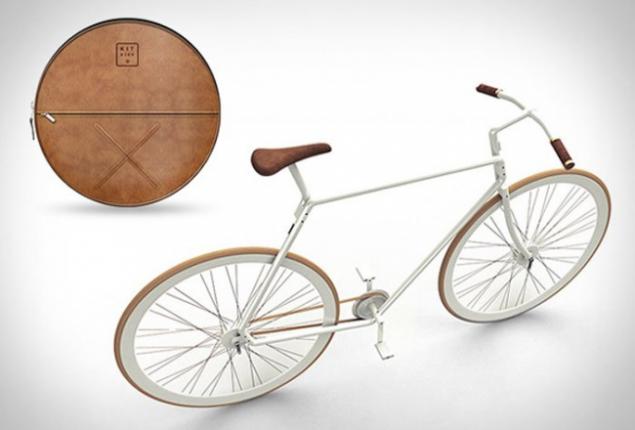 The Indian company «Lucid Design» developed a bike that fits easily in a conventional bag. It consists of 21 items, which are easily connected together. The project won the award «Red Dot 2014 Design Award».

Naughty pendants

Japanese designer Fukusawa Takayuki series mischievous kulonchiki as small figurines, seeking zanyrnut in the neck of his mistress.

Benches-knigi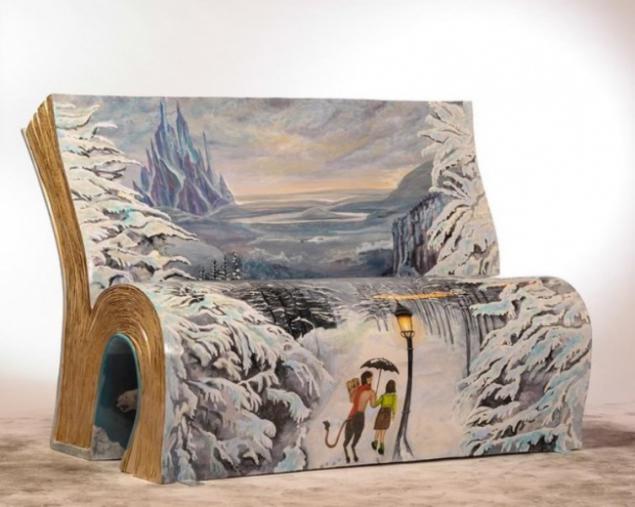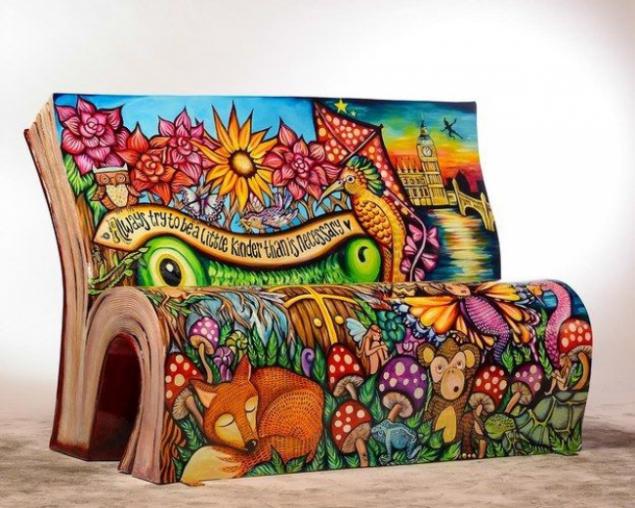 50 benches and an open book with colorful illustrations all over London - as enthusiasts from the National Fund decided to carry reading literacy to the masses. All the benches provided in the project, illustrate the works that are somehow related to London: the spot whether the actions of the perpetrators or heroes.

Bag-organayzer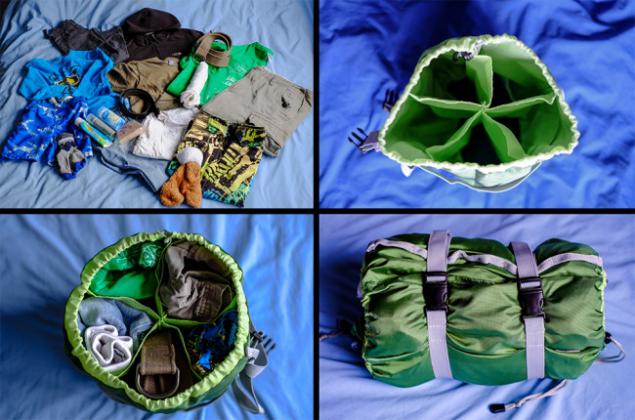 Bag organizer Hoboroll volume of 19 liters from the team Gobi Gear - a new approach to the question of baggage, going on a trip. Bilateral accessory makes it easy to find things, because they are spread on the branches, as well as helping to facilitate and accelerate the process of collecting.

Simulator for kota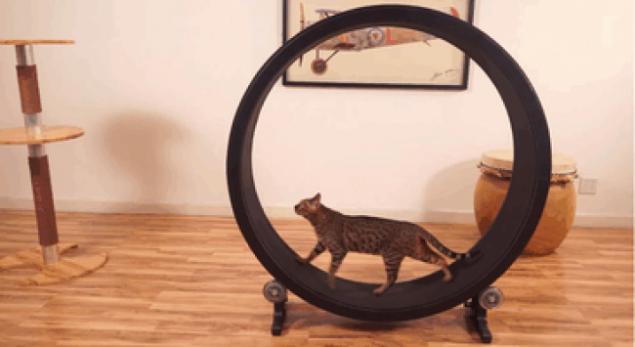 Moving the wheel - it's a cool trainer is not only for squirrels, hamsters and krysok, but for cats. So the inventor Sean Farley and his team to realize this vision. Fits any trainer in the apartment or in the backyard. Cats love it.

Wall clock with balerinoy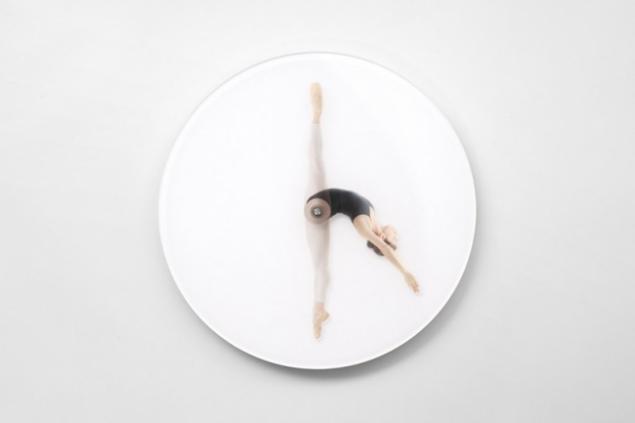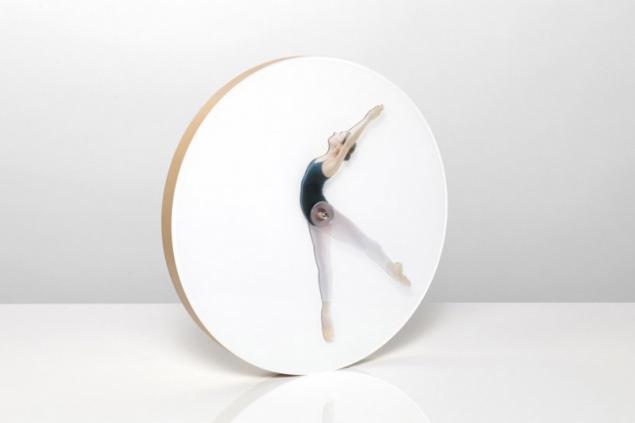 Designer Meike Harde presented a very elegant work - clocks, where the role played by the arrow figure ballerina. Hours attract attention and are not perceived as trivial accessory for some time. So zasmotrishsya on PA ballerina and was late for work.

Cookware with sekretom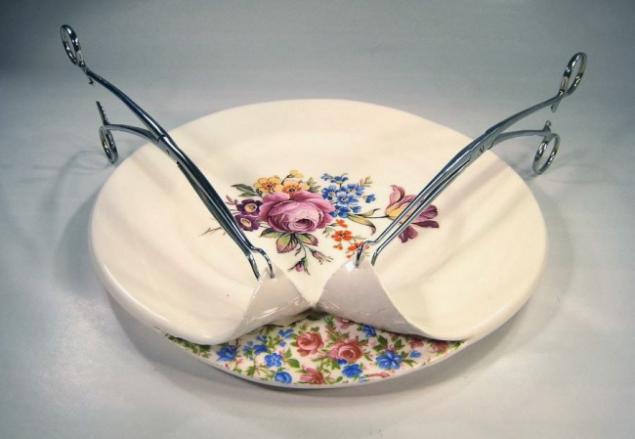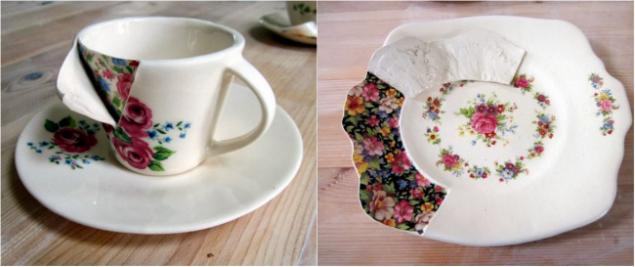 The designer Beccy Ridsdel created a collection of dishes that went like opening and exposed floral pattern inside. Some plates designer simply cut in half, decorated with a pattern on the cut. Some fashioned way, in a pot hides a new kind of prints and different texture.

Placemat priborov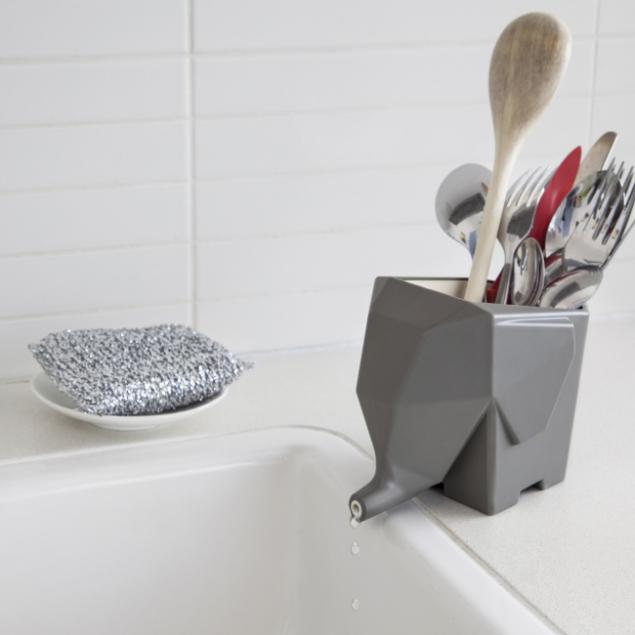 Israeli PELEG DESIGN Studio came up with a support and drying the cutlery in one bottle. Yes, and also in the form of an elephant's trunk is very useful.

Keyboard plansheta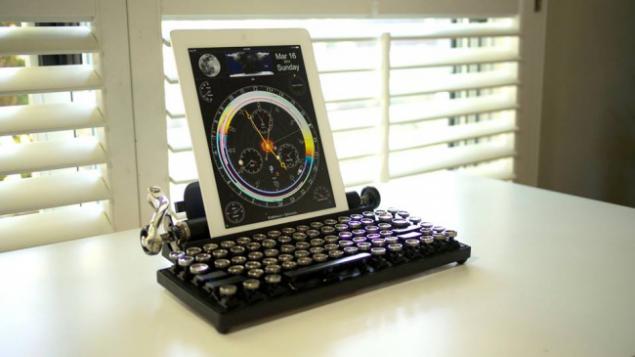 This keyboard is designed in the studio Brian Min, will delight all fans of antiquity. Outwardly, it resembles a mechanical typewriter previous years, but in fact compatible with most portable devices via USB and Bluetooth and is a good alternative to the touch keyboard, for those who prefer high-quality retro design.

Chest-konstruktor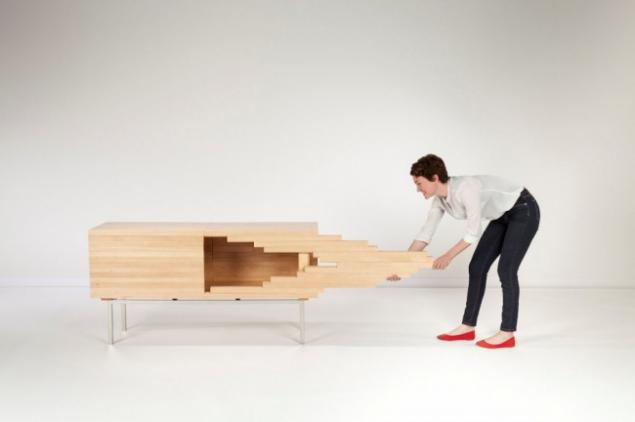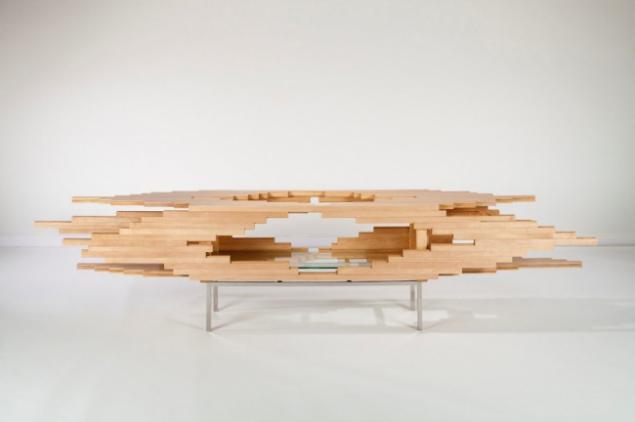 The designer Sebastian Errazuriz has developed and implemented the construction of just such a chest - from the outside it looks like an ordinary piece of furniture, but it is necessary to pull the side panels - like the whole structure begins to unfold, revealing a staircase structure.

Carpet stol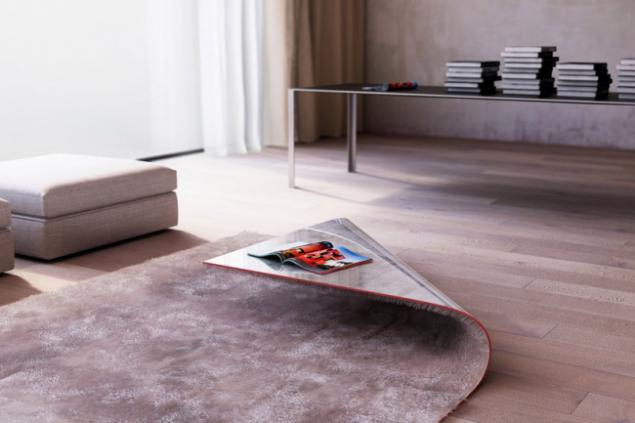 Designer Alessandro Isola came up with a coffee table, which at first glance may be confused with carpet. Curved lines and unusual textures in the kit. The size of the surface of the table can be changed, making it more and practical. A zagnuvshiysya edge of the carpet will no longer cause irritation.

Wonder kryuchok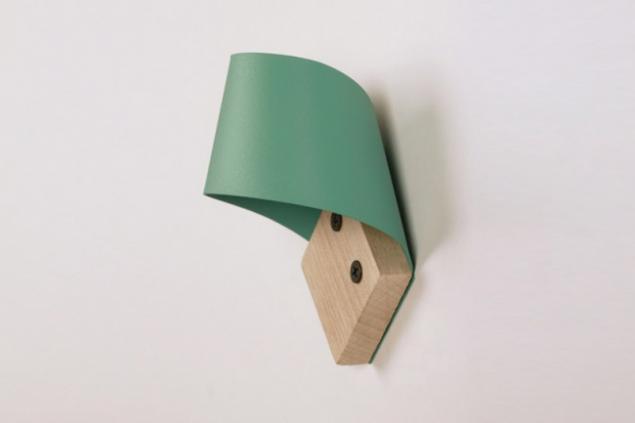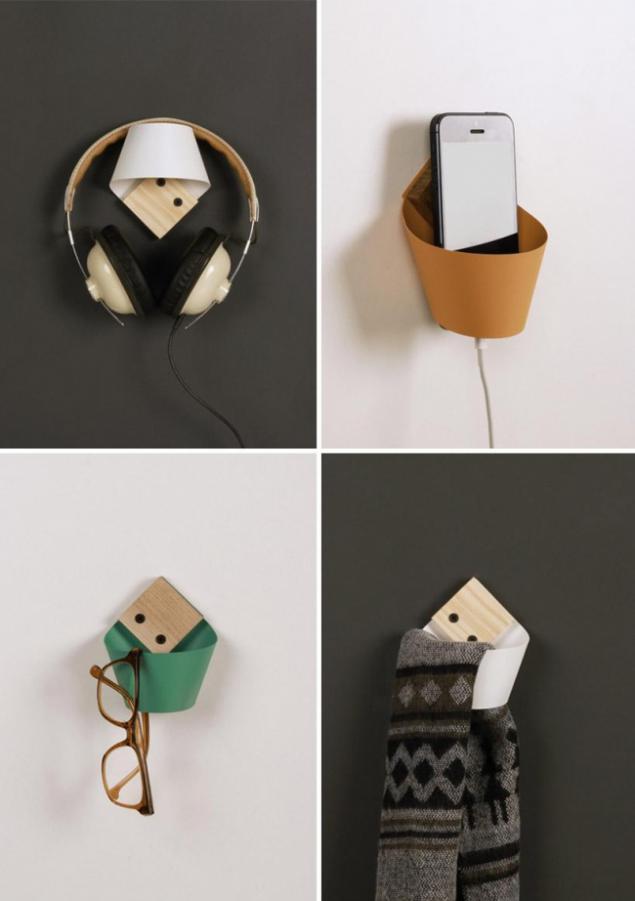 Company Laselva studio came up with a wall hook Loop. A simple strip of thin sheet metal or plastic, wooden base and two screw bending form that can be used to the maximum: to hang up on her hats and scarves, bags and clothes, sunglasses and other small things. And if you place the Loop «upside down», it can be used as storage or as a stand while charging your phone.

Jug in the form of a package moloka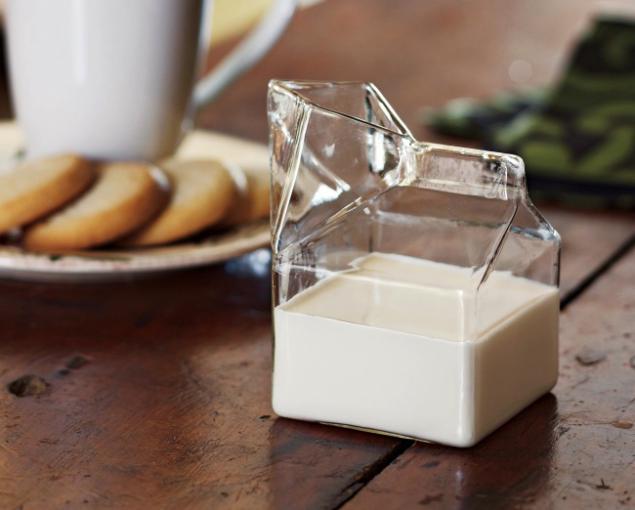 Glass milk jug in the shape of the package started with cream looks stylish, easy to use and promises a long life. In general, we must take.

Greenhouse-svetilnik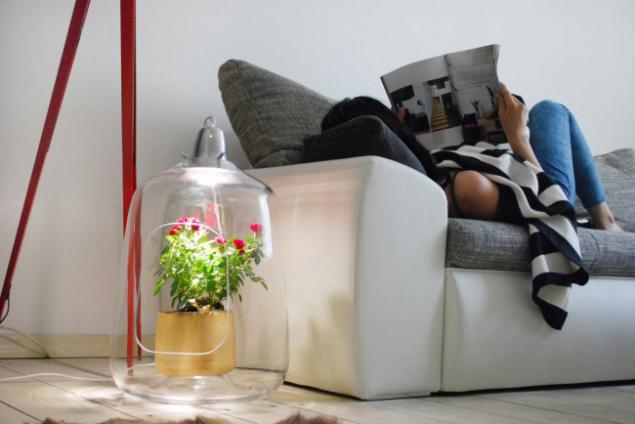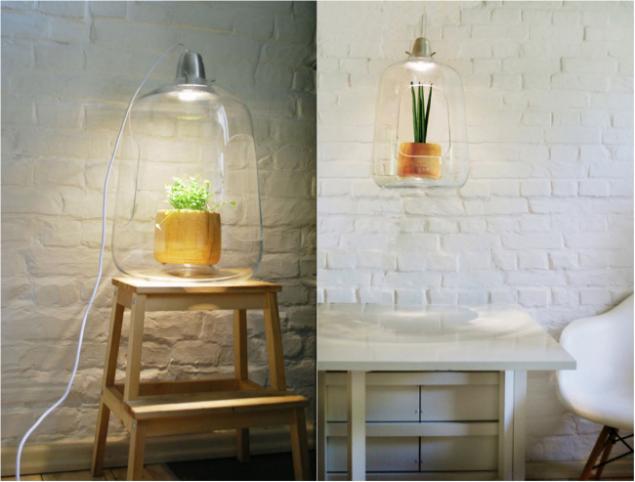 Developed by Polish studio Lightovo, Milo lamp is made on the basis of the greenhouse - a large lampshade holds a few plants and perfectly retains heat than promotes their further growth.

Water bombochki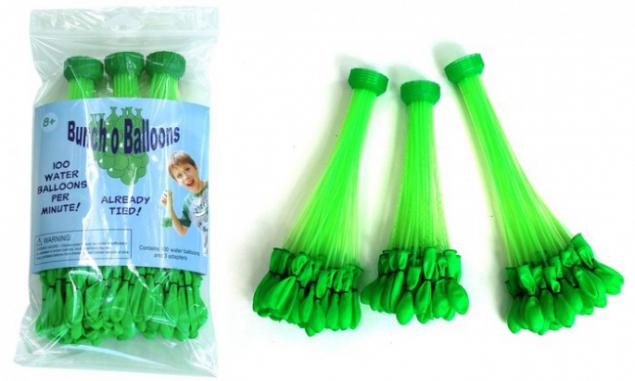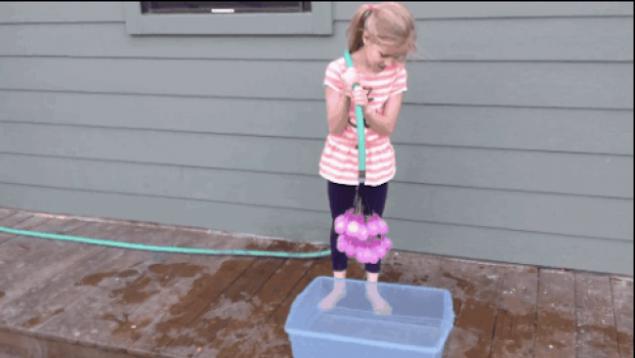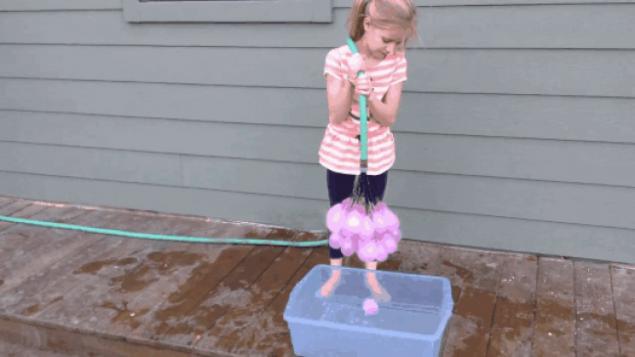 This device, which came up with for their children loving father Josh Malone, conquered Kickstarter - it allows water to fill more than 100 bombochek water for one minute.

Keychain Key Finder "bow-wow"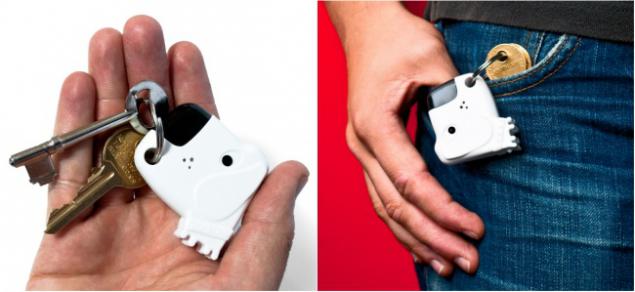 Buy

There are simple - if you have lost keys, it is enough to slam his hands or shout loudly - the dog bark on the stick immediately. On this barking, you can determine where the zapropastilsya key. Invented in the design bureau Suck UK.

Topographic kalendar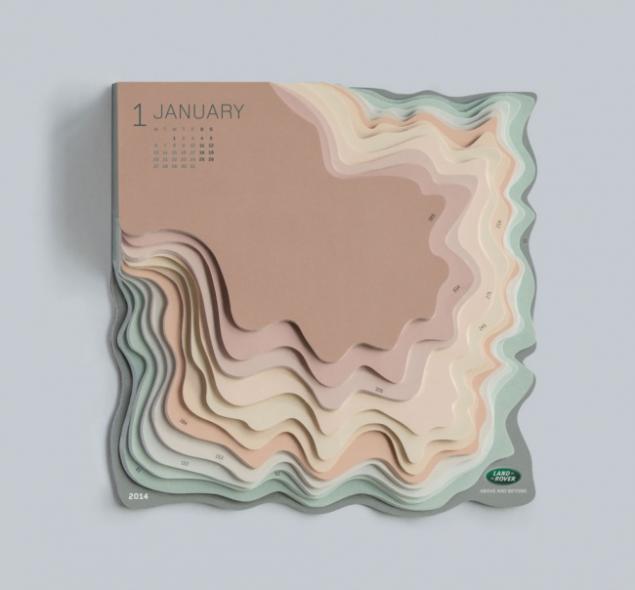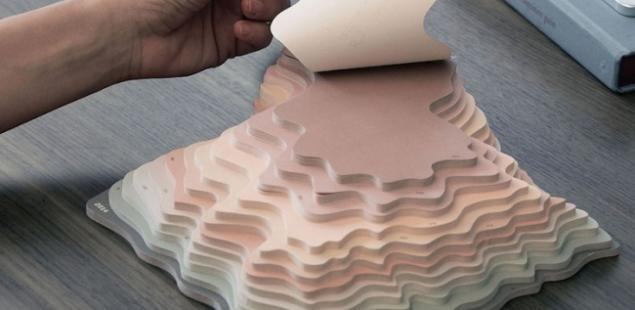 Turkish designer and art director Zeynep Orbay developed here is a corporate calendar for the company Land Rover. Terrain and resembles a geological cut, it wants to acquire and mere mortals.

Stand wine "Lasso"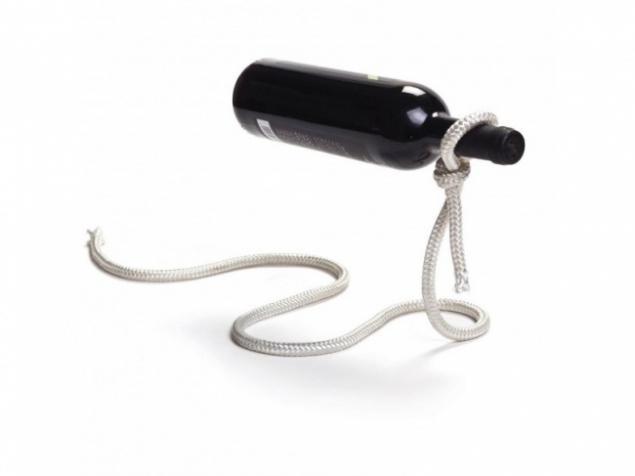 Buy

To highlight the magic of wine, designers Monkey Business has created an unusual stand for a bottle in the form of a rope. A bottle of wine with the stand creates the impression that the bottle is hung in the air and wrapped around the rope hanging down to the ground. In fact, the design is stable and is on the surface due to the distribution center of gravity.

Orehokol-robot
Buy em>

The creative staff of designers Suck UK came up with a cute retro robot. His specialty - nuts. You just need to put any nut in the hole for splitting and turn the key. The design and construction will be able to do it even a child.

And more posts about great design:

Cool design June

22 useful things that will make your day better

via www.adme.ru/tvorchestvo-dizajn/22-poleznye-veschi-kotorye-sdelayut-vash-rabochij-den-luchshe-727160/